Bruins
3 takeaways from the Bruins' 2-1 win over the Senators
"It took us a while to get to our game."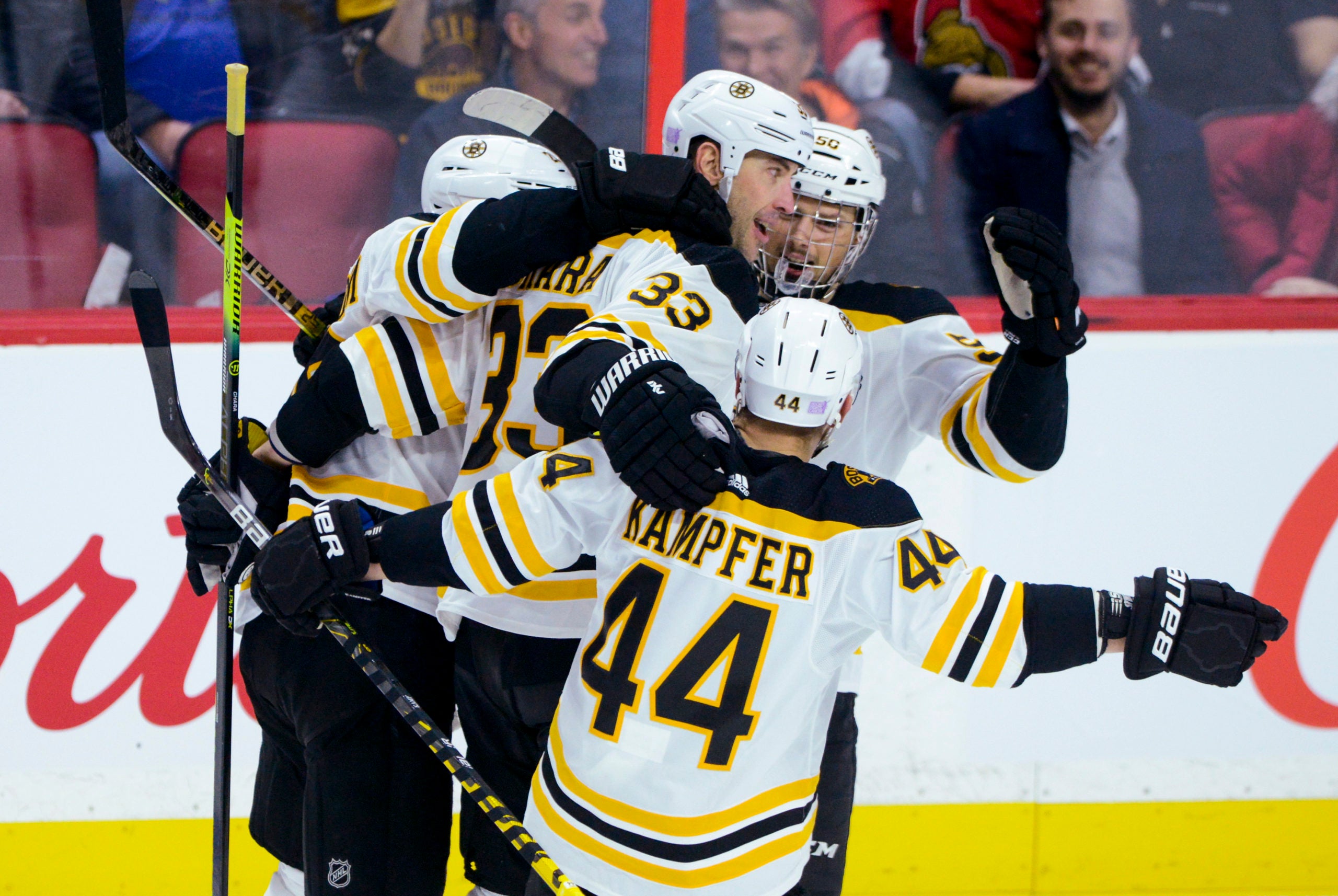 COMMENTARY
Tuukka Rask came to play for 60 minutes on Wednesday night in Ottawa. His teammates, however, either left their spark in Montreal the night before or took an early dose of tryptophan.
And it appeared the Bruins would come back to Boston for Thanksgiving without any points after defenseman Thomas Chabot walked in all alone following a defensive breakdown to give the Senators a 1-0 lead early in the third period. Yet, despite their sluggish play for over 40 minutes, Bruce Cassidy's squad woke up just in time.
Both Brad Marchand and Zdeno Chara exemplified their leadership with timely third-period tallies. The veterans made Rask's stellar 33-save outing worthwhile as the Bruins eeked out a 2-1 victory in the Canadian capital.
"It took us a while to get to our game," Cassidy told NESN's Jack Edwards and Andy Brickley postgame. "We had a tough time getting pucks out, fighting through pressure, getting through the neutral zone…we kind of knew that was coming, but we weren't prepared for it until we lived it a little bit. As the game went along, we gained a little speed and in the third period, I thought at least we were in attack mode."
Better late than never. Here's what we learned after the Bruins persevered en route to their fifth straight win.
Tuukka Rask has come a long way since this time last year.
It's been 12 months since Boston's all-time winningest goaltender took a leave of absence for personal reasons. Here we are a full calendar year later where Rask is picking up right where he left off following his stellar postseason performance last spring.
Rask has been one of the better goaltenders in the league since his aforementioned leave of absence. Aside from a few hiccups earlier in the month, the Finn gave his team a chance to win more often than not.
The Bruins absolutely needed Rask to come through in the second game of their back-to-back. The 2014 Vezina winner delivered another quality outing, allowing just one goal on 34 shots against an improved, but still rebuilding, Senators bunch.
For all of the Bruins' struggles during the first 40-plus minutes, Rask didn't lose sight of the puck. At the very least, Rask's teammates didn't allow as many second-chance opportunities and kept the shooting lanes clear so he could spot the puck through traffic.
"In a back-to-back scenario, you're just trying to give your team a chance, especially in the beginning," Rask told reporters. "I saw the puck a lot, so that was good. I thought our play on rebounds has been good lately, and you know, guys boxing out has been good. So whenever that happens it makes our job so much easier."
Rask made the Bruins' job easier on Wednesday. His teammates are thankful to have him and Halak between the pipes.
Zdeno Chara added a rare offensive accolade to his illustrious career.
He was never an offensive juggernaut, but Chara never shied away from moving the puck through outlet passes or firing a wicked slap shot. His impact to the organization goes beyond the score sheet, yet Chara can still light the lamp when needed.
Case in point: Wednesday night in the third period of a 1-1 hockey game. Brendan Gaunce, in his Bruins debut, backhanded a pass through traffic to Chara's stick at the point. With time and space, the 6-foot-9 blue-liner fired that patented slap shot past Anders Nilsson for the go-ahead tally at 8:45 in the third.
The game winner, courtesy of your captain, Zdeno Chara. #ZC33 | #NHLBruins pic.twitter.com/bdFj707dcT

— Boston Bruins (@NHLBruins) November 28, 2019
Chara's fifth goal of the year — in the team's 25th game — already matched his total from his 62 regular-season games last season. The captain also became the oldest defenseman in NHL history — at 42 years years, 248 days — to tally a point streak of at least four games or more.
The Slovakian giant will have his spot in the Hockey Hall of Fame when his career is over. Given his stellar conditioning and his importance to the Bruins, that call to Toronto will have to wait a little longer.
Anders Bjork is a keeper.
Even on the heels of new contract extensions for Charlie Coyle and Chris Wagner, the Bruins consistently appear to need a secondary boost. They received that output from Jake DeBrusk over the last few games. Jack Studnicka, Danton Heinen, and Coyle also chipped in during their recent five-game run, as has Anders Bjork.
The former Notre Dame standout, fresh off of ending Carey Price's night in Montreal with his fourth goal of the season — matching his career-high set in 2016-17 — provided a clutch assist on Marchand's equalizer.
A mere 4:34 after Chabot's tally, Bjork circled back to the boards looking for an outlet pass. With defenders hovering around him, Bjork found a streaking Marchand in the slot and delivered a stellar pass to give a sleepy Bruins squad some much-needed life.
That's ?'s in 4️⃣straight for @Bmarch63. #NHLBruins pic.twitter.com/6GH1jxg2Jf

— Boston Bruins (@NHLBruins) November 28, 2019
"He had three guys coming in on him, and he had the patience to wait until I got an opening and he made a great pass," Marchand told NESN's Sophia Jurkstowicz about Bjork's assist. "That goal was completely his doing. You've got to give him a lot of credit."
The once-highly touted Bjork is finally settling into his role in Boston. Given his consistent outings — regardless of whether he shows up on the score sheet — Bjork may finally be sticking with the big club for good.