Bruins
Former Bruin Colby Cave dies at 25
"We thank everyone for their prayers during this difficult time."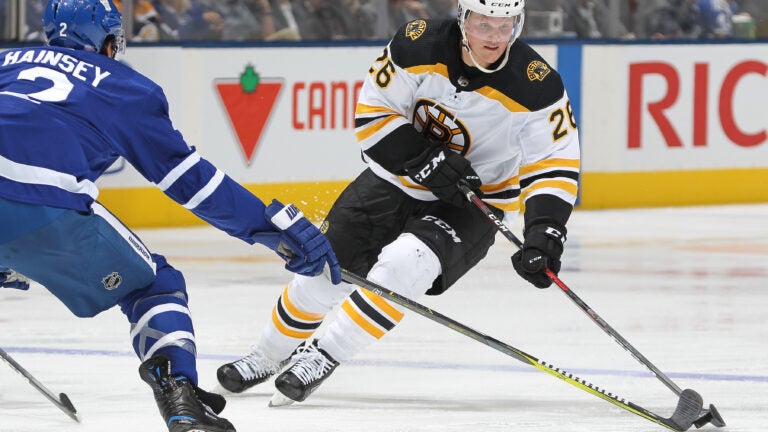 Former Bruin and current Edmonton Oiler Colby Cave died Saturday, after he was placed in a medically induced coma Tuesday following emergency surgery to remove a colloid cyst that was putting pressure on his brain.
"It is with great sadness to share the news that our Colby Cave passed away this morning," the family said in a statement issued Saturday. "I [Emily, his wife] and both our families are in shock but know our Colby was loved dearly by us, his family and friends, the entire hockey community, and many more. We thank everyone for their prayers during this difficult time."
Cave, who had appeared in 11 games for Edmonton this season, had been complaining of headaches earlier in the week and was taken to a hospital in Barrie, Ontario on Monday. He then was airlifted to Toronto's Sunnybrook Hospital, where he underwent emergency surgery Tuesday.
Due to the COVID-19 pandemic, however, Cave's family members were not allowed to be with him in his final moments. On Wednesday, his wife, Emily, posted an emotional update about her husband.
"We need a miracle," she wrote on Instagram. "Colby's parents and myself, got to see him through a window and talk to him with a walkie talkie last night. We are no longer allowed to be in the hospital because COVID-19 rules. We have no idea when we will be allowed to see him again.
"The nurse has tied his wedding band to his ankle. I am dreaming of being able to touch you, hear your voice, squeeze your hand (3 times), and kiss you again. I love you so much, and my heart is shattered into a million pieces without my best friend."
Cave played 23 games for the Bruins, debuting in the 2017-18 season, and spent five seasons with their AHL affiliate, the Providence Bruins. He was traded to the Oilers in the middle of the 2018-19 campaign.
Cave's agent, Jason Davidson, said that day his condition didn't appear linked to COVID-19.