Bruins
Bruins 'don't want to poke the bear' in Zdeno Chara as they prep for reunion game
"I think he's going to want to show ... everyone in the organization that he can still bring it."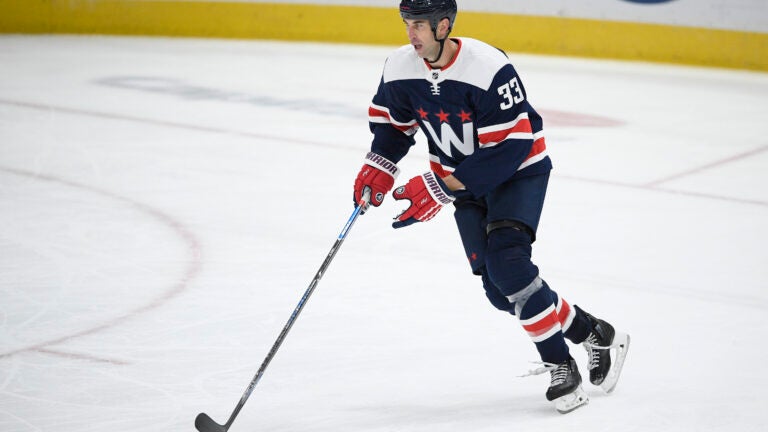 Boston Bruins winger Brad Marchand has no intention of chirping Zdeno Chara.
In fairness, few people on or off the ice would want to trash talk the 6-foot-9 behemoth. But Marchand in particular knows what Chara can do after playing with the Washington Capitals' new defenseman for 11 seasons in Boston.
"We don't want to poke the bear," Marchand said after Thursday's 4-1 win over Pittsburgh. "He's the kind of guy where when he's out there, you're an opponent. He's not going to have any friends out there. He's going to play the game and he's going to compete and battle. I'm not going to poke the bear in any way. Biggest thing is to skate away from him. That's all I can do is try to skate away from him, because if you get within that reach, you're within his grasp, you're not going anywhere."
In a surprise move, Chara left the Bruins in free agency this offseason citing the team's plan to "move forward with their many younger and talented players."
Chara later clarified that the Bruins were offering him a reduced starting role.
"It was very clear to me that I would not be in the starting lineup for the season or starting some games or playing some back-to-back games," Chara said. "I will be more in a reserve kind of type of player. So again, I have no issue with that. A lot of credit to Don Sweeney and how he handled the situation. But for me, I felt it would be a better fit for me if I kind of find a better role with another team and kind of step aside and let the Boston Bruins go with the direction they chose to do."
The Bruins still seem disappointed that Chara left. Coach Bruce Cassidy, whose first year with the franchise was 2016-17, told reporters after Thursday's game that he appreciated Chara, who helped him acclimate to a new situation.
"It'll be good to see him," Cassidy said. "It'll be funny to see him in a different uniform. Funny isn't the right word — it'll be odd to not see him in a Bruins jersey.
"He's a good person. I've always liked Z. Hopefully we'll have a friendship down the road. He's a guy who helped me a lot when I first got here. He helped me a lot more than I helped him, he had been in the league a long time. So I've always appreciated that. I've made it known to him. But once the puck drops, I think you forget about that stuff. You just play hockey and let it go from there."
The Bruins improved to 5-1-1 with their win on Thursday evening — their fourth victory in a row. Chara and the Capitals, however, lead the division at 5-0-3.
"I think [Chara] will come out, and we'll see his best," Cassidy said. "Like I said, he bled black and gold here for the Bruins for years, and I think he's going to want to show his teammates and everyone in the organization that he can still bring it. I would expect nothing less."
Marchand highlighted the importance of the two-game series, which could flip the top two teams in the East if Boston can maintain its hot stretch.
"Obviously, he's one of the best defensemen in the world. He's going to be tough to play against," Marchand said. "It'll be weird to see him in a different uniform, but again, there's still two points to be played, and we've got to compete for that."
Get Boston.com's browser alerts:
Enable breaking news notifications straight to your internet browser.