Bruins
3 takeaways from the Bruins' 6-3 win over the Coyotes
Depth scoring paces Bruins to a 2-0 start.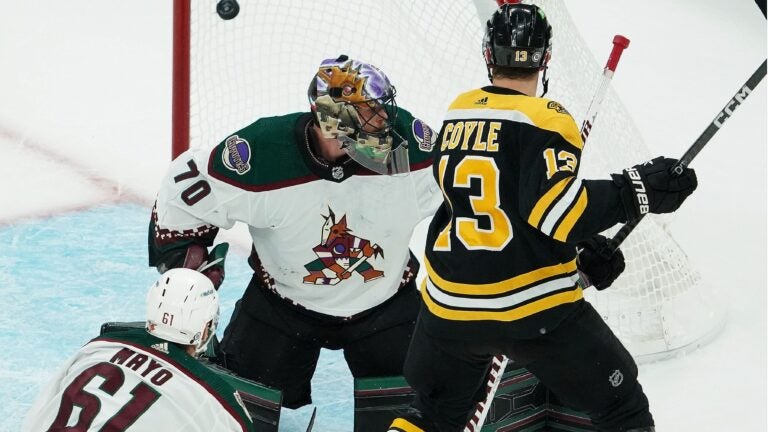 The Boston Bruins appeared well on their way to starting 2-0 on the season during Saturday's home opener against the lowly Coyotes. But a pair of sloppy turnovers eradicated their two-goal cushion and turned what looked like an easy two points into a dogfight against the lowly Coyotes.
The Bruins didn't deviate from their approach after Josh Brown and Shayne Gostisbehere (shorthanded breakaway) capitalized on the third-period turnovers. They received contributions from all four lines throughout the night. And like Wednesday's season-opener in Washington — albeit with a one-goal lead intact — the Bruins finished the job in the final frame.
"I think there's trust in the process, there's trust in each other, and I think everyone is pulling on the same rope right now. You don't see anyone thinking about themselves," head coach Jim Montgomery said afterward. "We thought we were in a really good place. I knew we gave up a two-goal lead but were generating more chances. We had the puck in their zone. And we just thought if we stuck with the process, we would prevail. And luckily, we did."
Derek Forbort put the Bruins ahead for good 9:29 into the final frame, with Craig Smith screening in front.
A.J. Greer then became the second Bruin to score his first tally with his new squad — the other came from Pavel Zacha on a first-period power play — to extend the lead to two 3:20 later.
Charlie Coyle and Nick Foligno (ending his 29-game drought) extended Boston's lead to 2-0 and 3-1 with their respective first and second-period tallies.
Greer capped off the 6-3 victory on an empty-netter with his second goal of the night.
"Whenever you get a pushback from a team — they're scoring one, they're scoring two, and they feel like they're capitalizing on mistakes — you kind of get put on your heels," Greer said. "But everyone kind of focused up, and we kept our minds on the task in hand."
The shorthanded Bruins weren't so fortunate on the injury front on Saturday. Defenseman Brandon Carlo left with an upper-body injury following a collision with Liam O'Brien at the end of the first stanza.
Montgomery didn't provide any further update on Carlo's status. The Bruins face a tough five-game-in-eight-day stretch beginning with Monday's tilt with a stingy Florida Panthers bunch.
The B's could get a reinforcement in time later in the week with Matt Grzelcyk on the mend. In the meantime, here's what we learned following their 2-0 start.
Eleven goals from ten different goal scorers
The Bruins knew their scoring depth would face a significant test as they entered the season without their top-line left winger in Brad Marchand and two of their top puck-moving blue-liners in Charlie McAvoy and Grzelcyk. The injury list grew on Wednesday when Jake DeBrusk exited Boston's 5-2 win over the Caps with an upper-body ailment.
So far, they've passed the eye test. They built off their five-goal outing Wednesday against a veteran-laden Washington bunch with a six-goal performance against Arizona. Ten different Bruins have found the back of the net: Greer, Forbort, Coyle, Zacha, Foligno, David Pastrnak, David Krejci, Patrice Bergeron, Taylor Hall, and Hampus Lindholm.
For years, the Bruins struggled to find secondary scoring under Bruce Cassidy. Montgomery witnessed top-heavy production against the Caps, but the bottom six carried their weight as well with rookie Jakub Lauko sparking standing out among the third and fourth liners after drawing a pair of penalties in pivotal third-period moments.
The top-two lines produced their usual share of scoring opportunities on Saturday. But the bottom six shined with their timely scoring. Indeed, it's an encouraging development for Montgomery's squad as they enter a busy slate ahead.
A long time coming for Foligno
At this point last week, Foligno didn't know if he'd suit up for his second season in Boston. His future became a bit clearer once he cleared waivers on Monday.
After a rough 12 months, Foligno finally got to breathe after earning his fourth-line spot following a bounce-back training camp. A year removed from notching a paltry two goals in his first season in Boston, Foligno lit the lamp in his second game of 2022-23, tipping in Connor Clifton's shot from the point to give the Bruins a 3-1 lead in the second period.
"It's nice to get off to a good start," Foligno said. "Obviously, it's good for our group — the two wins. It's nice to contribute. I'm feeling good. I feel healthy…"
His peak scoring days as a top-six contributor are in the rearview. But Foligno's stout leadership from his days in Columbus added another voice to Boston's tight-knit locker room.
The ever-talkative Foligno never hesitated speaking up, even amid established voices like Bergeron and Marchand a year ago. He admits his words "carry a little more weight" whenever he contributes, be it through goals and assists or hits and blocked shots. But he also admits leadership is more of a full-time gig regardless of on-ice performances.
"Absolutely," Foligno said regarding the assessment. "But I also think that's a cop-out. Being a leader is an all-the-time thing — it doesn't matter what's going on. I don't think it's easier, but I think probably your voice carries a little more weight in what you're doing. But I think there's different ways of leading. And I think all of us have different styles, and we're trying to find what fits, and in this group, there's a lot of them."
Foligno provided one of many standout outings during the first two games. But the early phase of next-man-up may face another test ahead.
Bruins face potential short-term ramifications without Carlo
Already without two of their top-four defensemen, the Bruins knew they couldn't afford to lose another blue-liner to injury. Well, the worst-case scenario may have presented itself following Carlo's exit.
Mike Reilly took most of the brunt work in Carlo's vacancy on the top pairing next to Lindholm from the second period on. Aside from the third-period turnovers, Boston's back-end held their own without Carlo. But their defensive depth potential faces a tough hurdle on Monday against last year's President's Trophy recipients in the Panthers.
Even though it came at a significant cost — Jonathan Huberdeau and Mackenzie Weegar — the Panthers added a bonafide offensive dynamo in Matthew Tkachuk in their blockbuster trade with the Flames. Florida's defensive outlook took a hit, but their overall depth unquestionably presents a stiff test for the shorthanded Bruins.
Grzelcyk remains ahead of schedule from his original timeframe following shoulder surgery. But it's unlikely he'll suit up until later in the week.
Anton Stralman remains in limbo as he sorts out his VISA situation. The Bruins signed the veteran Swede to a one-year deal after he arrived at training camp on a PTO.
Those developments will likely lead to a Providence callup before Sunday's practice. Jack Ahcan and Connor Carrick highlight the list of potential candidates to make the trip up I-95.
Newsletter Signup
Stay up to date on all the latest news from Boston.com