Bruins
Watch: Bobby Orr, Jason Varitek open 2023 Winter Classic at Fenway Park with 'first puck pitch'
The legendary Bruins blueliner teamed up with Jason Varitek for a unique puck drop.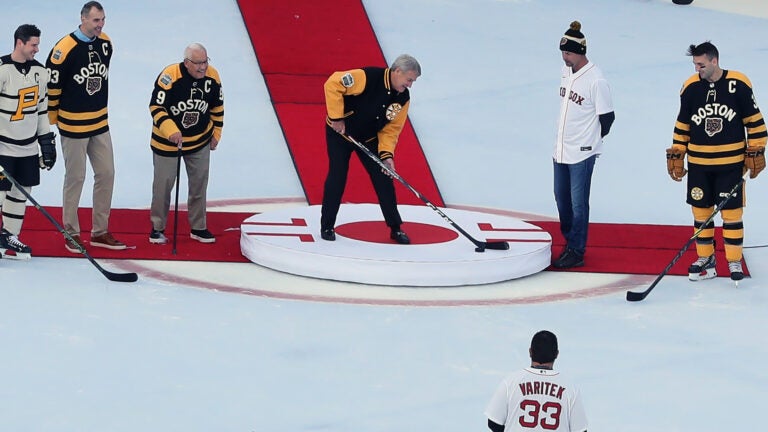 With the Bruins returning to Fenway Park for the second Winter Classic showdown at the hallowed ballpark, the B's once again called on Bobby Orr to open the festivities with a ceremonial puck drop.
But, in accordance with the Bruins' special outdoor venue, the legendary defenseman took part in a unique "puck drop" procedure on Monday afternoon with the help of former Red Sox catcher Jason Varitek.
Rather than simply drop the puck between captains Patrice Bergeron and Sidney Crosby, as is tradition, Orr instead lofted the biscuit to a waiting Varitek — reading to receive the offering like a first pitch.
It was a star-studded opening ceremony at Fenway, with Orr and Varitek joined by longtime Sox pitcher Tim Wakefield and Bruins legends Zdeno Chara and Johnny Bucyk for the festivities taking place on the adjacent "Ice Diamond" next to the frozen sheet at Fenway.
Orr and Varitek's first pitch marked the end of a Boston-centric pregame ceremony — with Bell Biv DeVoe singing the National Anthem and the Boston Pops performing as both the Bruins and Penguins emerged from their respective dugouts at the start of the contest.
Bobby Orr and Jason Varitek involved in the ceremonial "first puck pitch" 🔥🔥

Another really cool moment at Fenway Park.

pic.twitter.com/6StAPT5Q7A

— Beyond the Monster (@BeyondtheMnstr) January 2, 2023
Newsletter Signup
Stay up to date on all the latest news from Boston.com