Bruins
3 things we learned from another classic Bruins Fenway win
The Bruins feel they have "something special going on."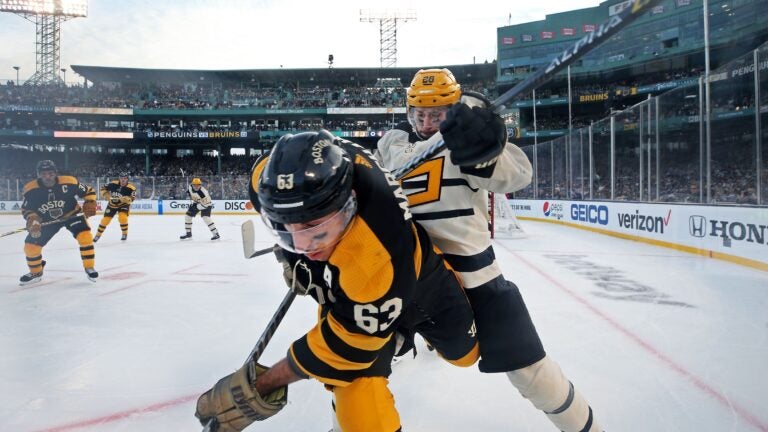 From the pregame wardrobe honoring an early era of Red Sox baseball to the final horn, the Boston Bruins fully embraced the pomp and circumstance of appearing in yet another Winter Classic.
"Relish the moment and stay in the moment," Montgomery said a couple of hours before the B's second-ever Fenway Park contest. "We believe that if we are thinking about the details of our game, and that's staying in the moment. And if you're in the moment, it's okay to embrace the fact that this is Fenway Park, and it's a wonderful event; and we're very lucky to be a part of it. That's not letting your mind drift. That's actually embracing the moment."
The outdoor hockey aura took center stage in the hours leading up to Monday's tilt with the Pittsburgh Penguins. But the Bruins hardly captured the spirit of the thing with their on-ice performance against Sidney Crosby and company.
The Bruins hardly had their A-game through the first periods. But they entered familiar territory entering the second intermission, facing a 1-0 deficit following Kasperi Kapanen's sixth goal of the year following a Connor Clifton turnover.
Following Nick Foligno's passionate speech after the middle 20, the Bruins emerged from the Red Sox dugout with renewed focus. Linus Ullmark remained cool in net, capping off a 27-save outing and 21st win of the year following Pittsburgh's frantic push for the equalizer in the final seconds.
Ullmark's outing paved the way for Jake DeBrusk's heroics. The Edmonton-born winger notched two greasy markers in the NHL's version of the bottom of the eighth.
With 2:24 remaining, DeBrusk capped off one of the top moments of his career to put his team ahead for good.
Here's what we learned from another Bruins' 2-1 Winter Classic win at Fenway Park.
DeBrusk "feels blessed" amid a career evolution.
At this point in 2022, DeBrusk encountered one of the lowest moments of his career.
The 2015 first-rounder didn't know if he'd partake in his third career outdoor game once the league announced the Bruins-Penguins Fenway tilt. For most of the year, he avoided talking to the press about his trade request until the weeks leading up to deadline day.
The rift between DeBrusk and former coach Bruce Cassidy didn't prevent him from earning top-line minutes with Brad Marchand and Bergeron, beginning last Feb. 24 in Seattle. Over time, he's evolved from a speedy winger into a two-way sparkplug with frequent offensive production on Boston's top six.
Now with Montgomery behind the bench, DeBrusk is on pace for his first career 30-goal season.
"He's a lot tougher than people think," Montgomery said of DeBrusk. "And he's a lot more committed than people think."
DeBrusk showcased that commitment in the third, with the Bruins facing yet another deficit in the final 20.
It wasn't just the two goals that stood out. It was the way he notched those markers, by going to the front of the net and pouncing on a secondary scoring chance against Pittsburgh backup netminder Casey DeSmith.
Fittingly, DeBrusk capped off his roller coaster 12-month time frame. And the passionate Bruins faithful who once scattered him with boos inside a 17,850-seat TD Garden found themselves roaring in jubilation a few miles away.
"It's been a whirlwind, to say the least," DeBrusk said after hearing the cheers from a sold-out crowd of 39,243 on Monday. "It's obviously special for this entire group, and for myself. Fenway Park. Winter Classic. It's something you dream of doing — you dream of scoring in the Winter Classic…I've played in three. We're just lucky enough to get some bounces tonight. Linus kept us in it, and we had some big kills at the right time. I honestly feel blessed to be in this position."
"I think it's been rocky at times for him the last year before that," Bergeron said of his linemate. "But that being said, he's stuck with it, and he's shown some character. We all believe in him.
DeBrusk and Ullmark put the Bruins in a prime position to earn another two points. But even a tight-knit group needed a little reminder of the stakes between periods.
Foligno addresses the clubhouse
With a rich veteran core, Montgomery doesn't need to foster moments of "coach speak" within his locker room.
More often than not, he's allowed the usual leadership core of Bergeron, Marchand, Krejci, and countless others to lead by example. On Monday, they turned to a former captain to address the clubhouse.
Foligno asked Montgomery to speak. The first-year bench boss obliged. The ex-Blue Jackets captain touched on Boston's familiarity with trailing after two periods.
"In talking to Bergy and some of the other guys who've played, you only remember the ones you win. I think that was the talk — we have to find a way to win this one," Foligno said of his speech amid his first career outdoor game. "It will make it that much better, and I was proud of the way the guys for digging in. J.D. obviously comes up huge, and I thought Linus was outstanding. So everyone was dialed in for that third period, and we found a way to win. I'll now look back at this as one of the best memories from my career, and hopefully, we have a few more down the road here in the spring."
In a park usually reserved for dirty hustle plays to save a base hit or for sliding in safely on base, the Bruins dug deep along the third base side of the ice in the third period. And once again, they persevered their way to another classic Fenway victory.
The Bruins feel they have "something special going on."
The B's faced early obstacles with Marchand, Charlie McAvoy and Matt Grzelcyk recovering from their respective off-season surgeries. Not only did they survive — they thrived.
Indeed, the Bruins remain in search of that elusive 60-minute effort. Despite the recent trend, they still find ways to notch at least one point.
The Bruins struggled to find their 200-foot stride for the last 15 games or so. Yet, they haven't lost two games in a row since dropping consecutive decisions in Games 1 and 2 of the Carolina series.
The development continued Monday as the Bruins struggled to generate quality scoring chances in front of DeSmith, and before him, an injured Tristian Jarry. They relied on timely saves from Ullmark and stout work from the penalty kill to keep them afloat.
But perhaps that's what makes this team special. The camaraderie within their room doesn't allow them to cave at all. Instead, they find ways to remain competitive and give themselves a fighting chance.
And they aren't shy to express that tight bond either.
"It is a special team," Bergeron said. "I've said that many times, and I think it's okay to say it and to embrace that."
No matter what happens the rest of the way, the 2022-23 Bruins have etched another classic moment for their 99-year history. And they have their eyes on their unique quest to become the first team in NHL history to win the Winter Classic and Stanley Cup in the same season.
"We feel we have something special going on here," Foligno added. "It was a special night."
Newsletter Signup
Stay up to date on all the latest news from Boston.com