Bruins
Bruins arrive at Fenway Park in vintage Red Sox jerseys ahead of 2023 Winter Classic
Another outdoor game with more elaborate pregame attire for the Bruins.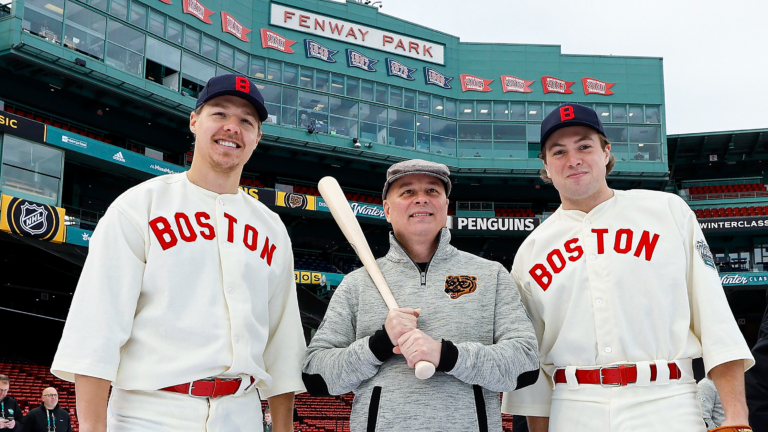 If you build it, they will come.
In a fitting tribute to their temporary home venue at Fenway Park, the Boston Bruins arrived at the 2023 Winter Classic in retro Red Sox jerseys.
Close to three hours ahead of puck drop, the Bruins got off their charter buses in full Red Sox uniforms — wearing jerseys that harkened back to the days of Cy Young and the Sox clubs of the early 1900s.
"'Field of Dreams' and a combination of 'Eight Men Out,'" Bruins coach Jim Montgomery said of what his team's pregame attire reminded him of.
Walking out on the diamond from the Red Sox' dugout, the Bruins took a team picture in their pregame gear — bats, high socks, and gloves included — before taking part in an impromptu game of catch near the first-base line.
The Penguins — Boston's opponent on the frozen sheet at Fenway — apparently got the memo when it came to their team-wide pregame getup, wearing retro Pittsburgh Pirates uniforms during their arrival at the hallowed ballpark.
"I think it's really appropriate, in an event like this, in such an iconic stadium," Penguins head coach Mike Sullivan said. "In a lot of ways I think it's appropriate because it gives us an opportunity to tip our hat to all the great players and great teams that have played in this stadium over the years. And for me, I just think it's part of the entertainment value. But I know our players were excited about it. I'm sure Boston was as well."
Of course, this is far from the first time the Bruins have opted for an elaborate pregame fit ahead of an anticipated outdoor tilt.
Back in 2019, the Bruins arrived at their Winter Classic showdown with the Blackhawks at Notre Dame Stadium in custom gear reminiscent of the "Peaky Blinders" television series — with the B's looking like a grouping straight out of a bootlegging operation in the 1920s.
Not to be outdone, the Bruins doubled down before the NHL Outdoors game at Lake Tahoe back in February 2021 — with Boston complimenting its "Reverse Retro" jerseys with a collection of elaborate ski suits, neon jackets, and fanny packs pulled from a '90s catalog.
Besides all the fun fashion, the actual hockey game starts at 2:30 p.m. with coverage on TNT beginning at 2.
Newsletter Signup
Stay up to date on all the latest news from Boston.com