Bruins
Bruins goalie Linus Ullmark receives first All-Star nod
Ullmark currently leads in the NHL in wins (21), goals-against average (1.86), and save percentage (.939).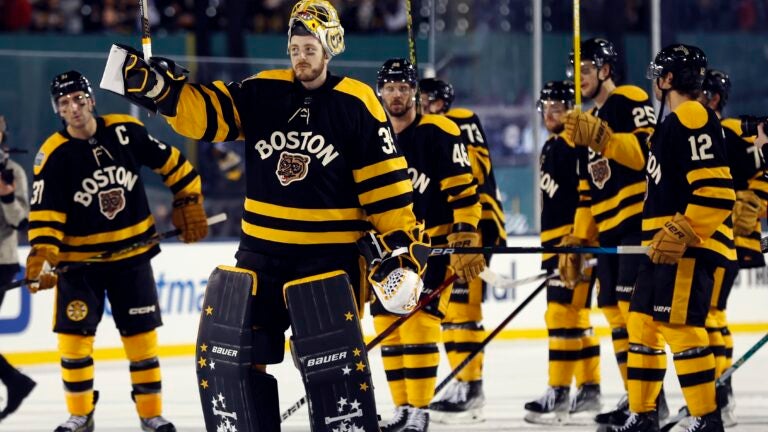 The early success of the 2022-23 Bruins can't be tied to just one overarching factor or player.
But when it comes to the most consistent contributor through the various twists and turns, it's hard to overlook the play of Linus Ullmark in net.
On a team anchored by franchise stalwarts and star players like Patrice Bergeron, David Pastrnak, and Charlie McAvoy, Ullmark has inserted himself into the conversation as one of the top goaltenders in the NHL thanks to some otherworldly stat lines.
And now, the 29-year-old from Sweden is being rewarded for his strong play, earning the first All-Star nod of his pro career on Thursday night.
Ullmark will represent the Bruins during the 2023 NHL All-Star Weekend in Sunrise, Florida on Feb. 3-4, with the NHL announcing the first 32 selections (one from each team) for the event on Thursday.
Ullmark's appointment to the All-Star roster is well-deserved. So far this season, Ullmark has posted a record of 21-1-1 between the pipes, and leads the league in both goals-against average (1.86) and save percentage (.939).
"I play behind a really good team," Ullmark said on Thursday. "It's a team effort. It's one of the luxuries of being a goaltender sometimes. When you have a great team in front of you, it kind of comes with it. But it goes hand in hand.
"Sometimes it's been me bailing them out. But a lot of times they've bailed me out, multiple times. You've got to have that, a couple bounces with you. There's small things in the game of hockey that, if it goes your way, you're lucky enough to be on the winning side."
For Ullmark, who has made significant strides in his game following his second season with Boston, earning an All-Star spot stands as yet another dream achieved just days after finally being able to participate in (and win) a Winter Classic game.
"It's kind of surreal," Ullmark said. "I remember watching it when I was young, as well. It was one of the few things we actually taped when I was younger, to watch Peter Forsberg, Nick Lidstrom, Joe Sakic, those guys when they played in the All-Star Game. It was always fun watching it. It's a little surreal to be here now."
Ullmark likely won't be the only Bruins representative out on the ice down in Florida next month, although that will depend on the fans. While All-Star representatives from each team are first appointed by the league, the rest of the rosters are filled out by way of a fan vote on both NHL.com and Twitter.
The NHL opened voting for fans to select the final All-Star players — two skaters and one goalie from each division — on Thursday. Fans can vote through Jan. 17 at NHL.com. The 12 players voted in by the fans are expected to be announced on Jan. 19.
Ullmark will have a familiar face on the bench for the Atlantic Division, as Jim Montgomery is expected to coach the squad after pacing Boston to the best points percentage within the division.
While the four coaches will be selected on Jan. 11, the Bruins have already accrued enough points to automatically secure that top spot. guaranteeing Montgomery's place. It will be Montgomery's first All-Star appearance.
Newsletter Signup
Stay up to date on all the latest news from Boston.com