Bruins
Jake DeBrusk is out for 4 weeks. Here's who could fill in for the Bruins
The Bruins should have plenty of options to replace DeBrusk up front over the next month.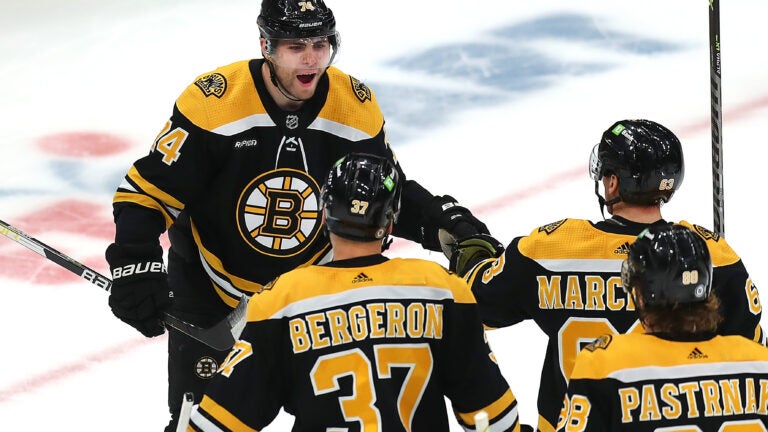 The Boston Bruins' forward corps is going to look a little different over the next couple of weeks.
Just a day after it was reported that Jake DeBrusk suffered a fractured fibula during the 2023 Winter Classic, the Bruins confirmed Thursday that the 26-year-old winger would be placed on long-term injured reserve due to both a lower-body injury and hand injury.
DeBrusk is expected to be sidelined for four weeks.
A month on the shelf could be considered good news for a reported broken leg. The timeline for Brandon Carlo's fractured fibula back in 2018 was around eight weeks.
Still, losing DeBrusk for any significant stretch is a major setback for the Bruins, with DeBrusk on pace for 36 goals during the 2022-23 campaign before his injury.
With DeBrusk now on the mend and a vacancy open in Boston's top-six grouping — which Bruins winger stands to benefit the most from the extra minutes?
Let's take a look at several candidates within the Bruins' organization.
David Pastrnak
As the old saying goes, "If it ain't broke…"
If the Bruins are looking for an immediate solution to the hole on Boston's top line, the easy answer is reuniting the trio of Patrice Bergeron, Brad Marchand, and David Pastrnak — a loaded grouping that has routinely made life miserable for the rest of the NHL over the years.
In a far-from-shocking development, putting a gifted scorer like Pastrnak next to a pair of two-way buzzsaws in Bergeron and Marchand has yielded positive results for Boston once again this year.
So far this season, the Marchand-Bergeron-Pastrnak line has logged 77:28 of 5v5 ice time together. And over that stretch, the Bruins have outscored opponents, 4-0, and held a 59-22 edge in scoring chances.
The Bruins shouldn't have to fret all that much about whether or not this top line can continue landing punches in the offensive zone, with Pastrnak's return to the grouping perhaps providing the spark needed to get Marchand's 5v5 game going.
Even though Marchand's baseline numbers since returning from double-hip surgery have been very encouraging (31 points in 29 games), his production at even strength has fallen below his usual rate — with 18 of those points coming on the power play.
Given that dip, having a player with Pastrnak's one-timer on the same line should do wonders for Marchand to balance out his scoring output.
Pavel Zacha
With Pastrnak ready for top-line minutes, the Bruins should continue to tilt the ice in their favor whenever their three best forwards are out on a shift.
But Pastrnak's promotion and DeBrusk's injury create a domino effect that could throw the rest of Boston's forward grouping out of sorts, especially if another winger doesn't mesh next to David Krejci and Taylor Hall on the second line.
Based on Thursday's rushes during morning skate out in California, it seems like Pavel Zacha will get the first nod at regular top-six minutes. It's a pretty sound contingency plan for Jim Montgomery and his coaching staff, given that Zacha has fared well when slotting up in the lineup in place of injured players.
So far this season, Zacha has been money when replacing Krejci as Boston's second-line center. During the five games that Krejci has missed this season, Zacha has posted stat lines of:
10/28 @ Columbus – 16:50 TOI, 1 assist
11/1 @ Pittsburgh – 16:55 TOI, 1 goal
11/3 @ New York – 15:46 TOI, 1 assist
12/11 @ Vegas – 17:58 TOI, 1 assist
12/13 vs. Islanders – 16:43 TOI, 2 assists
And with Zacha now slotted over the wing next to two gifted playmakers in Krejci and Hall, the Bruins will be hoping that Zacha utilizes more of his underused (but effective) shot moving forward.
Nick Foligno or Trent Frederic
If the Bruins need to seriously augment their top-six grouping — especially if Zacha fails to gain traction next to Krejci — Montgomery could opt to put his lines in a blender by slotting up a bottom-six winger to Bergeron's line and bumping Pastrnak back down to the second line once again.
Foligno might seem to be an unorthodox fit, but the veteran forward originally earned top-six minutes with Boston during his largely underwhelming first season in a black-and-gold sweater. And after a resurgent start so far in 2022-23, Foligno's forechecking ability and netfront skills could complement both Bergeron and Marchand during regular minutes.
Frederic could also be a player that Montgomery rewards with added minutes after the 24-year-old forward steadily built his game over the last couple months. Frederic may not have the ceiling of a top-line winger, but the St. Louis native does have a bit more room to grow offensively, as showcased by the quick release that he has displayed on a few of his seven tallies so far this season.
But for now, the Bruins could have a good thing brewing on a reworked third line of Frederic, Foligno, and Charlie Coyle.
Even though Foligno has logged a good portion of his minutes this year on the fourth line, a heavy, straight-line Foligno-Coyle-Frederic grouping has been stellar in limited minutes this season — with Boston outscoring teams, 4-1, over their 20:13 of 5v5 ice time together.
Fabian Lysell
Of course, if the Bruins really wanted to shuffle things up with DeBrusk out of commission, they could opt to bring their top prospect up to the NHL ranks for an impromptu baptism by fire.
Fabian Lysell, Boston's first-round pick (21st overall) in the 2021 NHL Draft, represents a flicker of hope amid a largely dim prospect pipeline for the Bruins — with the 19-year-old winger's high-end offensive skills offering the promise of another top-six talent joining the pro roster in the coming years.
While an NHL debut for Lysell could be facilitated due to DeBrusk's injury, such a scenario does seem slim. Even though Lysell has been productive in his first season with the Providence Bruins (19 points in 20 games), the young forward has plenty of room to grow, both physically (176 pounds) and on the defensive side of his game.
Add in an underwhelming showing at the 2023 World Junior Championships (zero points in seven games for Sweden), and the Bruins shouldn't rush Lysell in a season where they should have sufficient options already up at the NHL level.
Newsletter Signup
Stay up to date on all the latest news from Boston.com