Bruins
3 takeaways as Bruins ride a 3-goal third period to victory over Kings
Boston opened up its California road trip with a 5-2 win.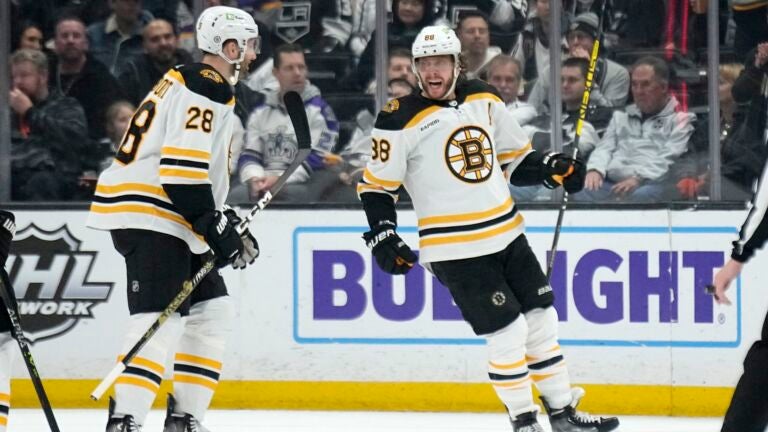 One piece of the California puzzle is in the books.
A few days removed from their triumphant Winter Classic victory over the Pittsburgh Penguins, Boston Bruins kicked off their annual tour of The Golden State on a positive note, defeating the surging Los Angeles Kings 5-2 at Crypto.com arena.
The Bruins surrendered the initial strike in the opening frame but quickly matched the fighting energy of teammates Brad Marchand and Trent Frederic en route to their 30th win of the season.
Second-period tallies from David Pastrnak and Marchand saw the Black and Gold bring the contest back to square one before the third period.
The Bruins outscored the Kings 3-0 in the final frame, and the NHL's best third-period team capped off one of their most complete efforts in recent memory.
"I thought we had our best 60-minute game in a long time," Jim Montgomery said to NESN's Jack Edwards and Andy Brickley following the victory.
Here's what we learned as the Bruins rediscovered their 200-foot formula against the Los Angeles Kings:
Marchand dragged the Bruins into battle.
If the Bruins loyal needed a refresher of Marchand's wide-range capabilities, they need look no further than the second period of Thursday's victory.
The feisty left-winger wasn't thrilled when the referees failed to call a tripping minor on Kings forward Adrian Kempe. Marchand subsequently directed his verbal frustrations at the officials, resulting in a two-minute penalty for unsportsmanlike conduct.
The Bruins managed to kill off their only penalty of the night, literally and figuratively opening the door for Marchand's revenge.
"The emotion that [Marchand] gave our team after that, I felt that we were going to kill that off," Montgomery said. "I started riding that line a little bit, and they rewarded us with those two big goals."
It didn't take long for the Bruins to ride Marchand and his 'man on a mission persona. Shortly after the Bruins killed off LA's lone power play attempt, Marchand won the puck along the boards and fed Pastrnak for his 26th goal of the year.
That was just the beginning.
With irony as his ally, Marchand got another measure of revenge during the Bruins' lone power play of the night. Despite the bad angle, Marchand delivered a slick snap shot past Pheonix Copley to give the Bruins a 2-1 lead just 2:21 after Pastrnak's tying marker.
With his motivation transparent, Marchand displayed a great deal of tenacity and assertiveness. Indeed, Thursday marked another encouraging development for the 34-year-old winger following his offseason double-hip surgery.
Frederic continued his breakout season.
It happened in bunches Thursday night.
Frederic followed Marchand's form, emotionally dragging the Bruins into battle during the second period. The 2016 first-round selection sparked the Bruins' bench with a long-awaited bout with Brendan Lemieux, only to return in the third period for two quick tallies.
"When [Lemieux] came up to me, you can't ever say no to him," Frederic said to NESN's Sophia Jurksztowicz following the victory. "Not a big fan of him, so every chance I get, I try to do it."
Frederic's tipped in Brandon Carlo's point shot to give the Bruins the lead with 9:24 to go, tying his career high of eight goals. He didn't waste any time setting a new career high, notching an insurance marker just 34 seconds later following a slick feed from Nick Foligno.
"I think [Frederic's] maturity and I think his trust in his game and getting more opportunities has allowed his confidence to grow," Montgomery said. "He's got nine goals and they're all five on five goals. It's not easy to do in this league in the first half of the year."
The Bruins' depth scoring has shined bright during this historic first-half run. But everyone will have to pull on the rope a tad more in Jake DeBrusk's absence. Boston's second-leading goal scorer will miss multiple weeks after sustaining injuries to his hand and lower body during his stellar two-goal outing in Fenway.
The Bruins finally earned that long-awaited 60-minute effort.
With a record of 30-4-4, the Bruins are winning more than their fair share of hockey games.
Boston's prolific scoring, especially in the third period, allowed them to overcome slower starts. Despite trailing 1-0 after the first 20, the Bruins encountered very few, if any, hiccups during Thursday's performance.
"I think tonight we were probably really excited about having probably our best 60 minutes we've had in a long time," forward Nick Foligno said. "I think for our group that was more of an encouragement than anything.
The first half of the Bruins' 2022-23 season is nearing its conclusion. With their widening gap in the league standings, they'll continue to have a proverbial target on their backs as the second half approaches.
After relinquishing a two-goal lead during their shootout loss to the Kings the first time around, the Bruins found their scoring touch, received solid goaltending from Jeremy Swayman, and limited high-danger chances. That template will only benefit a confident Black and Gold bunch going forward.
"We obviously know what our record is, but I think it's about we still have room to grow," Foligno said. "[It's] exciting and scary and I think a motivator for a lot of guys in this room."
Sign up for Bruins updates🏒
Get breaking news and analysis delivered to your inbox during hockey season.