Bruins
3 takeaways as Bruins inch closer to perfect California trip with 4-2 win over the San Jose Sharks
Here's what we learned after the Bruins improved to 31-4-4 on the year.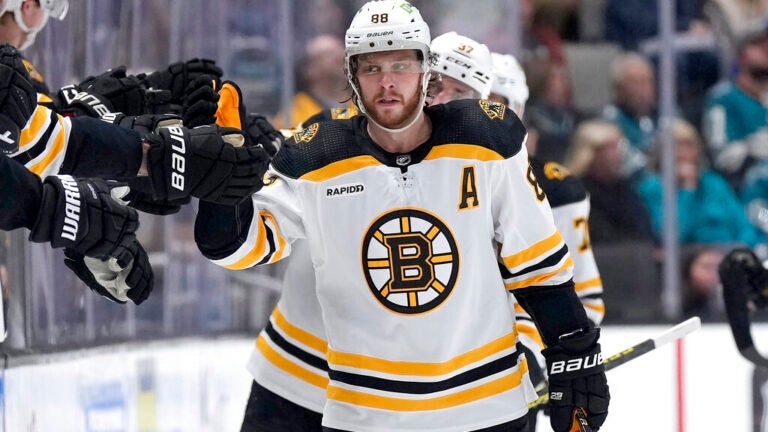 The Boston Bruins, coming off one of their more complete 60-minute efforts in recent memory, inched one step closer to a perfect California road trip following Saturday's 4-2 win over the San Jose Sharks.
Brad Marchand opened the scoring just over a minute into the contest, kicking off a frantic opening seven minutes.
Craig Smith snapped his 18-game goal drought to extend Boston's lead to 2-0 a little over four minutes after Marchand's highlight-reel tally.
Logan Couture drove to the net and cut Boston's lead in half just 1:24 after the Smith tally. The scoring blitz quieted down, and the Bruins managed to stumble through most of the second period while maintaining a one-goal advantage.
Eventually, the Bruins found themselves back at square one toward the end of the second period when San Jose capitalized off a fortunate bounce after Mario Ferraro's point shot deflected off the back of Hampus Lindholm.
Despite the tough break, the Bruins bounced back and went ahead for good 1:50 after Ferraro's equalizer. In a period dominated by special teams, David Pastrnak recaptured Boston's late on a late second-period power play and rounded out his second consecutive multi-goal game during the final 20.
Linus Ullmark earned his 22nd victory of the season and Patrice Bergeron became the third-highest-scoring Bruin ever, surpassing Phil Esposito with his 1,013th career point. Here's what we learned after the Bruins improved to 31-4-4 on the year.
Marchand's game continues to grow amid 'perfection line' reunion.
The Bruins either slipped through a time-altering wormhole on their flight out west, or Marchand has finally re-discovered his pre-surgery self.
With five points in the first two games of a three-game California tour, Marchand has not just increased his point production, but has also led the charge physically and emotionally. The superstar left-winger, who admittedly was not at his best just a few weeks ago, looks more like the reliable well-rounded winger from years past.
Despite Jake DeBrusk's multi-week absence, Marchand's recent scoring uptick remains a positive trend. And perhaps DeBrusk's stint on the injured list provided a potential silver lining with Pastrnak returning to Bergeron and Marchand's right.
The top trio returned to their dominant ways since reuniting Thursday night in Los Angeles. Their top highlight of the evening came on a beautiful triangle passing sequence in the third period, which allowed Pastrnak a can't-miss-chance to collect his second of the game with an important insurance marker.
"That's Bruins hockey through and through," Jim Montgomery said to NESN following Saturday's win in the Bay Area. "Those three guys are not only elite skill, but they're elite will. You put them together and you get a goal like that, that fourth goal, that's got to be deflating for the opposition."
With Marchand coming into his own and Pastrnak continuing his torrid pace, having to "settle" for the "perfection line" is quite a luxury for Montgomery and the coaching staff.
Special teams remained sharp during a dull second period.
The Bruins saw their lead disappear in the middle frame. But Boston's special team's prowess helped them maintain composure, beginning with a pair of timely penalty kills.
As the period progressed, the Bruins finally earned a power play opportunity of their own. In another clutch moment, the Bruins produced some magic on the man advantage.
As he made his way from the left faceoff circle to the high slot, Pastrnak put the Bruins ahead for good with the go-ahead tally after firing a wicked wrister past the stick side of James Reimer.
"We manage games well," Montgomery said. "We didn't in the second and I think we let them tie it up there. But for the most part, we've just got a bunch of great pros that love competing and love to win."
By no means did the Bruins feel that the game was getting away from them after Ferraro's tying marker. But they quickly provided more doubt on San Jose's bench following two stellar penalty kills and an equally impressive power play.
Depth continues to support DeBrusk's absence.
In a rare but not entirely unusual decision, Montgomery elected to dress 11 forwards and seven defensemen to finalize Saturday night's roster. An injured DeBrusk, a sick A.J. Greer, and a beyond-rusty Jakub Zboril were all contributing factors to the eventual adoption of this formula.
The odd-numbered combination paved the way for depth forwards like Craig Smith to take on a slightly more significant role. Smith collected his first goal in 18 games early in the first period and continued his night by taking multiple shifts alongside Marchand and Bergeron in the second period.
Smith's contributions continued the recent depth-scoring uptick in DeBrusk's absence. Trent Frederic stepped up Thursday night with a pair of third-period markers. Whoever is next in Montgomery's rotation hopes to put their foot forward — perhaps as early as Sunday — and establish themselves in Boston's well-oiled bottom-six machine.
"This team just finds a way," defenseman Charlie McAvoy said to NESN's Sophia Jurksztowicz. "We're an optimistic group."
Newsletter Signup
Stay up to date on all the latest news from Boston.com