Bruins
David Pastrnak is setting himself up for a record-breaking contract in 2023. He'll be worth every penny for the Bruins.
"He helps us be who we are."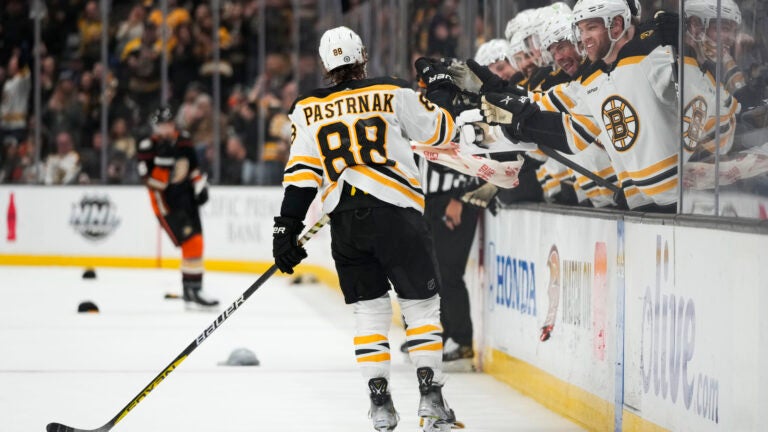 David Pastrnak is no stranger to lighting the lamp.
Armed with a powerful one-time shot capable of collapsing a penalty-kill structure and making even the sturdiest netminder duck for cover, Pastrnak has found the back of the net 272 times over his nine seasons with the Bruins.
Given Pastrnak's propensity to rifle shots into twine, multi-goal games and hat-trick performances have become the norm — rather than the exception — for the 26-year-old winger.
Pastrnak recorded his 13th career three-goal game on Sunday night against the Ducks. "It will never get old. You're scoring goals in the best league in the world. It's not easy," Pastrnak told reporters postgame. "I will never take it for granted. It's my job to score goals. It still makes you happy."
Pastrnak will likely have plenty more to smile about this summer when he's due for a new contract.
It'd be one thing for Pastrnak to put forth a familiar stat line of 40+ goals and 85-90 points in the season before he hits the open market.
But after his four-point showing against Anaheim, Pastrnak is putting himself on a record-setting pace ahead of his payday, with the winger currently projected to tally 66 goals and 119 points over a full 82-game slate.
No Bruin has scored 50 or more goals in a single season since Cam Neely (on one knee, essentially) reached the feat back in 1993-94. Of course, Pastrnak was in line to join Neely with his performance in the 2019-20 season (48 goals in 70 games), only to have his campaign cut short due to the COVID-19 pandemic.
But at his current rate, Pastrnak would become just the second Bruin in franchise history to score 60 or more goals in a season (joining Phil Esposito), while his 119 points would be the most accrued by a Bruin since Adam Oates recorded 142 points in 1992-93.
While the Bruins will gladly reap the benefits of unleashing Pastrnak's scoring salvo against the rest of the NHL, with each tally Pastrnak adds to his resume, the more likely the dynamic forward inks a record-breaking contract in the coming months.
When both Pastrnak and the Bruins first started to engage in contract talks last summer, the hope was that Charlie McAvoy's current long-term extension with Boston ($9.5 million annual cap hit through 2030) would serve as a familiar framework to whatever deal that Pastrnak and his representatives would sign off on.
But given Pastrnak's projected 60-goal threshold, it seems like a given that the B's winger will become just the seventh NHLer to secure a salary cap hit of $11 million or more moving forward.
And given the state of the market and the likelihood of the NHL's salary-cap ceiling soaring in the coming years, Pastrnak could easily find himself surpassing Nathan MacKinnon ($12.6 million AAV) as the highest-paid player in the league next season — especially if he hits the open market.
It's a steep price for the Bruins to pay — especially with the team already looking at a fiscal headache next season if both Patrice Bergeron and David Krejci hang up their skates this summer. (Along with the $4.5 million in potential bonus overages for both pivots, which will likely fall onto next year's books.)
But it's a price that the Bruins will have to meet, especially if they want to build a strong foundation for the post-Bergeron era next to key pieces like McAvoy, Hampus Lindholm, Linus Ullmark and others.
As much as some might push back against Pastrnak's potential record-breaking pay raise due to a perceived one-dimensional game — the Czech product's play this season has shed light on his value to the roster as a whole.
Because for as lethal as Pastrnak's one-timer might be, he's far from a one-trick pony in the offensive zone.
"Elite. Creative. He's like an artist, the different ways he scores," head coach Jim Montgomery said of Pastrnak's game following Sunday's win over Anaheim. "Everyone talks about the one-timers, but he scores off his front foot, his back foot, backhands, fakes."
And on Sunday night, Pastrnak turned the frozen sheet at Honda Center into his own personal canvas.
Pastrnak opened the scoring for Boston with his trademark one-timer, but his other two tallies came via a quick wrist shot and a breakaway bid that left a veteran netminder like John Gibson on the ropes.
"I would have broken my ankles if I was on the net for that breakaway one," Montgomery said of Pastrnak's final goal of the evening.
On a 3-0-0 road trip out in California where the Bruins outscored the Kings, Sharks and Ducks by a combined 15-6 margin, Pastrnak stood as the engine that fueled Boston's offensive output — scoring seven goals and eight total points during the three-game swing out west.
Through 40 games, Pastrnak now sits in second place in the NHL in goals scored with 32 tallies on the year — trailing only Edmonton's Connor McDavid (33).
But beyond just his ability to find the back of the net, Pastrnak has routinely driven play and sparked his linemates wherever Montgomery has slotted him.
He might have spent a majority of his time this season next to David Krejci, but Pastrnak's return to a top line next to Bergeron and Brad Marchand has led to some impressive (and entirely) predictable results — with Boston outscoring teams, 5-1, during their 101:16 of 5v5 ice time together.
Marchand in particular seems to have benefited from his reunion with Pastrnak. Over his last six games, Marchand has recorded 10 points, with seven of those points coming at even-strength action.
And even on Sunday, when Montgomery put his lines back into a blender and stuck Pastrnak with Krejci and Pavel Zacha — that top-six unit outscored the Ducks, 4-0, in just 9:19 of 5v5 action.
Pastrnak's offensive instincts can elevate just about any line or power-play unit that he's on — and those talents likely won't wane in the coming years if Boston manages to keep him in place with a long-term deal.
But even looking past his elite production, Montgomery believes Pastrnak's panache and theatrics resonate in a dressing room that relies on more than just its veteran core for a necessary spark.
"I think it keeps everybody loose," Montgomery said prior to the Winter Classic with the Pittsburgh Penguins at Fenway Park. "I think it allows them to live and learn from him. He is such a creative mind, on the ice, and look at the way he dresses. I'm jealous. I wish I could try some of that stuff.
"He helps us be who we are. Probably if you look at Bruins swagger, you look at David Pastrnak."
At this point, only one option remains on the table for the Bruins.
If they can't strike a deal between now and the trade deadline, the Bruins won't ship Pastrnak off to another team — not with this franchise's top focus fixated on giving Bergeron and Co. another chance at the Stanley Cup.
They also can't let a generational talent like Pastrnak walk for nothing this summer — unless they want to find themselves lambasted like another local franchise when it comes to dreadful asset management.
No, the only move available for the Bruins is to pay Pastrnak — their top scorer, offensive conduit and headline-snagging star — to whatever price he asks for.
And he'll be worth it and then some.
Get the latest Boston sports news
Receive updates on your favorite Boston teams, straight from our newsroom to your inbox.