Unassuming, understated, and brilliant: David Krejci's 1,000th game encapsulates his value to Bruins
"He's a Bruins legend."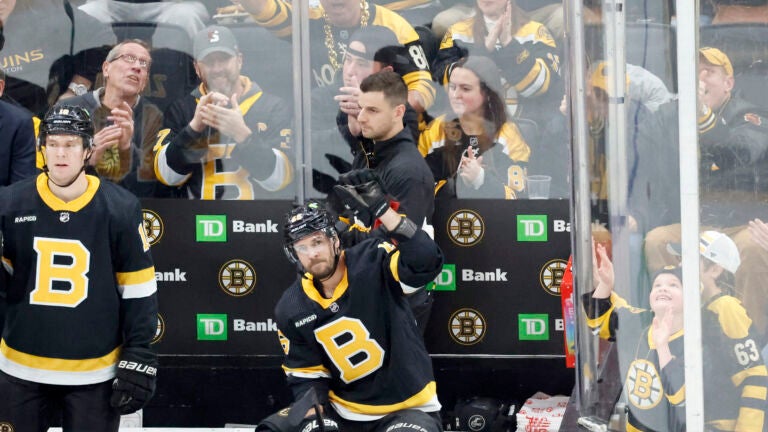 There was no rousing pregame ceremony held for David Krejci on Monday afternoon.
No carpet was rolled out for the 36-year-old forward ahead of Boston's matinee matchup against the Flyers.
A video soliloquy conducted by the countless Bruins who have benefited from Krejci's crisp feeds and sweet saucer passes was not broadcast.
Instead, Krejci and his team kept things simple.
Monday marked Krejci's 1,000th game in the NHL, all with Boston. Only six other players have reached that milestone with the Bruins. Only two others —Patrice Bergeron and Wayne Cashman — have logged as many games while only playing for the black and gold.
But rather than opt for the pomp that usually comes with such an achievement, Krejci settled for a brief acknowledgment sent through the Garden speakers following his first shift.
As expected, a raucous ovation followed from a packed house on Causeway Street. After soaking in the cheers raining down from the B's bench, Krejci raised his glove in recognition, marking an end to the brief festivities.
It was an understated, restrained, and effective exercise.
In other words, a fitting encapsulation of Krejci and his impact on this franchise.
"I think a lot of players have so much respect for him. And rightfully so," Bruins head coach Jim Montgomery said of Krejci. "He's a Bruins legend and he showed why tonight. Makes everyone around him better."
Unlike other players who rely more on skill and speed to thrive at hockey's highest level, Krejci's talents haven't eroded over time.
His playmaking prowess was put on display Monday against the Flyers, with Krejci stamping his milestone with three assists in Boston's 6-0 blowout over the visitors.
All three of Krejci's helpers against Philly won't make any end-of-season highlight reels.
But be it a soft floater just over the blue line or a cross-seam dish through an emerging passing lane, Krejci capitalized on just about every defensive fault committed by the Flyers.
The end result? A tap-in tally for David Pastrnak, a one-time rocket from the new $19-million-man in Pavel Zacha, and a deflection into twine en route to another easy two points in the standings.
Krejci's return to Boston following a season spent in Czechia hasn't seen many bumps in the road.
With his three-assist performance on Monday, Krejci is now up to 34 points (11 goals, 23 assists) in just 38 games.
Beyond his individual accomplishments, Krejci's addition gives Boston a two-headed monster down the middle with Bergeron, with those two centers anchoring a B's team that now sits at 34-5-4 on the season.
"I'm just glad for the way the team is playing. Obviously, the record speaks for itself. … We know what we have in this room," Krejci said postgame. "We don't take it for granted. But I like the mentality of this team to stay in the moment, take it game by game.
"Practices have been good. Obviously the coaching change helped a lot. We're obviously feeling good. I think we have really good, smart players here that are just staying in the moment."
A 1-2 punch of Bergeron and Krejci has served as a pillar of Boston's success for close to two decades. But Krejci has routinely flown under the radar despite his contributions to this franchise.
On various B's teams led by hulking blueliners like Zdeno Chara, potent snipers such as Pastrnak, bombastic heels like Brad Marchand, and a 200-foot maestro in Bergeron, Krejci's talents were often overlooked.
The Czech product has never been the fastest skater, nor will his shots instill the same fear in opposing goalies as when Pastrnak winds up for a one-timer.
But the veteran pivot's ability to both augment the pace of play and identify scoring chances before they develop makes him a vital cog in Boston's success.
Over the years, that poise and vision have led to many momentous tallies, some which have lifted the Bruins through countless Cup runs in the spring.
In two of Boston's three marches to the Stanley Cup Final over the last 12 years, Krejci led all NHLers in postseason scoring (2011, 2013). He ranks first in franchise history in playoff assists (82) and second in total points (124).
He's seen his production surge this season with Pastrnak stapled to his line. But Krejci's track record of O-zone production (764 points, seventh all-time for Boston) is even more impressive in hindsight, given the carousel of wingers he sorted through in the years after mainstays like Milan Lucic and Nathan Horton left.
But Krejci and the Bruins are not focused on the past. Rather, they're fixated on making the most of however long they can keep this contention window ajar.
"He's one of those guys that established a great culture, along with Bergy and [Chara]," Montgomery said of Krejci. "And he's carried that on the ice. He wasn't going to come back and play unless it was for the Bruins. And I think [a] reason we're an elite team in the league is because he came back. Not the only reason, but a huge factor in that. It gives us the opportunity to have great depth."
It remains to be seen how much longer Krejci will remain in a black-and-gold sweater.
But until he hangs up his skates for good, Bruins fans can expect more O-zone mastery from Krejci as he looks to cap his career in Boston with another Cup.
And, of course, there is little in terms of panache or grandiose boasts from the soft-spoken centerman. All par for the course with Krejci — a quiet, but irreplaceable architect behind one of the most fruitful eras of this franchise.
"You come every day to the rink with a smile on your face," Krejci said of this season. "You're enjoying every moment, because you don't know how long it's gonna last."
Loading...