Bruins
David Pastrnak, Bruins reportedly making 'progress' on contract extension
"Closer than they were even a couple of weeks ago."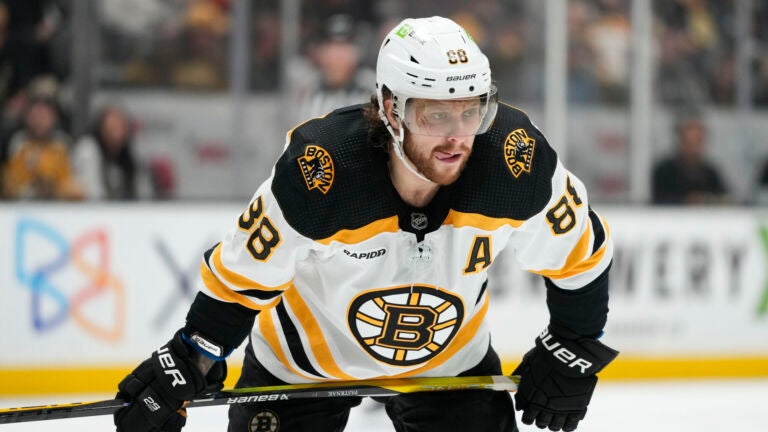 A Stanley Cup championship stands as Don Sweeney and the Bruins' top priority this season.
But a long-term extension for David Pastrnak isn't far behind.
Based on recent reports, the Bruins are making strides in their efforts to keep Pastrnak in a black-and-gold sweater.
On Tuesday morning, Sportsnet's Elliotte Friedman wrote that "Boston and David Pastrnak are grinding away" on a new deal. Friedman's report comes days after he said on "Hockey Night in Canada" that both parties have made "some progress."
More NHL insiders echoed Friedman's sentiments Monday evening. Speaking on TSN's "Insider Trading" segment, Darren Dreger added that both Sweeney and Pastrnak's agent, J.P. Barry, are making headway on the long-awaited mega-deal. Still, the final payout remains the main hurdle in talks.
"Closer than they were even a couple of weeks ago," Dreger said of Boston's conversations with Pastrnak's camp. "I know that progress was made last week in the discussions between Don Sweeney of the Boston Bruins and Pastrnak's agent, J.P. Barry. But they still have work to do.
"They're going to continue to grind at the details, so obviously that always comes down to the annual average salary — AKA money. The term seems less contentious, if it's at all contentious, on an eight-year maximum [contract]."
Boston's negotiations with Pastrnak have been an arduous and extended process, with Sweeney offering little in terms of tangible updates during the season.
Barry has followed a similar script by remaining mum on any developments regarding his client. But in wake of Friedman's TV report, Barry told the Boston Herald's Steve Conroy that, "We have made progress from a month ago it is fair to say."
Pastrnak picked a good season to raise his stock ahead of a hefty pay raise. The 26-year-old winger is on pace to score 67 goals and post 118 points over 82 games.
Team-friendly contracts and below-market-value agreements have buoyed Boston's success over the years. But with Pastrnak on track to join Phil Esposito as the only two 60-goal scorers for Boston, concessions might need to be made.
Sweeney and the Bruins already locked up one Czech forward over the weekend, signing Pavel Zacha to a four-year, $19 million contract.
Pastrnak will command a higher payout than his fellow countryman. But Friedman added that Zacha's new deal hammers home Boston's priorities over the coming days.
"While the Pavel Zacha extension is not directly related, it shows the philosophy," Friedman wrote. "Don Sweeney is trying to settle all business (although not at a baptism, but before the trade deadline)."
The NHL trade deadline is March 3 at 3 p.m. Even if Pastrnak opts to table talks until the summer, a win-now Bruins team won't entertain trade offers for its top sniper.
Sweeney and the B's can eliminate those potential headaches by getting Pastrnak to sign a deal over the next six weeks.
Get the latest Boston sports news
Receive updates on your favorite Boston teams, straight from our newsroom to your inbox.