Bruins
A scare for Patrice Bergeron, and other takeaways from Bruins-Islanders
"It's amazing. It's almost like they wanted to go score for him."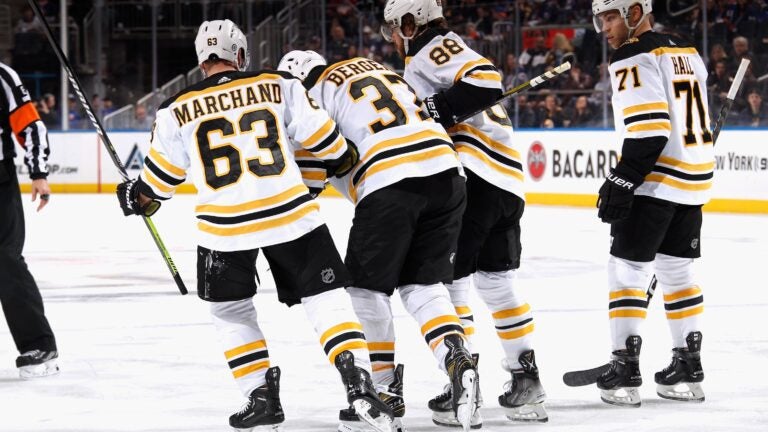 ELMONT, N.Y. — The Boston Bruins began Wednesday's game trailing the New York Islanders 1-0 after 20 minutes behind Zach Parise's late first-period knuckle puck tally. Then they turned a corner in the middle frame behind another blue-line offensive spark from Charlie McAvoy's blast and Derek Forbort's tuck-in go-ahead tally on the doorstep.
Early in the third, they turned a potential Patrice Bergeron scare into inspiration.
The Bruins' captain went into the visiting UBS Arena locker room for repairs after taking a puck to the face following a David Pastrnak shot attempt at 4:26 of the third period.
Poetically, Brad Marchand extended Boston's lead to 3-1 a mere 37 seconds later.
With the Bruins in control, Bergeron returned to the ice to help them secure their 4-1 victory.
Trent Frederic notched his 10th goal of the season to provide Boston with extra insurance with 4:42 remaining.
Linus Ullmark also notched his 100th career win following another productive outing and improved to 24-2-1 on the season.
Here's what we learned after the Bruins increased their record to an otherworldly 35-5-4.
Bruins showcase gumption before and after Bergeron's return.
As Bergeron made his way to the tunnel, the Bruins somehow had to return their focus to a pivotal power play opportunity.
Amid their concern for Bergeron's health, they once again overcame a stretch of adversity, albeit briefly. They didn't cave at all. Instead, they quickly extended their lead to two on Marchand's one-timer off Pastrnak's feed for his 15th goal of the season.
"I was actually fearful that our players would be concerned about our captain and not the task at hand," Montgomery said of that 37-second sequence between Bergeron's exit on Marchand's power play tally. "It's amazing. It's almost like they wanted to go score for him."
Bergeron could've remained in the locker room with the Bruins approaching the end of the first half of their back-to-back in the Empire State. But he returned to the bench to help his team finish off a struggling Islanders squad.
"Anything he can play through — or push to play through, he will. It makes you want to go through a wall when you see a guy like that come back and literally play through anything and sacrifice his body to win a game," Marchand said of Bergeron. "It's a huge boost for a group, even late in a game like that for him to come back. He didn't have to. He could've easily walked away and come back for that, but it says a lot about his character and who he is as a captain. That's why he is who he is."
He's played through pain throughout his career. Even a punctured lung and broken ribs couldn't prevent Bergeron from skating in Game 6 of the 2013 Stanley Cup Final.
Montgomery didn't provide a further update on Bergeron's status for Thursday's tilt against the Rangers. He said he'll leave that decision to Bergeron ahead of Boston's latest trek to Madison Square Garden.
Boston's D is finding increased offensive production.
Toward the end of Bruce Cassidy's tenure, the Bruins found themselves in the league's bottom half of offensive production among their blue-liners. That troubling trend prompted a difficult challenge for Montgomery upon entering his first season in Boston.
Montgomery envisioned a transition period from his core of blue-liners as they adjusted to his active defensive philosophy. For the most part, they adapted pretty well to his offensive-minded approach. This three-game stretch, in particular, showcased a further comfort level within that system.
After a rough first frame, Boston's D jumped in again to provide an offensive spark.
Matt Grzelcyk, who entered Wednesday's tilt with goals in two straight games — including Saturday's game-winner against Toronto — got the Bruins off and running in the middle frame after setting McAvoy up for his third goal of the year during a skating tour of the attacking end.
"Grizzy has been hot," the Long Island-born McAvoy said of Grzelcyk, "and we've been able to keep it going together."
McAvoy's blast past Semyon Varlamov highlighted Boston's assertive offensive approach within their blue line. So too, did Forbort's go-ahead marker.
The veteran, more known for his stay-at-home prowess, parked himself near the goal line on Pavel Zacha's attempt from the slot. From the doorstep, he promptly tucked in his third goal of the season.
"We've been talking about getting the D core involved and help out the scoring," Forbort said of the recent offensive uptick. "It was nice to see some go in tonight."
The Bruins relied on a layered defensive structure to keep the Islanders' attack at bay. But they didn't hesitate to turn to their last line of defense en route to his milestone victory.
Ullmark spins his way to his 100th career win.
In a year full of milestones, Ullmark's triple-digit win total might mark one of the unlikelier developments.
Very few, if any, imagined Ullmark embarking on a Vezina-caliber season. Yet, in late January, he solidified himself as a potential runaway for the award given to the league's best goaltender.
At times, he admits to feeling overwhelmed by the brevity of this torrid pace. Even as he's bailed his team out on a handful of occasions, Ullmark continues to provide a steady presence in net.
"It has been overwhelming, I'm not going to lie," Ullmark said. "It has been a different kind of season definitely, and it has taken a lot out of me to keep going and not be too satisfied because it's hard. We have the luxury at this half of the season to be at this point. Usually, you're at this point at the end of the season. So I have a lot of gratitude toward all the boys in here that go to work every single night. So kudos to them."
Likewise, the Bruins continue to showcase their gratitude toward Ullmark following another stout performance.
Amid a rough opening 20, Ullmark stood tall with multiple clutch stops to keep the Bruins afloat. Amid that stretch of a handful of flashy saves, the former Buffalo Sabre also showcased unique skating and puck movement after preventing Parise from generating a potential shorthanded scoring opportunity.
"Oh my god, his hockey sense is unreal," Montgomery said of Ullmark. He's really good. Most underrated part that I never hear people talk about is how well he plays the puck…his decision-making. That takes a lot of poise, and it shows the confidence that he has beyond the numerous good saves he made tonight."
The poise and confidence allowed Ullmark to achieve his 100th career victory. And he got to share his milestone with every member of Boston's tight-knit locker room.
"I've got to share it with the most special group in this league," Ullmark said. "So I couldn't be more happy."
Sign up for Bruins updates🏒
Get breaking news and analysis delivered to your inbox during hockey season.