Bruins
The Bruins have a goaltending luxury, and other takeaways from Bruins-Rangers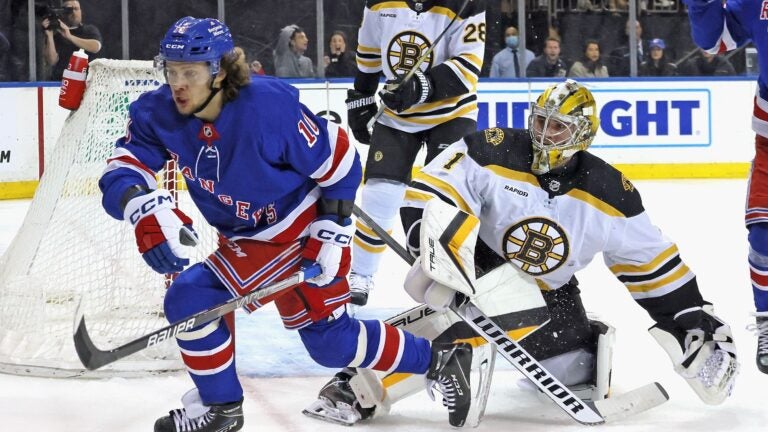 NEW YORK — Was there any doubt regarding Patrice Bergeron's availability?
Just a day removed from taking a puck to the face, Bergeron took his usual place on Boston's top line for the second half of the Bruins' Empire State back-to-back against the Rangers.
And, of course, Bergeron factored into the scoresheet. Fresh off a timely early second-period penalty kill, Boston's captain and Brad Marchand spearheaded the Bruins to a 2-0 lead, with Bergeron finishing a one-timer on one of their trademark 2-on-1 rushes at the 4:42 mark.
Behind an opening spark from the all-Czech line on Pavel Zacha's early first-period tip-in, a continuing offensive uptick from Boston's blue-line, and another stout outing from Jeremy Swayman, the Bruins earned a professional 3-1 victory over the Broadway Blueshirts.
The win may have come at a cost, however, as defenseman Brandon Carlo exited Thursday's tilt after a painful shot block during New York's early second-period power-play attempt.
Here's what we learned as the Bruins continue their historical trek, improving to 36-5-4 on the season.
Bergeron "felt good enough" with his decision.
With the Bruins controlling their fate in Long Island Wednesday night, Bergeron could've called it a night. Instead, he surprised everyone, returning to the bench after Marchand notched his power-play marker just 37 seconds after Bergeron's exit.
Bergeron also surprised one of his teammates. In fact, David Pastrnak didn't even believe Taylor Hall when the 2010 top overall pick mentioned Bergeron's return.
"I mean, it's crazy," Pastrnak said during his media availability moments before the league announced his appearance for the upcoming All Star Game. "Obviously, yesterday it wasn't a great moment sitting on the bench when Bergy had to leave. But Hallsy [Taylor Hall] turned toward me and said [Bergeron] is back, and I kind of thought he was joking. Then I looked, and I was so happy he was alright, and it wasn't serious. But I thought [Hall] was joking, and I didn't even look for [Bergeron] when [Hall] said he was back on the bench. I couldn't believe it."
Perhaps Thursday marked a more believable occurrence.
Head coach Jim Montgomery allowed Bergeron to determine his availability Thursday night. The two sides engaged in dialogue leading up to their third tilt in four nights.
With the significant points distance between Boston and the rest of the pack, the Bruins easily could've easily pulled the load management card. But once again, Montgomery took a back seat and allowed Bergeron to decide for himself.
"It's something that they've talked about. Those are decisions that they need to make. That's what I told them. They need to make that decision if that's what they want," Bergeron said. "If you leave it up to me, obviously, I want to play as a competitor. So when it was up to me, I felt good enough to play."
The coaching staff immediately trotted out Bergeron, inserting the top line — with Marchand and Craig Smith at opposite wings — into the starting role. The All-Czech line of Pastrnak, David Krejci and Pavel Zacha came out for the next shift and promptly gave the Bruins the 1-0 lead on a Zacha tip.
The Bruins received a pair of insurance markers from Bergeron and Clifton. But the top star honors on this night belonged to one of their stalwarts in net.
The Bruins have a goaltending luxury.
The days of riding one goaltender for 65-70 regular season starts have gone wayside. In turn, most of the 32 NHL franchises try to establish a healthy rotation between two netminders.
Some teams thrive on their 1A and 1B situation. In the Bruins' case, they have two 1A's that can take over any team's crease.
The Bruins have the luxury to roll with a Vezina candidate in all-star Linus Ullmark or a reliable young hand in Swayman. They turned to the latter in the second half of the New York back-to-back.
The Rangers tested Swayman early and often with multiple breakaway attempts and secondary scoring chances near the crease. The former UMaine standout delivered another brilliant performance on Broadway, stopping 31 of 32 New York shots. His toughest stretch came at the end of the first, where he stood tall on quality bids from Chris Kreider and Jake Leschyshyn as the Bruins hit a bit of a lull during that timeframe.
Swayman's lone blemish came at 15:37 of the third after Ben Harpur's shot from the point found its way through traffic for his first goal of the year.
"He's been poised, and he's always in position," Bergeron said of Swayman. "I can't say enough about him and his demeanor. He's ready every time he's asked upon and gives us a chance to win every time. It's great to see. When he's having a game like the game he had tonight, it gives you confidence, and you want to pull it all for him."
"The guys came ready to play, which says a lot about our team," Swayman said after improving to 6-0-2 in his last eight starts. "Huge road win for us. We're happy with the two points."
Swayman and the Bruins once again thrived under pressure. And they endured another moment of adversity without one of their stable defensive presences.
Boston's D continued their offensive pace following Carlo's injury.
The second half of a back-to-back presents its share of challenges, especially in the middle of a given season. But the Bruins entered with an ideal scenario against the Rangers after entering cruise control in the third period of Wednesday's tilt with the Islanders.
Following a comfortable workload the night before, the Bruins likely expected a more taxing task against a Rangers bunch coming off an Eastern Conference Final appearance last season. Whatever plans they had to spread out their minutes across their three blue-line pairs hit a snag once Carlo hobbled to the locker room within the opening moments of the middle frame.
For the next 38 minutes and change, the Bruins only had five defensemen at their disposal. But that didn't prevent them from contributing to the goal column for the fourth straight game.
Their second insurance tally came right after Clifton exited the penalty box. Within seconds, Clifton jumped from the sin bin to an odd-man rush situation with Marchand on his left. The New Jersey product promptly took Marchand's feed and delivered a slick snapshot past 2022 Vezina Winner Igor Shesterkin to give the Bruins the 3-0 lead a mere 28 seconds into the final frame.
"I think our defensemen, ever since we got back from the west coast, have become more assertive offensively," Montgomery said. "And I think because of that, their gaps have been really tight. They've been really good."
Every Boston defenseman, including a wounded Carlo, has reaped the benefits of Montgomery's active defensive system.
Montgomery didn't provide any further update on Carlo's status beyond the team's original lower-body injury diagnosis.
If Carlo misses time, the Bruins will likely insert Jakub Zboril back into the lineup. The 2015 first-round selection recently appeared in Boston's lineup in San Jose on Jan. 7. Before that, he went nearly two months between games, with his previous appearance coming back on Nov. 23 in Florida.
Sign up for Bruins updates🏒
Get breaking news and analysis delivered to your inbox during hockey season.