Bruins
More offense from the defense, and other takeaways from Bruins-Sharks
The Bruins' defense now has goals in five straight games.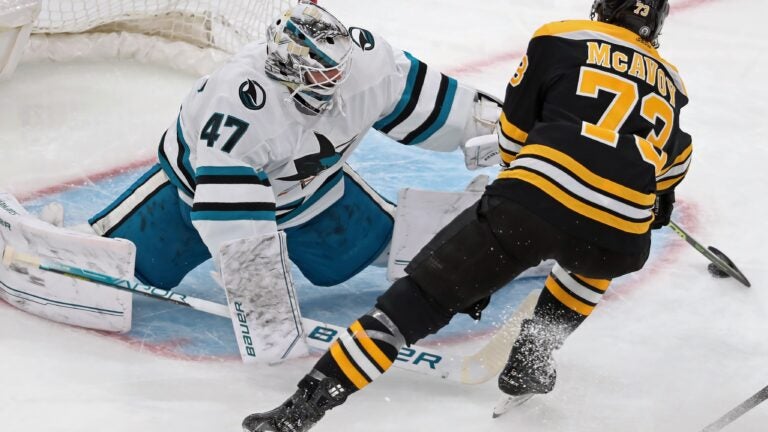 On Sunday, San Jose's NHL franchise attempted to create a Shark-infested rink akin to the summer scenery at Cape Cod. But a stingy Boston Bruins defensive core navigated the smooth waters of the TD Garden ice for another stellar outing.
A pair of slick markers from Hampus Lindholm and Charlie McAvoy during the opening 40 minutes sparked the Bruins' defense as they extended their streak to five straight games with a lamplighter.
Lindholm and McAvoy also notched primary assists, respectively, on Nick Foligno's second-period tip and David Pastrnak's power play blast in the third.
Amid another stout offensive performance — combining for five points on two goals and three assists — Boston's defense kept their crease clean. Even with Jeremy Swayman's brief appearance in the third while the equipment staff replaced one of Linus Ullmark's skate blades, the Bruins allowed their fewest shots on goals this season (18) and cruised to a 4-0 win over the lowly Sharks.
Here's what we learned after the Bruins improved to 37-5-4 following Make-A-Wish night on Causeway Street:
Bruins' D continues to showcase scoring variety during goal streak.
Under both Claude Julien and Bruce Cassidy, the Bruins hardly encouraged their defensemen to aggressively pursue the attacking end outside of the likes of McAvoy, Lindholm, Matt Grzelcyk and Torey Krug.
With Jim Montgomery, Boston's core of blue liners has the green light to attack whenever they deem fit.
The Bruins aren't just settling for shots from the point, hoping for a tip or bounce. They're aggressively attacking the net through their skating tours of the offensive end, making last-second pinches to keep pucks in and prevent counterattacks, and even searching for rebounds and tips.
Boston's D showcased a little pizzaz on Sunday, beginning with Lindholm's crafty opening tally.
"I got a little time there, and then I saw [Patrice Bergeron] pop up, and then I saw him shade a little bit," Lindholm said of the sequence leading to his sixth goal of the season. "So I kind of just took [the play] toward the middle, and luckily it went in."
A little luck and skill can go a long way sometimes. McAvoy can attest to that sentiment following his highlight-reel Bobby Orr-like end-to-end marker during the middle frame.
McAvoy and Lindholm each added an assist to cap off their two-point night. Matt Grzelcyk also notched a secondary helper on Lindholm's highlight-reel tally.
Following another night showcasing their offensive variety under Montgomery's up-tempo approach, the Bruins' defense now has goals in five straight games. That marks the first such occurrence since March 8-15, 2014.
"A little bit of everything," McAvoy said. "It all really goes back to game planning and a little bit of our O-Zone strategy where we can get back into it. Our coaches do a good job preaching it to us, and then it's up to us to use our instincts. It's certainly really nice when it's paid off."
Indeed the offensive assertiveness has paid off with the group of six on the back end. So too, did a rare short fuse from one of their right-shot anchors.
Brandon Carlo showcased a feisty edge.
Carlo received a fortunate break after exiting early in the second period when he took a shoot off the foot during Thursday's 3-1 win over the Rangers.
Perhaps the extra recuperating time paid off after Carlo returned to Boston with his teammates following the New York sweep. The Colorado Springs native returned to practice ahead of Sunday's tilt with San Jose.
Carlo appeared in the starting lineup with his fellow partner in Lindholm and the top trio of Brad Marchand, Bergeron and Craig Smith. On the opening shift, Sharks winger Timo Meier poked the usually mild-tempered Carlo during a heated exchange near the Zamboni corner.
The 2015 second-round selection could only take the extra shoves from Meier for so long as he approached his feet. At that point, he put his injury history aside and challenged Meier to a round of fist-a-cuffs a mere 27 seconds into Sunday's tilt.
"I thought it was great emotion from our bench. He got us right into it that way," Montgomery said of Carlo's fight with Meier. "It was nice to see him…usually, he has a long fuse. That was a short fuse; it's good to see."
Carlo went to the locker room for repairs. But unlike Thursday, he returned and didn't lose any intensity performing in his usual shut-down role, adding a hit and a blocked shot in 16:53 time on ice.
Ullmark and Swayman combine for a unique shutout.
For those Bruins fans who encountered a deja vu feeling from a similar event involving Tuukka Rask in 2018, you weren't alone.
One of Rask's successors embarked on his skate blade moment nearly four years later. And like Rask, Ullmark had his first stretch of play without the blade to one of his skates during a third-period sequence.
Unlike Rask, Ullmark didn't toss his skate blade out of frustration.
"Tuukka, if I remember right, he launched his skate blade," McAvoy said. "You can put that on Tuukka's highlight reel. But I'm still trying to figure out the rule there, if they blow [the play] dead or what have you. I have to go back to the rule book…but yeah, Liner [Ullmark] was a little more calm in net there."
Four years elapsed between Rask's viral moment to a more subdued reaction from Ullmark. The rule involving that particular equipment malfunction remains the same.
Play continued in San Jose's attacking end before the officials blew the whistle. With a little assistance getting to the tunnel from Taylor Hall, Ullmark glided awkwardly to the tunnel where Matt Falconer — appearing in his 1,000th career NHL game — and Boston's equipment staff had a replacement blade waiting in tow.
"It was weird," Ullmark said. "I had no real thought process of what I needed to do. But I didn't know the rules either. I thought you could blow [the whistle] as a goalie. But if you think about it, when after the ref talked to me, I understand that he can't. He's not going to blow it if the d-man or the forward is doing it, so why do it when it's me?"
Ullmark didn't need to complain about the Bruins' performance in front of him. Nor did Swayman, who denied Matt Nieto's breakaway attempt in the lone shot he faced during the 2:28 of relief time.
Get the latest Boston sports news
Receive updates on your favorite Boston teams, straight from our newsroom to your inbox.