Bruins
A confident Charlie McAvoy is driving Bruins' scoring surge from the blue line
"We're starting to see the dynamic McAvoy that we've seen for years."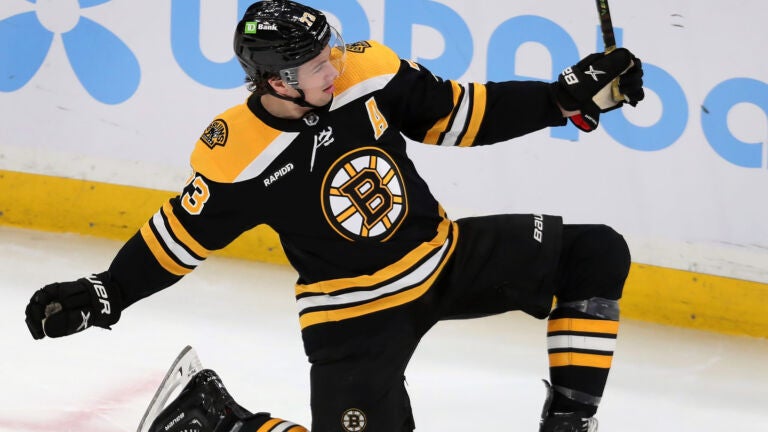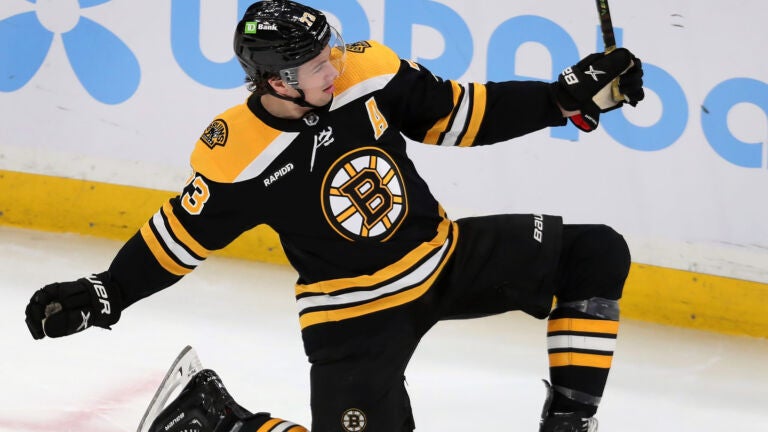 Charlie McAvoy leaves his fingerprints on just about every Bruins game.
His active stick, hockey IQ, and stout frame make him a defensive equalizer. He can shift the momentum of a contest by way of a thunderous check.
On the power play, the Boston University product has the passing talent and awareness to form cracks in a PK structure.
One thing that isn't at the top of McAvoy's duties? Lighting the lamp.
But that doesn't mean he won't relish those opportunities when they present themselves.
"Are you kidding? Scoring goals is the [most fun] thing in the game, right? It takes you back to when you were a Mini Mite," McAvoy said Sunday following Boston's 4-0 win over the Sharks. "It doesn't matter if you're five years old or 25 — scoring goals is fun."
McAvoy's highlight-reel goal against San Jose was more than just a feather in the cap for Boston's No. 1 D-man.
For the Bruins, it was the latest example of McAvoy's offensive game turning a corner following a lengthy recovery from offseason surgery.
It's been over seven months since McAvoy went under the knife to repair a shredded left shoulder. He's been back in the Bruins' lineup since November 10.
With 29 points over 33 games, McAvoy is still on pace to hit the 50-point threshold for the first time in his six-year career.
But a lofty stat line hasn't coincided with McAvoy showcasing his trademark assertiveness or poise with the puck on his stick.
At least until now.
"I feel like I'm really getting there. … Feel like I've been rounding into it and that's everything," McAvoy said. "That's legs, that's confidence, that's brain. That's all of it. So it's nice to feel like yourself out there and feel like you can contribute with what the team needs from you."
It comes as no surprise that McAvoy's recent uptick in scoring (two goals, six points in four games) comes at the same time Boston's D corps is finding twine at a healthy clip.
With both McAvoy and Hampus Lindholm scoring on Sunday, Bruins defensemen have now scored goals in five straight games. Fittingly, Boston has won all five of those tilts, trailing for just 25:33 over that stretch.
"You're seeing it from our back end as a whole," Nick Foligno said. "Just the way they've jumped into the plays and they've kind of made it a four-man front instead of a three-man, even a five-man front sometimes with the way they have both guys diving down. They're so responsible on both ends, right? … It's what those guys are capable of doing.
"When Charlie starts to move and he can create a lot, look at Lindy's goal as well. And these guys have a ton of skill back there I think they're just getting to showcase it now. And obviously, they're just so committed on the defensive side."
Part of Jim Montgomery's mandate entering his first year as Boston's bench boss revolved around coaxing more offense from the blue line. It's tough to argue with the results.
So far, Boston's defensemen have combined for 108 points this season. That uptick in production comes from tweaks to Boston's transition scheme, along with Montgomery's knack for taking the reins off blueliners if a Grade-A chance presents itself.
But those low-to-high strikes and odd-man chances can't be capitalized without a six-man unit operating with plenty of confidence.
And after shaking off some rust, McAvoy is finding confidence in droves.
"He was about three weeks or a month behind [Brad Marchand] coming back," Montgomery said of McAvoy's recovery. "And Marchy seemed to get it back right after Christmas and you look at the timeline. He's just now getting his skating shape and his confidence — everything's rounding into form and we're starting to see the dynamic McAvoy that we've seen for years."
Sign up for Bruins updates🏒
Get breaking news and analysis delivered to your inbox during hockey season.