Bruins
Bruins-Lightning takeaways: A rare 3rd period lapse for Boston
Boston still sits 12 points ahead of the next best team in the NHL.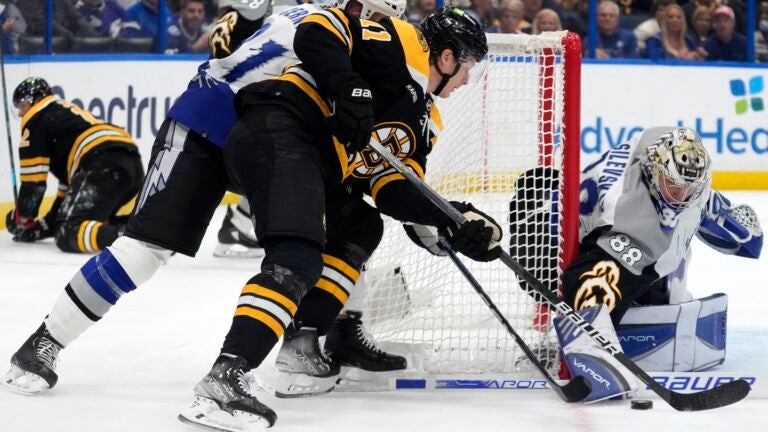 Continuing their quest for NHL history, the Boston Bruins found themselves deadlocked in another playoff-like contest Thursday night in Tampa.
Much like Tuesday night in Montreal, the Black and Gold needed to bring their 'A-game' against a determined Lightning bunch.
On a night of razor-thin margins, the Bruins couldn't overcome a pair of rare setbacks during the final frame. Jim Montgomery's squad answered back on Tampa's first two markers but couldn't collect a third equalizer during their last-minute push.
An over-aggressive penalty kill burned the Bruins during the opening period. Boston's usually reliable shorthanded unit couldn't recover in time after leaving Brandon Hagel alone in front. The Lightning forward promptly buried his golden opportunity over Linus Ullmark's blocker to give the Bolts a 1-0 lead.
In the dying minutes of the second period, Brad Marchand delivered Boston's first equalizer. A questionable goalie interference penalty on Taylor Hall brought forth 4-on-4 hockey, where Marchand fired home his 16th goal of the season.
Nikita Kucherov regained Tampa's lead after a poor puck drop in Boston's defensive zone 58 seconds into the third. The Czech line responded quickly, as all three countrymen connected on a beautiful sequence finished off by Pavel Zacha to even things up at 2-2 just 1:26 later.
Victor Hedman punished the Bruins after a rough couple of minutes, giving Tampa the lead with 6:41 remaining in regulation. Boston rediscovered its game in the closing moments, but the Bolts withstood Boston's last-ditch attempt at another equalizer and secured their first win of the season over the NHL's league-leading squad.
"I felt like we were right in it, you know," David Krejci told reporters following Boston's 3-2 loss. "Just an unfortunate break."
Here's what we learned as the Lightning snapped Boston's six-game win streak.
A rare third-period lapse proved costly.
Even in the dog days of the NHL calendar, the Bruins have seen their fair share of playoff-like matchups. January victories over Pittsburgh and Toronto have showcased thrills usually reserved for April and May.
Such is the way of the Stanley Cup Playoffs and its regular season imposters that those thrills are only felt within a tightly-contested contest. Thursday night was no exception to that rule, as the Bruins' brief lapses proved costly.
"The set forecheck goal – the game-winning goal, that's something that I have to take ownership of," Montgomery said. "We weren't prepared for their set breakout that was giving us problems all night long; we've got to get better there."
It was an uncharacteristic stretch just past the midway point of the final 20 that led to the eventual game-winning goal. The NHL's best third-period team couldn't overcome a hectic sequence on Tampa's game-winner, as Point burned past Hampus Lindholm, and a down-and-out Brandon Carlo took out Ullmark.
Given their incredible third-period consistency, the Bruins were bound to encounter lapses at some point. On Thursday, they hit a wall against Tampa's elite core.
Ullmark and Vasilevskiy went toe-to-toe.
Stop me if you've heard this before, but Ullmark had another stellar night.
The Swedish netminder stopped 32 of 35 shots, coming up with plenty of timely stops while going toe-to-toe with Andrei Vasilevskiy. Ullmark and Vasilevskiy, now trading years of respective dominance, put on quite the back-and-forth goaltending showcase.
The Lightning needed to rely on their rock-solid netminder during Boston's stretches of dominance in the second and third periods. The two-time Stanley Cup champion stood tall in the waning minutes of the third period to cap off a 37-save performance.
"I thought [Ullmark] did great," Montgomery said. "I thought he made a lot of saves look easy. He was in good position, you know. Vasilevskiy played great, too; he made a lot of high-quality saves as well."
Of all the intriguing matchups that a potential second-round series between the Bruins and Lightning could bring, the battle between the pipes would be something to behold. Ullmark's ridiculous numbers have solidified him as an elite goaltender this season. An opportunity to take down one of the more proven playoff performers of this generation could await the second-year Boston netminder come spring time.
Officiating hurt, but did not cost Bruins
Thursday night's officiating greatly reflected the playoff-type atmosphere between the two Atlantic Division rivals. While it wasn't the deciding factor by any means, the Bruins didn't receive any breaks from the officials.
Kucherov's go-ahead strike in the third period materialized off an incredibly early puck drop by the linesman and an encroaching Steven Stamkos. Kucherov scored directly off the faceoff, collecting a critical strike in a very close contest.
"I didn't see the replay, but I felt like [Stamkos] went straight for my stick before the puck touched the ice," Krejci said of the sequence. "I've got kicked out for that many times, but I don't want to accuse the ref 'cause that's how I felt, but I haven't seen it yet."
In such a playoff-like atmosphere, the Bruins didn't receive the benefit of the doubt from the officials on a handful of occasions. But they were by no means a victim of one-sided officiating.
"I mean, it's fine. They miss an elbow, they miss a cross-check right," defenseman Connor Clifton said. "One for one, I guess; we squared it away."
Get the latest Boston sports news
Receive updates on your favorite Boston teams, straight from our newsroom to your inbox.