Bruins
Bruins-Hurricanes: What we learned from Boston's 3rd straight loss
"I thought they checked us right out of the rink."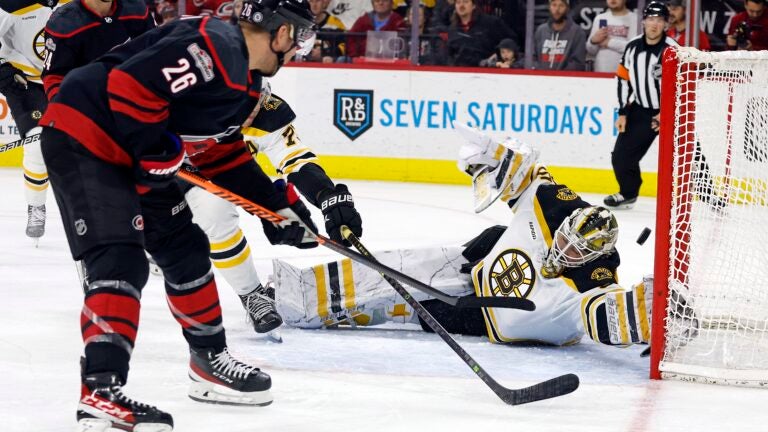 The Boston Bruins are in the midst of their first slump of the season.
Fresh off a frantic 4-3 overtime loss to the Florida Panthers less than 24 hours prior, Jim Montgomery's squad traveled to PNC Arena for their third game in four nights. The Bruins struggled from the get-go against the Metro Division-leading Carolina Hurricanes.
Linus Ullmark did all he could to keep the Bruins alive, stopping 32 of 35 shots. His team hung him out to dry.
Costly turnovers from David Pastrnak at the attacking zone blue-line and Brandon Carlo's blunder in the defensive end resulted in respective first and third-period breakaway tallies for Sebastian Aho and Seth Jarvis.
The Bruins hardly received any fortunate bounces aside from Pavel Zacha's third-period marker. The Hurricanes earned their breaks Sunday night, including on a Paul Stastny second-period power-play backhanded tally on a friendly bounce off the end boards.
Boston couldn't convert on any of its six chances with the man advantage. Even at 5-on-5, they hardly generated quality scoring opportunities on Frederik Andersen, often settling for one-and-dones in their rare stretches of extended attacking zone time.
The Hurricanes outworked a fatigued Bruins bunch en route to their 4-1 victory.
"I think the problem was the Carolina Hurricanes. I thought they checked us right out of the rink," Montgomery said to NESN's Jack Edwards and Andy Brickley. "Give them credit. They really checked hard. They caused a lot of turnovers that led to odd-man rushes… two of the goals they got were because of turnovers."
Here's what we learned as the B's dropped three straight for the first time since April of 2022.
The slumping Bruins welcome this season's first encounter with adversity.
Frankly, the Bruins were overdue to embark on their first slump of the season.
Even during this otherworldly run, Patrice Bergeron sensed that time would come at some point. After all, the longest-tenured Bruin encountered numerous team-wide slumps during his illustrious career.
"We've talked about facing adversity at some point in the year, and here we are," Boston's captain told the press. "We have to face that as a team together, and roll up our sleeves and learn from what hasn't been there in the last few games."
Indeed, their recent performances, especially over the last two games, ended with a deserved outcome.
The Bruins encountered a rare third-period lapse during Thursday's 3-2 loss in Tampa. But they didn't lack in generating multiple quality scoring chances on Andrei Vasilevskiy and a sound Lightning defensive core.
On Saturday, they fought through a night of puck mismanagement and a short-circuiting power play to put themselves within striking distance of two points on Pastrnak's go-ahead marker with under a minute left. But they couldn't withstand Florida's relentless push for its third equalizer of the night, succumbing to Aleksander Barkov's tying marker with 1.4 ticks remaining in regulation before dropping their second straight tilt a mere 17 seconds into overtime.
A tired and frustrated Bruins bunch hoped to capitalize on their opportunity to quickly snap their two-game skid with their quick turnaround. Instead, Boston's battle-tested bunch now faces their first bout of adversity this season after the team's worst 60-minute outing of the year.
"We're lucky that we're in the position that we are," Ullmark told reporters after the Bruins dropped to 38-6-5. "Facing adversity is something that you do. It's nothing uncommon. I've faced a lot of adversity here throughout my career in North America, so I know what it's all about."
The Bruins aren't panicking. They have a comfortable cushion over the rest of the pack, including a nine-point advantage over Carolina.
But this three-game run provided some areas of concern, especially with the man advantage.
Montgomery isn't too concerned with the power play issues.
The Bruins' recent power play woes coincide with this three-game skid. But with a deep talent pool of finishers and puck movers, Montgomery isn't too concerned with Boston's 0-for-12 rut with the man (dis)advantage.
"I think we just need a little bit of rest," Montgomery told NESN. "I'm not too worried about our power play. Our players are too talented and too competitive."
The Bruins should receive a boost when Jake DeBrusk returns to his usual net-front role on the top unit following the All-Star Break. Until then, they'll try to light a spark with their current personnel.
Montgomery's latest adjustment with his top unit came on Sunday, with David Krejci replacing Taylor Hall. But like the rest of his struggling bunch, the crafty Czech centerman succumbed to a heavy Hurricanes shorthanded forecheck.
The Bruins rarely gained a clean entry into the attacking end during their six chances with the man advantage.
Carolina's blue-line trap ultimately forced the top unit of Krejci, Bergeron, Pastrnak, Brad Marchand and Charlie McAvoy into dump-and-chase mode in an attempt to assemble their setup from behind the net. Plan B didn't work either. The Hurricanes won a significant majority of puck battles along the walls and promptly iced the puck.
Even a 6-on-4 sequence didn't benefit the Bruins late in the third. Instead of pulling within striking distance, the Hurricanes quickly ended Boston's unlikely comeback hopes on Jordan Staal's shorthanded empty-netter.
PNC Arena remains a house of horrors.
A late-January tilt during the dog days of the NHL season hardly resembles the intensity and urgency of playoff hockey. Yet, dating back to last year's first-round matchup, the Bruins hardly provided a 60-minute effort at PNC Arena.
Including last year's lone regular-season appearance, the Bruins have dropped five straight to the Hurricanes in Raleigh. And similar to Sunday, they've hardly looked competitive during their recent trips to North Carolina's capital city.
"I thought we were a little slow, especially in the neutral zone," Bergeron said of Boston's latest setback in Carolina. "When we're doing that against a team like that, they're always going to be in your face and give you no break."
The Hurricanes' aggressive forecheck hardly provides any breathing room. That's especially true when they score first before their rowdy faithful.
The Bruins hope to reverse that fortune in their next trip to Raleigh on March 26 during another latter half of a back-to-back. In the meantime, they'll turn their attention to Wednesday's matchup with the Maple Leafs — inside the equally unfriendly confines of Scotiabank Arena — in an attempt to stop the bleeding before their 10-day break.
"We're in a great spot, still. We've got one more game up in Toronto. So we'll try to win that one, and then we have a break," Ullmark said. "And we'll try to recharge our batteries and try to go on a heater again."
Sign up for Bruins updates🏒
Get breaking news and analysis delivered to your inbox during hockey season.