Bruins
Bruins-Maple Leafs: What we learned as Boston snaps 3-game losing streak
The Bruins snapped their only losing streak of the season and head into the All-Star break with a 5-2 win.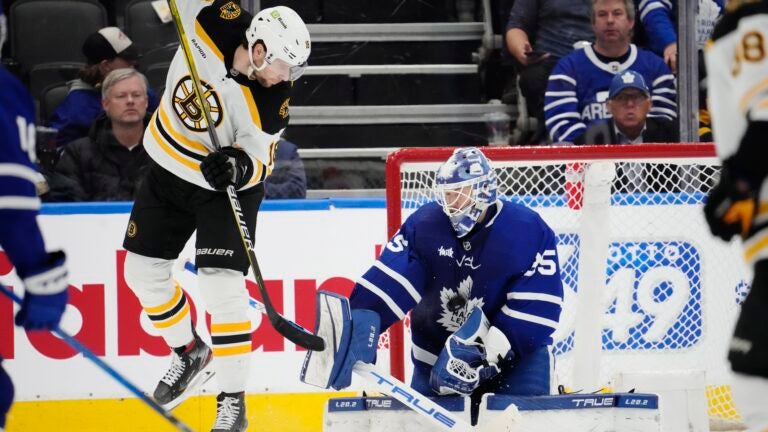 Back with a bang.
The Boston Bruins had hit a rut, seemingly running out of gas following three games in four nights against some of the NHL's toughest opponents. With a 10-day layoff in sight, a loss against the rival Toronto Maple Leafs would've left a sour taste, but hardly affected the Black and Gold's comfortable position atop the league standings.
Instead, the Bruins addressed the many concerns that arose during their first multi-game losing streak of the year. After a weeklong skid, a reactivated Boston back-end led the charge.
Derek Forbort and Brandon Carlo gave Boston their first two leads of the night, occurring at 6:57 and 12:33 of the second period, respectively.
The league's best third-period team had seen their standard slip during crunch time. Boston's uncharacteristic lulls during the final 20 resulted in frustrating losses to the Tampa Bay Lightning and Florida Panthers.
"I think we got back to our identity tonight," Jim Montgomery said to NESN's Jack Edwards and Andy Brickley. "I think our depth, our d-men, the scoring, our fourth line coming through like they did and Charlie Coyle's line playing unbelievable. It was fun to watch."
Wednesday night saw a refreshing return to excellence during the final frame.
A.J. Greer collected his fifth of the year just 2:13 into the third, and Pavel Zacha double-dipped later on.
Zacha's continued post-contract scoring prowess silenced Toronto's comeback bid, beginning with his first tally a mere 30 seconds after Calle Jankrok had cut Boston's lead to 3-2.
Zacha capped off a tremendous shift by cutting back in the high slot and firing a dart past Ilya Samsonov to extend Boston's lead to 4-2. The Czech forward added his second of the game just 3:11 later, converting on the doorstep following a stellar feed from fellow countryman David Krejci.
Behind that third-period takeover, the Bruins returned to their winning ways before their 10-day layoff. Here's what we learned after Boston improved to 39-7-5 following its 5-2 win in Toronto.
The back-end rediscovers their scoring touch.
Carlo was right in the middle of Boston's first skid of the year.
The stay-at-home blueliner's reliable play declined a bit during the Bruins' first skid of the season. With two days ahead of their final test before a 10-day layoff, Carlo and the Bruins can now hit the reset button.
"We're focused on our process, that revolves around making smart decisions laterally, especially through the neutral zone," Carlo told reporters. "I think we did a good job tonight of doing that. The forwards obviously got to the net front quite a bit and opened up some opportunities to screen the goalie and get pucks behind him. It was good to get that result and get back on track."
Carlo and Forbort rewarded a Bruins defensive corps that wasn't as active during their three-game skid.
Once again, the Bruins used their weak side defenseman to quickly transition up ice at any given opportunity. It started with Connor Clifton's first-period breakaway attempt and continued with the assertive goals from Carlo and Forbort. On Wednesday, the trio, known more for their defensive-first skillsets, thrived the most within Montgomery's offensive system.
Forbort jumped in as the second man in the offensive zone and buried Frederic's feed. Carlo found himself down in the right circle and deposited the puck past Samsonov. Their key second-period markers provided tone-setters for the final 20.
"Those are always nice for me because I'm not a huge goal scorer," Carlo said. "It definitely adds a little boost of confidence throughout that game. Headed into the break, it will be nice to take a mental break."
The Bruins return to third-period excellence.
As good teams do, the Maple Leafs gave the Bruins their best shot in hopes of overcoming a pair of two-goal deficits. Unlike their two losses in the Sunshine State, the Bruins provided a resounding response to Toronto's late push.
A neutral zone breakdown led directly to Victor Hedman's game-winning goal in Tampa. Two nights later, the Bruins failed to clear the puck multiple times on Aleksander Barkov's last-second tying goal.
This time, the Bruins had an answer to any Toronto pushback in the third period. Behind Zacha's pair, the Bruins had a more comfortable cushion to work with after Jarnkrok had cut the deficit to 3-2 earlier.
"That was Bruins hockey," Montgomery said to NESN. "We stayed with our relentless, you know, trying to add to the lead and not just being comfortable trying to win a game by one goal."
Aside from the Jarnkrok tally, the Bruins played a very complete third period. They needed some timely stops from Linus Ullmark during Toronto's push, as the second-year Bruin delivered another stellar outing with his 33-save effort.
Whatever midseason blips that Montgomery's club encountered during last week's slump were quickly diminished following a 200-foot bounce-back effort. The Bruins can now feel good about themselves as they head to a well-deserved rest period.
"I think we were getting better as the game went on," Zacha said to NESN's Sophia Jurksztowicz. "I think we played really good in the third. We just made them defend a lot, and we were ready for them."
Sign up for Bruins updates🏒
Get breaking news and analysis delivered to your inbox during hockey season.