Bruins
Weighing the pros and cons of a Jakob Chychrun trade for the Bruins
A Bruins' D corps with Charlie McAvoy, Hampus Lindholm, and Jakob Chychrun would be the best in the league.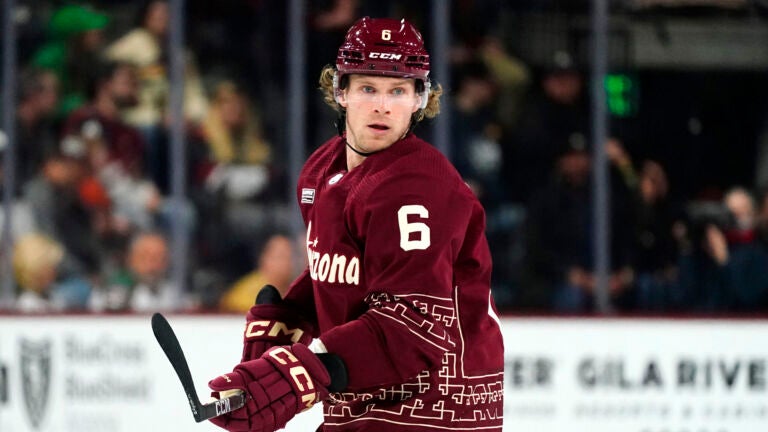 COMMENTARY
It seems all but inevitable that Jakob Chychrun will be donning a new sweater within the next few weeks.
The Coyotes defenseman's name has been involved in trade whispers across the league for years now. But with Arizona setting its sights on Connor Bedard in the 2023 NHL Draft, Chychrun's time in the desert seems to be nearing its end.
After scratching Chychrun on Saturday for "trade related reasons", the Coyotes seem ready to sit their 24-year-old star until a trade can be struck.
And based on rumblings from multiple NHL insiders, Don Sweeney and the Bruins stand at the forefront among the many suitors vying for the minutes-eating blueliner's services.
Boston has been linked to the Florida native since last season, when the B's ultimately shored up the left side of their defense by dealing for Hampus Lindholm.
But even with Lindholm entrenched on Boston's blue line, it doesn't appear that Boston's interest in Chychrun has waned.
During Saturday's primetime bout between the Bruins and Capitals, ESPN's Emily Kaplan reported on the broadcast that Boston was still "very interested" in Chychrun. The following day, David Pagnotta of The Fourth Period wrote that the Bruins "have been at the forefront of this week's Chychrun trade chatter" alongside the Los Angeles Kings.
A blockbuster deal for Chychrun between now and the March 3 trade deadline would make an already stout Bruins roster downright dominant ahead of a promising playoff run.
But such a mid-season maneuver also presents its fair share of risks for a Bruins team exploring all avenues to put this current lineup over the top.
So what are the pros and cons that would come with a Chychrun trade for Boston? Let's dive in.
Chychrun's arrival would turn an already dominant B's defense into a juggernaut
The 2022-23 Bruins have few weaknesses in their lineup, especially when they're at full strength.
Linus Ullmark and Jeremy Swayman have been dominant in net, with the former currently a frontrunner for the Vezina Trophy.
Even though Boston's scoring output has regressed as of late, the return of Jake DeBrusk will alleviate some of those woes. And even with DeBrusk on the shelf, the B's depth up front has been so impressive that Taylor Hall — five years removed from a Hart Trophy — is currently logging third-line reps.
And on the back end, Boston's D corps rarely relinquish Grade-A chances. Boston is currently surrendering just 2.12 goals per game, tops in the league and well clear of second-place Dallas (2.54 goals against per game).
On paper, Boston's left side is already set with key cogs like Hampus Lindholm, Matt Grzelcyk, and Derek Forbort in place.
Adding Chychrun to the mix would be a luxury for an already imposing Bruins team.
But such a blockbuster trade would create arguably the most talented blue-line unit assembled in recent memory.
Opposing teams already fret over matching up against a Bruins defense where stars like McAvoy and Lindholm anchor two separate pairings. Adding another franchise D-man like Chychrun into the equation represents an on-ice cheat code for Jim Montgomery and his staff.
On a cellar-dwelling Coyotes team, Chychrun is still a force. He's averaging 23:16 minutes per game, with a tanking Arizona club still outscoring teams, 35-25, during his 663:04 of 5v5 ice time this season.
Through 36 games, Chychrun has lit the lamp seven times and posted 28 points. He hit 41 points in just 56 games in 2021-22, and has surpassed 20 points in all but one of his seven seasons in Arizona.
A top-four unit featuring both McAvoy and Lindholm already makes Boston a matchup nightmare against even the most daunting opponents.
"When those two guys and you have two studs back there and they are making plays like that, not only what it does for our bench, but it deflates the other team because they're not on the ice at the same time," Montgomery said of McAvoy and Lindholm's presence following a 4-0 win over San Jose on Jan. 22.
Chychrun's addition, be it next to McAvoy in that top-four configuration or even down on his own pairing, would create a six-man unit with few faults … if any.
Much like an already talented Tampa Bay team dealing for Ryan McDonagh back in 2018, a Chychrun trade stands to put Boston well over the top.
Chychrun would solve one potential offensive deficiency for Boston
Good things tend to happen when Boston's blueliners get involved on the scoresheet. When a Bruins defenseman has scored a goal this season, Boston boasts a record of 15-0-0.
A trade pickup like Chychrun would further inflate that already impressive mark.
Armed with both an impressive slap shot and wheels that allow him to carry the puck up into the high-danger areas, Chychrun is one of the best in the league when it comes to generating goals from the blue line.
Since the 2020 season, there have been 220 NHL defensemen who have logged at least 1,000 minutes of 5v5 ice time. In that crowded pool of players, Chychrun is tied for first in goals scored per 60 minutes of play at 0.45. The two D-men he shares those top honors with? Cale Makar and Erik Karlsson. Pretty good company.
Chychrun's skating talent and willingness to join the rush makes him a natural fit in Montgomery's system. But his propensity to hammer pucks from the blue line adds a much-needed element to Boston's offensive arsenal.
Add in his ability to quarterback Boston's top power-play unit (giving McAvoy more 5v5 reps as a result), and Chychrun fits the profile of what the B's could use in the offensive zone, especially on the back end.
The asking price for Chychrun will be steep
The Coyotes might be committed to moving Chychrun, but they're not going to let him go for pennies on the dollar.
Beyond Chychrun's age and his standing as a top-pairing, two-way stalwart, he's also signed for another two seasons at an annual cap hit of just $4.6 million.
His skillset already makes him one of the crown jewels in this trade market. But that contract and a locked-in cap hit well below market value means that Arizona will eventually move him for a king's ransom.
And with Arizona likely fixated on a five-year plan, GM Bill Armstrong is reportedly looking for draft capital and young talent in any swap, rather than NHL regulars.
According to Pierre LeBrun of The Athletic, Arizona's asking price for Chychrun is two first-round picks, along with a top prospect.
If Don Sweeney was to meet that requirement, Boston's already wilting prospect pipeline stands to take another major hit. The Bruins have already dealt their first-round pick in three of the last five seasons. They will be without their second-round picks in 2023 and 2024 after sending them to Anaheim in the Lindholm trade.
Along with stymying any influx of young talent into the system, the Bruins would likely need to part ways with one of their blue-chip prospects such as Fabian Lysell or Mason Lohrei.
Of course, concerns over mortgaging the future can be nullified if a Chychrun trade results in Patrice Bergeron and Co. hoisting Lord Stanley's Cup in June.
And even though Boston is likely hesitant to move an offensive-minded defenseman like Lohrei, the Bruins are probably hopeful that the Ohio State product eventually develops into … a player like Chychrun, who would remain in place with Boston through at least 2025.
The post-Bergeron era might be bleak as far as internal talent bubbling up from Providence. But given the stakes involved with this season, the Bruins appear to be all-in on this current team.
Chychrun would be a foundational piece for the future
Yes, an already barren Bruins farm system will take another major hit if another two first-round picks are dealt away for Chychrun.
And yes, if both Bergeron and David Krejci hang up their skates this summer, Boston will be hampered by a massive vacancy down the middle moving forward.
But adding a player with Chychrun's contract falls in line with Sweeney's recent track record of acquiring "win-now" pieces that will also serve as the foundation for a reworked core in the years ahead.
Similar to Boston trading for Lindholm and subsequently inking him to an eight-year extension, Chychrun would give Boston a dominant defense that will remain in place for at least another two seasons, if not longer.
There's no easy way to replace pivots like Bergeron or Krejci. But if Boston is looking to retool in the years ahead, you're starting off pretty well with a roster featuring:
A tandem of Ullmark/Swayman still in place between the pipes.
A defense with McAvoy, Lindholm, Chychrun, and Brandon Carlo all signed through at least 2025.
A talented forward corps still featuring plenty of talent in the form of Brad Marchand, Taylor Hall, Jake DeBrusk, Pavel Zacha, and David Pastrnak (if he eventually signs on the dotted line).
They may not be top Cup contenders come 2024-25, but that's a pretty good roster to build around as Boston braces itself for an uncertain future.
Bruins have a good chance at getting outbid in these sweepstakes
Montgomery echoed our earlier comments following Monday's practice at Warrior Ice Arena.
"I think we're in a lucky position," Boston's bench boss said. "I believe we can do really well with the lineup we have as is. So I think that puts us in a good negotiating position. …That's just my own personal feeling, is that we can do really well with the group we have."
The Bruins will certainly welcome another star like Chychrun into their lineup. But they don't necessarily NEED him, not like other teams reportedly after the 'Yotes skater.
Even if Boston is willing to give up two firsts and Lohrei/Lysell, Sweeney could find himself on the outside looking in if a team like the Kings is willing to relinquish more top prospects in a bidding war.
Next to Boston, Los Angeles is the other franchise that has been routinely linked to Chychrun.
On Monday, Sportsnet's Elliotte Friedman reported that the Kings were "in the driver's seat" in trade talks centered on Chychrun, although he added that a potential deal was "not close" after conversations hit a "snag" over one of the pieces moved in the swap.
Still, even if the Kings were unwilling to move their top prospect in Brandt Clarke (who boasts more value than either Lysell or Lohrei), L.A.'s farm system features far more talent than Boston's, with other youngsters like Quinton Byfield, Jordan Spence, Alex Laferriere, and Alex Turcotte all highly regarded.
If the Kings are desperate to add a player like Chychrun to their top-four grouping (where there is an obvious vacancy, unlike Boston), they have the means to trump many offers put forth by Boston.
A team like Arizona is already an appealing trade partner for Boston
A team fixated on the future like Arizona already makes for an intriguing trade partner for Don Sweeney and the Bruins.
For as much as Boston tries to avoid dealing prospects or draft capital, they'd rather move those in this win-now window than part ways with current NHL talent like a Trent Frederic, Jake DeBrusk, or Jeremy Swayman.
And with Arizona in danger of falling under the cap floor of $61 million by dealing Chychrun's contract, Boston could also dump a contract like Mike Reilly's or Craig Smith's in order to meet their fiscal requirements (while clearing more money off their own books).
But beyond just Chychrun, Boston could also target a number of other Arizona assets as part of a package deal. While trade targets like Patrick Kane and Timo Meier will catch the attention of many Bruins fans, a third-line regular like Arizona's Nick Bjugstad (13 goals, 23 points in 53 games) might fall more in line with what Boston might target between now and March 3.
It could further complicate the return (and most likely necessitate Boston moving an NHLer or two off the roster beyond Reilly/Smith), but Boston could kill two birds with one stone if they can add a bottom-six regular alongside a top blueliner like Chychrun in a deal with Arizona.
Do the Bruins actually need Chychrun?
There's no question that a Chychrun trade would make an already great Bruins team even better.
But if such a trade represents a complete luxury for Boston, one has to wonder if both the high asking price and the subsequent lineup reshuffle might deter Sweeney and his staff.
Last spring, a deal for Lindholm was needed in order to solidify Boston's top-four configuration. Chychrun would either be the cherry on top of an already stacked defense, or potentially pushed down as the driver of Boston's third pairing on the left side.
Such a move would also potentially bump either Matt Grzelcyk or Derek Forbort out of regular minutes, unless Montgomery opted to roll with an 11F/7D lineup moving forward.
Let's be frank: Chychrun is better than either Grzelcyk or Fobort. But neither player is also a weak link on Boston's lineup either.
Forbort's heavy game and PK prowess will come in handy during playoff action. And even though Grzelcyk's size and injury history in the postseason has led to his fair share of detractors, his puck-moving ability is still valued by a coach in Montgomery that wants his skaters moving in a hurry out of the D-zone.
But given the inevitable injuries that await come the postseason, it could be a good problem to have if Montgomery needs to balance minutes with such a talented D corps in place.
The Bruins may not need Chychrun, but there's an awful lot to like about what this team can do if he's eating up minutes in a black-and-gold sweater.
Newsletter Signup
Stay up to date on all the latest news from Boston.com