Bruins
Leona Zacha and the rest of the Bruins' siblings lost it after Pavel Zacha's game-tying goal against Dallas
The Bruins' siblings had plenty of reasons to cheer during Boston's OT victory over Dallas on Tuesday night.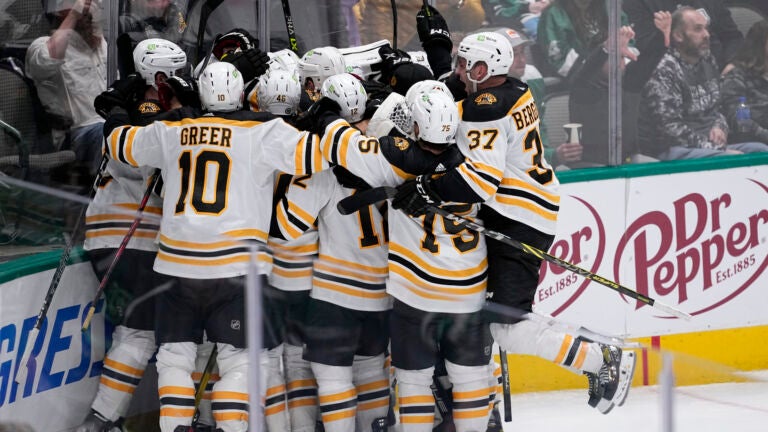 Beyond the usual black-and-gold contingent filling the stands of away arenas, the Bruins had some extra support in the building for Tuesday's road matchup against the Stars.
During Boston's current two-goal trek out to Dallas and Nashville, each Bruins player brought a sibling for the roadie — with the full group taking up one of the boxes at American Airlines Center.
The B's bloodlines had plenty to cheer about in Dallas, especially Pavel Zacha's sister, Leona.
As soon as Zacha rifled a puck past Stars goalie Jake Oettinger for a game-tying goal midway through the third period, NESN's cameras immediately panned up to the suite level.
And sure enough, Leona and the rest of Boston's siblings were completely losing it.
Leona Zacha had plenty of reason to cheer later in the game, as her brother helped set up David Pastrnak's eventual overtime winner at 3:44 in the extra frame.
With his two-point showing against the Stars, Zacha has now hit a new career high with 37 points through 53 games this season.
Since inking a four-year contract extension with Boston back in mid-January, Zacha has scored seven goals and posted 12 points over his last 11 games.
Pastrnak's game-winner was a much-needed result for the Bruins, who entered Tuesday's matchup stuck in a 1-3-1 rut.
And as expected, the whole Bruins roster was greeted by their raucous brothers and sisters following the dramatic victory.
Sign up for Bruins updates🏒
Get breaking news and analysis delivered to your inbox during hockey season.