Bruins
3 takeaways from the Bruins' dominant win over the Islanders
Boston won 6-2 to improve its NHL-best record in Jake DeBrusk's return, prompting coach Jim Montgomery to say he would "still take our roster over everybody else's."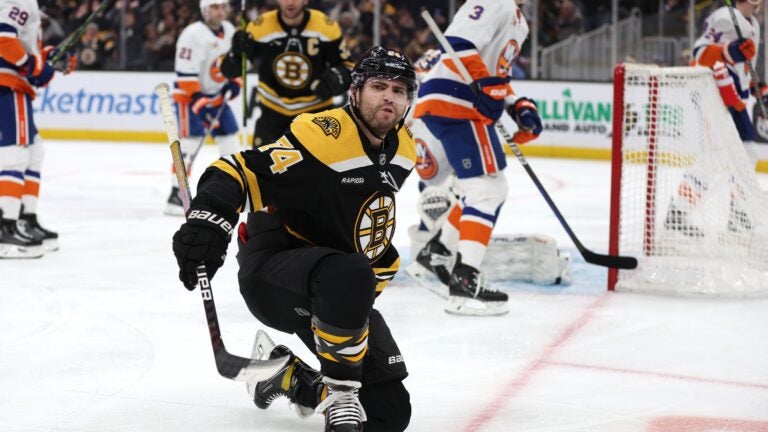 Ahead of Saturday's tilt with the New York Islanders, the Boston Bruins witnessed one of their divisional rivals improve their depth for the stretch run with Toronto Maple Leafs acquiring Ryan O'Reilly and old friend Noel Acciari from the St. Louis Blues.
Starring across the ice from them was Bo Horvat, a potential target before the former Vancouver Canuck landed in Long Island in late January.
But head coach Jim Montgomery and the Bruins aren't fretting with the March 3 trade deadline approaching. While they could use defensive and bottom-six depth, they have every reason to remain confident in their core amid their historic pace.
"I would still take our roster over everybody else's," Montgomery told reporters.
Montgomery's top-tier roster received a reinforcement on Saturday. And it didn't take long for their Winter Classic hero to pick up where he left off.
Jake DeBrusk got the Bruins off and running 2:19 in with Boston's second power-play goal in as many games.
The bottom six provided insurance tallies against an Islanders bunch coming off a 5-4 come-from-behind win over the Penguins the night before. A Nick Foligno wrister and a Trent Frederic tip extended Boston's first-period cushion to 3-0.
Frederic notched his third two-goal outing of the season just 3:13 after Patrice Bergeron extended Boston's lead to 4-1 on a fortunate bounce to complete his 10th straight 20 goal-campaign.
Pavel Zacha capped off Boston's six-goal outburst late in the middle frame with his 13th of the season.
Linus Ullmark stopped 26 of 28 shots, only falling victim to a Kyle Palmieri second-period tip and a Matt Martin rebound marker in the third.
Here's what we learned from the B's 6-2 victory on Hockey is for Everyone night at TD Garden.
A 'focused and determined' DeBrusk made an immediate impact.
The Bruins envisioned an earlier return for DeBrusk coming out of the All-Star break. But they waited until Saturday to reinsert their 2015 first-round selection back on the top line with Bergeron and Brad Marchand.
DeBrusk likely expected a more natural progression in his return. Though he said the return felt "a little weird" DeBrusk quickly reacclimated himself to the lineup after missing the last 18 games with a hand and foot injury.
"It was actually a weird feeling before the game. I felt I was obviously focused and determined, but I had been waiting for this day for a while. But, yeah. I just wanted to get a goal. I just wanted to get the first one," DeBrusk said after notching two points and 13:07 time on ice.
"Even after the goal, it felt a little bit weird to be out there at different times. The game of hockey is such a high pace, and there's a lot of different reads and things. It was a good feeling out game for sure. It was a great win by our team."
The Bruins missed DeBrusk during certain junctures of his 18-game absence, especially on the power play. In DeBrusk's return to net-front duty, the Bruins' top man-advantage unit quickly struck on their first opportunity.
DeBrusk capped off the sequence after delivering a slick backhanded shot for his 17th goal of the season. A last-minute keep-in from Bergeron in the attacking and stout feeds from Marchand and David Pastrnak sprung DeBrusk to his first tally since his go-ahead marker on Jan. 2 at Fenway Park.
"Everyone doesn't understand how much [Bergeron] keeps plays alive. If he's not where he is that puck is cleared. Instead, he keeps his stick on it, keeps it out of the zone and Pasta [Pastrnak] and Marshy [Marchand] make electric passes, and J.D. finishes off a great play," Montgomery said of DeBrusk's first goal since the Winter Classic. "The poise in and around the net, he's high end."
DeBrusk wasn't the only one of Boston's high-end talent to stand out in Saturday's win.
Bergeron remains the 'gold standard' following his 10th straight 20-goal season.
For nearly two decades, Bergeron's two-way prowess provided a steady and consistent presence in Boston's lineup. Saturday provided yet another example of Bergeron's reliability.
Fresh off their win over the Penguins the night before, Palmieri tipped home a stellar feed from Anders Lee to cut Boston's lead to 3-1 at 6:46 of the middle stanza. Whatever life the Isles had, however, was quickly erased.
In a puck-don't-lie moment, Bergeron found himself on the doorstep for a fortunate bounce off the boards. Boston's captain promptly batted the puck out of mid-air and extended the Bruins' lead to 4-1 a mere 91 seconds after Palmeri's ninth goal of the season.
"I'm glad it went in. But that being said, you kind of move on to the next one," Bergeron said of his 10th straight 20-goal season. "I've been playing with special players, and it's a special year in a lot of ways. I'm just thankful to be a part of it."
"He's a guy that every team wants and every team wishes they have, and we're lucky to have him," Foligno said. "The way he plays and continues to play for our group…he's the gold standard."
Boston's gold standard delivered another timely marker. And the Bruins' offensive depth once again shined bright with a pair of bottom-six forwards continuing their stellar play as of late.
A confident Frederic and Foligno continued the offensive uptick on the bottom six.
Frederic and Foligno had trended toward healthy scratch status at various points last season. Under Montgomery, they've turned that disappointment into motivation.
Frederic extended his career high in goals following his 12th and 13th markers of the season. Not only is he showcasing his net-front work habits, but he's also providing a solid shooting touch with his second-period tally highlighting his shot progression from a year ago.
"He uses a defenseman as a screen, and the goalie is expecting a pass," Montgomery said of Frederic's second goal. "It's a confident play."
Even with his improved offensive totals, Saturday marked the first time that Frederic notched at least one goal in consecutive games.
With Frederic moving from third-line wing to fourth-line center in Tomas Nosek's absence, Foligno found himself with increased ice time upon his promotion next to Charlie Coyle and Taylor Hall. The former Blue Jackets captain notched his fourth point in as many games, notching his ninth goal of the season at 9:15 of the opening frame and tallying a secondary assist on Frederic's first tally 8:04 later.
A Charlie Coyle assist on Zacha's marker capped off a product five-point evening for Boston's bottom six.
Sign up for Bruins updates🏒
Get breaking news and analysis delivered to your inbox during hockey season.