Bruins
The 2022-23 Bruins have few flaws. Dmitry Orlov and Garnet Hathaway fill whatever voids they had left.
With Dmitry Orlov and Garnet Hathaway joining the fray, an already stout Bruins team managed to get even better.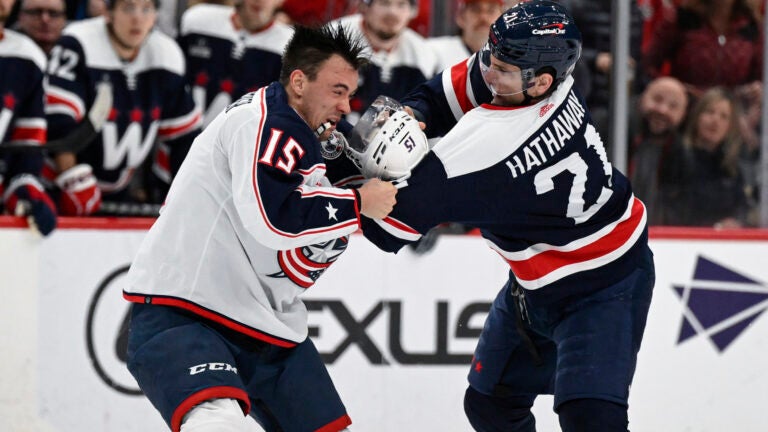 COMMENTARY
The 2022-23 Bruins, as previously constituted on Thursday afternoon, didn't need to make any moves before the March 3 trade deadline.
Following their late-night bout with the Kraken, the Bruins are sitting at 93 points through 57 games. If they capture another 40 points in their last 25 games, they'd break the NHL record for the most points in a single campaign.
Boston needs 19 wins to break the league record for wins (62).
The roster assembled by Don Sweeney and led by Jim Montgomery has held court as the league's juggernaut for months now.
But in a sport where even the stoutest lineups can be felled by the fickle fortunes of a pouncing puck, no GM is ever completely satisfied with the product put out on the ice.
The Bruins already boast elite, high-end talent. A tandem of Linus Ullmark and Jeremy Swayman hasn't budged between the pipes. A dependable six-man D corps is coughing up the fewest amount of goals per game. And for the first time in a long time, Boston is getting secondary-scoring contributions over a consistent clip.
But with a daunting footslog through the Eastern Conference playoff bracket looming on the horizon, Boston stood to gain some added skill and snarl across the lineup.
And in one move on Thursday night, Sweeney checked both objectives off of Boston's succinct shopping list.
Dmitry Orlov may not be a star talent like Jakob Chychrun. Garnet Hathaway is certainly no Timo Meier or Patrick Kane.
But Boston's two new additions offer both the O-zone tools and the sandpaper style of play that might put an already elite roster over the top.
"Our roster is battle-tested," Sweeney noted on Thursday night. "I think when we play any type of game against any type of team, we're able to react accordingly or dictate accordingly. I think we were trying to complement and add to that."
Some much-needed muscle ahead of a grueling playoff push
The Stanley Cup Playoffs is often a car crash masquerading as a sporting tournament.
Over the course of two months and 20-plus games, teams scratch, claw, scrap and batter each other into submission for the right to hoist Lord Stanley's Cup.
The squad that comes up short often leaves the frozen sheet with mangled maws, cracked ribs, and collapsed lungs — all ailments that the Bruins suffered throughout their last few playoff runs.
Even the teams that reach hockey immortality are usually far worse for wear amid their revelry.
The NHL postseason is a heavy bout where oftentimes the last team standing is the quickest one to get off the mat.
And in both Hathaway and Orlov, the Bruins have a devastating 1-2 hook at their disposal.
"I think I use the word, 'anxiety,'" Sweeney said of the physical presence that Orlov and Hathaway provide. "Overall, I think our group does a really good job of responding to physical challenges and we can play any type of game. We try and play uptempo in all facets of our game and again, Dmitry and Garnet will add to that and complement. Again, [we] just tried to fortify."
Hathaway is the type of asset that most contenders hone in on when the feeding frenzy commences around the trade deadline.
The Bruins have a veteran roster that's ready and willing to stand up for one another on the ice and answer the bell when needed. But Hathaway is the classic thorn-in-your-side player that drives opposing fan bases crazy — and has opposing skaters looking over their shoulders when retrieving pucks.
On a bottom-six grouping that already features some heft in players like Trent Frederic and Nick Foligno, Hathaway will welcome the role as Boston's physical equalizer. This season alone, Hathaway ranks eighth in the NHL with 198 hits — 42 more than Boston's previous hits leader in Connor Clifton.
The Bruins are already a tough team to play against, given their stout defensive structure and two-way acumen. But having a bruiser like Hathaway running amok in the bottom-six is a best practice when it comes to wearing down teams over the course of a seven-game slugfest.
Orlov may not be a heat-seeking missile on the blue line like Luke Schenn (a league-leading 258 hits). But the 5-foot-11, 214-pound blueliner rarely budges on the ice.
Even when the Russian-born skater is not toppling over skaters looking to gain easy entries into the offensive zone, Orlov's study frame is adept at boxing players out of Grade-A ice and limiting scoring chances.
The Bruins were already going to be a tough out this postseason. But adding both Hathaway and Orlov to the mix means that any team challenging them will be donning plenty of ice bags at the end of their extended series.
"You don't know [who] you're gonna play," Sweeney said of playoff matchups. "It doesn't matter, because who you're gonna play is gonna be a ridiculously tough opponent. And you've got to be able to dictate … we're trying to be consistent in how we're going to want to play. And I think both of these players add to that."
Defensive fortitude
Those hard truths about the damage doled out during the postseason tend to cut both ways.
Yes, the Bruins have the means to land some welts against whatever matchup comes their way in April and May. But it's a safe bet that the six-man defensive unit that Boston rolls out in the first round will not be the same squad that might be playing in mid-June.
Such is the nature of the game, and it's why Sweeney isn't necessarily concerned with the lineup logjam that Boston finds itself in with Orlov's arrival on the backend.
"Every guy wants to play," Sweeney noted. "But we're now in a situation where we may be able to rest a guy if he is dinged up and he's playing through something, which we've had several guys do. … I think as a group, we have to understand that we generally haven't started the playoffs with the same six guys and finished it that way. So you have to be prepared, and that's what we tried to do."
Boston's previous six-man configuration of Charlie McAvoy, Hampus Lindholm, Matt Grzelcyk, Brandon Carlo, Derek Forbort, and Connor Clifton was already an elite grouping. Adding Orlov to the mix gives Montgomery even more options, especially with Orlov capable of playing on both the left or right side.
Grzelcyk can also shift to his weak side if need be, opening the door for Montgomery to craft a varied personnel of impact defenders for whatever opponent Boston might face during the postseason.
Previous postseason injuries to key contributors like Grzelcyk (2019), Carlo (2021) and Lindholm (2022) thwarted three very promising playoff trips for the Bruins. If a similar situation arises this spring, Orlov's arrival means that one of Forbort, Grzelcyk or Clifton will be ready as the first wave of reinforcements.
Additional offense off the forecheck and neutral zone
Little has gone wrong this season for the Bruins when it comes to offensive generation. The B's top talents up front like David Pastrnak, Brad Marchand, and Patrice Bergeron have all come as advertised.
But Montgomery's up-tempo preachings and "quality over quantity" mantra with shot selection has led to other scoring conduits sparking all across the depth chart.
Pavel Zacha is pushing for 60+ points in his first season with Boston. Trent Frederic could flirt with the 20-goal threshold. Nick Foligno is on pace for 35 points in a bounce-back season.
But on the fourth line, Hathaway offers an additional scoring punch. The Kennebunkport, Maine, native already holds tremendous value in his role thanks to his defensive play and propensity to obliterate anything with a pulse on the ice.
But Hathaway is also a very lethal scorer on a straight-line checking unit, due in large part to his ability to create havoc on the forecheck.
As we noted earlier, the Capitals utilized Hathaway almost exclusively in a defensive role. Of the 476 NHL players who have logged at least 500 minutes of 5v5 ice time this season, Hathaway ranks dead last in offensive zone start percentage at 17.82.
But despite having so few reps in favorable ice, the Capitals still outscored teams, 27-21, in Hathaway's 5v5 reps. And with Hathaway on pace for 13 goals and 22 points this season, he still finds ways to land punches down the other end of the ice.
Hathaway's ability to create turnovers and clean up loose pucks down low gives Boston more scoring touch up front.
Orlov may not be a blueliner whose primary avenue of offense is by clapping shots from the point. But the 31-year-old skater has been often undervalued as a poised puck mover who generates plenty of fruitful scoring chances by way of clean exits and smooth entries into the O-zone.
It should come as no surprise that Orlov has surpassed 25 points in six of his 10 seasons with Washington. With Orlov ranking in the 99th percentile of exit success rate and zone entries, he's one of the best in the league when it comes to ferrying pucks through the neutral zone and setting up teammates for quality looks.
Depending on how Montgomery structures his D corps, Boston could have a high-end puck mover on all three pairings if McAvoy, Lindholm, Orlov, and Grzelcyk all remain in the lineup.
Having another defenseman with Orlov's skillset allows Montgomery to continue to push the pace with Boston's five-man attack … and puts even more pressure on an opposing defense that only has so many ways to thwart a layered rushing attack through center ice.
"Very, very good puck mover," Sweeney said of Orlov. "Looks to get up into the rush. He's a shot mentality on the offensive blue line. Certainly defends with conviction. And does have an open-ice mindset at times to be able to take away time and space effectively."
Thursday's trade does not guarantee a title for the 2022-23 Bruins. It may not even guarantee a first or second-round triumph.
Such is the beauty (or pain) that comes with the game of hockey, where the Presidents' Trophy is viewed more as a curse than a blessing.
But one narrative that can't be shaken in wake of Sweeney's latest move?
This current Bruins roster might be one of the most talented groupings ever assembled in one locker room.
And with Orlov and Hathaway both joining the fray, this team's already lofty ceiling is stretching even higher.
"They're excited to come in and add to our team," Sweeney said of Boston's new pickups, adding: "I don't think there's a player on our team that doesn't acknowledge that you're gonna go through physical battles and the wars of attrition the playoffs represent. So it's just time to go to work."
Sign up for Bruins updates🏒
Get breaking news and analysis delivered to your inbox during hockey season.