Bruins
With Dmitry Orlov's arrival, who will be the odd man out on the Bruins' defense?
Jim Montgomery has a good problem on his hands when it comes to allocating minutes on the Bruins' blue line.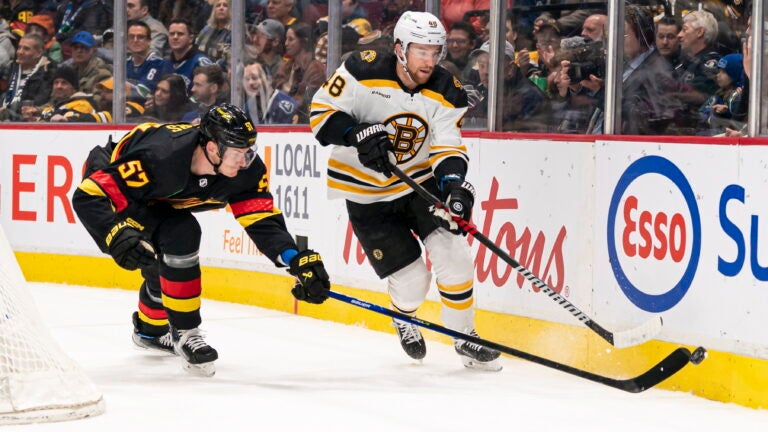 Jim Montgomery has a good problem on his hands.
Even before Don Sweeney pulled the trigger on a deal that added two seasoned veterans in Dmitry Orlov and Garnet Hathaway, Boston's six-man unit on defense was arguably the top blue-line corps in the NHL.
Entering Thursday's game against the Kraken, Boston ranked first in the league with the fewest goals allowed per game at 2.05. The Stars rank a distant second in the same category, at 2.56 goals against per contest.
But with Orlov added to the equation, a key cog in Boston's layered, structured defense will have to take in some of Boston's Stanley Cup campaign from the ninth floor of TD Garden.
And while the two drivers of Boston's defense in Charlie McAvoy and Hampus Lindholm won't need to worry about their minutes being sapped, the same can't be said for the rest of the B's roster.
"The way we look at it right now, there's going to be a rotation going on among a few defensemen," Montgomery said prior to Saturday's win over the Canucks. "I don't see McAvoy and Lindholm being part of that equation. But we've got to keep everybody game-ready and in game shape. We can't have someone sitting. We made this trade on purpose. That's the luxury we have. My job is to manage it well."
Orlov may not be on the same tier as McAvoy and Lindholm. But Boston's top trade pickup averaged over 22 minutes of ice time for Washington this season, and was an integral piece in the Caps' own Cup run in 2018.
Barring a severe dip in play or a lengthy learning curve in Boston's dense zone defense, Orlov is expected to log plenty of reps for however long he remains in a black-and-gold sweater.
But if we can expect McAvoy, Lindholm, and Orlov to be entrenched somewhere across Boston's lineup, where does that leave four other very good blueliners with only three starting spots available?
Let's assess all four skaters and where they might stand in the pecking order for a very loaded Bruins depth chart.
Connor Clifton
Clifton drew the short straw in the lineup on Saturday, missing his first game of the season as a healthy scratch to make room for Orlov.
It was a tough break for the 27-year-old, who has evolved from a spark-plug seventh D to a physical stalwart on Boston's third defensive pairing.
It doesn't take long to assess Clifton's value whenever he hops over the boards.
The New Jersey native has a game built for the mutually assured destruction that awaits in the postseason, with the D-man's propensity for toppling over skaters with bone-crunching checks giving Boston a physical equalizer further down the lineup.
Before Hathaway arrived on the scene, Clifton was the B's leader in hits with 159 on the season. The next blueliner on the list is Derek Forbort at 96.
And even though Clifton has a knack for jumping up into the play and operating with a bit more risk, he picks his spots well. In his 920:34 of 5v5 ice time, the Bruins are still outscoring teams, 44-26.
Even though Clifton was the first man out in Boston's rotation Saturday, that shouldn't serve as an omen for future scratches. What helps Clifton in this ongoing carousel is his designation as a natural right-shot option on the roster.
Even though both Orlov and Grzelcyk are adept at playing on the right side when needed, Montgomery noted that keeping players on their strong side still stands as a priority.
"I think you always prefer guys to be on their strong sides," Montgomery said Saturday. "It just makes everything easier. You're always looking up ice and that's where you want to puck to go."
So long as Clifton keeps landing welts against opponents (and not letting that aggression cost him in the D-zone), he could clamp down on his starting role on that third D pair.
Derek Forbort
With Clifton sitting out Saturday, Montgomery opted to keep Forbort on the third D pairing and shift Orlov to his weak side next to him.
The results weren't entirely encouraging.
In the 13:10 of 5v5 ice time when the Forbort-Orlov pairing was on the ice, the Canucks outshot Boston, 12-3, and scored their lone goal of the night.
An intercepted backhand feed from Orlov might have jumpstarted Vancouver's Grade-A look. But a misread by Forbort allowed Brock Boeser to skate in all alone and tap one past Linus Ullmark in the third period.
A shaky start for those two doesn't mean that Montgomery will scrap additional reps for that pairing in the weeks ahead. But Orlov's addition could cut into Forbort's most valuable contribution: on the penalty kill.
At 5v5 play, Forbort is a steady, stay-at-home option on Boston's defensive unit. His 5v5 goals against per 60 minutes rate of 1.95 might rank last among the B's usual six blueliners, but that's a very respectable metric.
Of the 183 NHL defensemen who have logged at least 500 minutes of 5v5 ice time this season, Forbort's 1.95 GA/60 at 5v5 play still ranks 27th overall.
(If you're sensing a theme in this breakdown, it's that just about every Bruins defenseman has been very, very good this season.)
But still, Forbort's role is maximized during those taxing, punishing minutes on the PK.
Even though the 30-year-old's first season in Boston had its ups and downs, he redeemed himself in the Bruins' first-round playoff series against Carolina by turning into a magnet for pucks during shorthanded reps.
So far this year, Forbort's presence has been noticeable on a PK grouping that ranks first in the league in kill rate (86.4 percent).
At the start of the 2022-23 season, Boston was near impenetrable with Forbort serving as a netfront monolith on the kill. Of the 37 power plays they faced in the first month of the season, the B's negated 35 of them.
But during the four weeks of action that Forbort missed while recovering from a fractured finger, Boston's PK went just 35-for-46 over 11 games, equating out to a rather pedestrian 76 percent kill rate.
Even though Forbort's 5v5 numbers may not pop like a few other options on Boston's blue line, his presence during those frantic PK shifts will likely come in handy during the postseason.
The only potential obstacle could come in the form of Orlov, who logged the second-most shorthanded ice time (2:48) in Saturday's win over the Canucks.
If Orlov can continue to step into those minutes and Boston's PK doesn't skip a beat, it could hurt Forbort's case when the time comes for Montgomery to roll out his top-six personnel for the playoffs.
Brandon Carlo
Carlo may not be a lock quite like Lindholm, McAvoy, and Orlov. And the 26-year-old defenseman does have his fair share of detractors, although most of his shifts are under taxing situations in Boston's own zone.
Still, Carlo has the best odds of holding onto his current spot in the lineup, especially if he continues to skate next to his usual D partner in Lindholm.
Along with his efforts on the penalty kill (3:10 average shorthanded TOI per game), Carlo has routinely snuffed out scoring chances during 5v5 reps.
Of that same pool of 183 blueliners, Carlo ranks 178th overall in offensive zone start percentage at 30.26. But even with so many shifts starting outside of favorable ice, the Bruins are still outscoring teams, 40-22, during Carlo's 807:52 of 5v5 ice time.
He can have his warts when handling the puck or dealing with forechecking pressure. But Carlo hasn't been a weak link on this B's D corps this season.
Matt Grzelcyk
Matt Grzelcyk is a fascinating case where underlying metrics are destined to clash with narratives.
On the stat sheet, Grzelcyk has been as advertised as a puck-moving, transition talent who elevates many of his teammates out on the frozen sheet.
Fully recovered from offseason shoulder surgery, Grzelcyk is on pace for a career-high 28 points this season. His plus-minus rating of +36 ranks second in the league behind Lindholm (+38).
But his underlying numbers are straight out of a video game. During Grzelcyk's 852:24 of 5v5 reps this season, the Bruins are outscoring teams, 50-19.
And even though a top pair of Grzelcyk and McAvoy has an extensive track record of dominating opponents (Boston is outscoring opponents, 27-11, in their 443:07 of 5v5 reps), that means Boston is still holding a 23-8 edge in goals scored during Grzelcyk's reps away from McAvoy.
"Since the second time we played New Jersey, right after Christmas, I think he's been terrific," Montgomery said of Grzelcyk's play. "Like he is much more poised with the puck, he's making difference-maker plays. He's been great defensively. His plus-minus is incredible, right?
"And it doesn't matter. We look at scoring chances all the time. As a staff, and then within the Bruins analytics and then even outside analytics — like there's no bad stats with him. Like he comes up favorably and he helps move the needle for us."
When he's on, Grzelcyk can suppress shots at a high rate by moving the puck out of Boston's zone with authority.
But historically, the playoffs have been a different animal for the Charlestown native.
In close to 900 minutes of 5v5 ice time during postseason play, the Bruins have been outscored, 41-24, when Grzelcyk has been out on the ice.
Montgomery acknowledged Grzelcyk's lopsided numbers during the punishing minutes that await in the postseason. But that doesn't mean that they will continue.
"I understand what has happened in the past. I wasn't here for that," Montgomery said Thursday. "I look at how his game has progressed. I find his gaps and his ability to make reads and shut plays down before they even get into forecheck situations has drastically improved.
"So I don't think those situations arise as much. I don't think they will arise as much. It is a more forechecking game in the playoffs. I and we understand that. But I like the way he's been really moving pucks on first touch. Which allows him to not take those hits that happen on the forecheck a lot in the playoffs."
Perhaps Montgomery's system tweaks will be enough to help negate Grzelcyk's struggles against heavy forechecking pressure. Orlov's addition also could lead to easier matchups for Grzelcyk further down the lineup.
Whatever the case may be, Montgomery will have his hands full when it comes to picking the six top men for the job once the calendar flips to the postseason.
Granted, Boston now has the luxury of augmenting its starting lineup to fit whatever matchup comes its way. Against a team with more heft like the Lightning, Boston could counter with more thump in the form of Forbort and Clifton.
Against a fleet-footed squad like Toronto or Carolina, Grzelcyk could draw in when needed.
But as Don Sweeney noted Thursday, the bruising nature of the playoffs almost certainly guarantees that all seven D-men will be needed if the Bruins want to hoist a Cup in June.
"I think as a group we need to understand that we generally haven't started the playoffs with the same six guys and finished it that way," Sweeney said. So we have to be prepared."
Newsletter Signup
Stay up to date on all the latest news from Boston.com