Bruins
Could the Bruins add another depth forward before Friday's trade deadline? Here are some potential targets.
The Bruins could still be in the market for some added scoring punch further down the depth chart.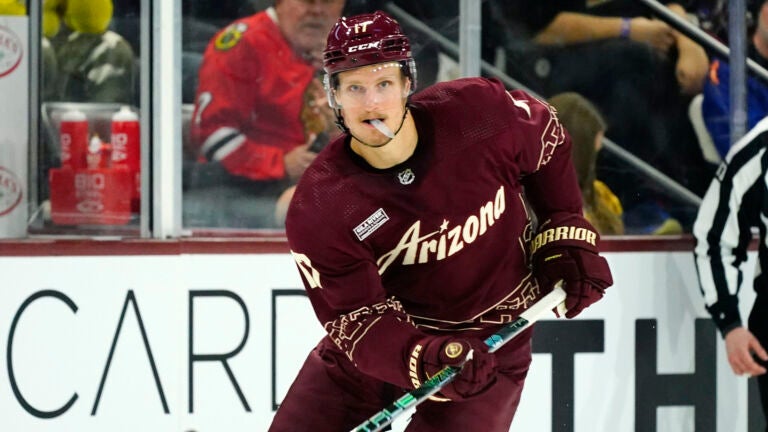 The NHL trade deadline might be set for 3 p.m. on Friday, but the Bruins and the rest of the league apparently didn't get the memo.
Since Boston pulled the trigger on a deal to bring in Dmitry Orlov and Garnet Hathaway one week ago, the rest of the Stanley Cup Playoff field has been engaged in a full-out arms race.
Patrick Kane is taking his talents to the Big Apple and joining a stacked Rangers roster. The Devils brought in Timo Meier to complement an uber-skilled young core.
The Lightning added more brawn to their already bruising bottom-six grouping by relinquishing multiple draft picks for Tanner Jeannot.
Toronto countered by adding some additional snarl in Jake McCabe and Sam Lafferty. Subsequent moves by the Leafs include bringing in Erik Gustafsson and Luke Schenn.
And even a team on the outside looking in at the postseason in Ottawa dealt for Coyotes blueliner Jakob Chychrun on Wednesday.
It's been a flurry of transactions across the NHL trade wire over the last few days. And it doesn't seem like teams are slowing down between now and tomorrow afternoon.
Given both Boston's already-loaded roster and the scarce cap space on hand ($125,698, per CapFriendly), it seems unlikely that Don Sweeney will be active over the next few days.
But Boston's GM didn't rule out any additional tinkering if the right opportunity presented itself.
"You just never know. And again, this deal came together relatively quickly," Sweeney said. "My discussions with [Capitals GM] Brian [MacLellan] who is really, really good to deal with. And it was just an opportunity that presented itself. We clearly have been in the marketplace for a period of time and trying to gauge who may or may not be available and what deals you can do.
"Not necessarily going to be overly aggressive, but we really like our team. And hopefully, like I said, we're going to stay healthy and monitor. We got eight more days to sort of see. But for the most part, our guys should feel comfortable that we've added to our group and it's time to continue to do what these guys have set out to do and have a special year."
Boston doesn't have the means (or need, frankly) to add another top-six talent or minutes-eating blueliner. But scoring depth further down in the bottom-six grouping could be an avenue worth exploring.
Even though Hathaway adds some scrappiness to the fourth line, an affordable scoring option could be coveted on that third-line mix next to Charlie Coyle — especially with both Taylor Hall and Nick Foligno on the mend.
So if Boston is still kicking the tires for more scoring punch, who might they target?
C Nick Bjugstad, Arizona Coyotes
Age: 30
Stats: 59 GP, 13 G, 10 A, 23 Pts
Contract: Pending UFA, $900,000 AAV
If the Bruins are looking to add some two-way acumen to their roster without getting stuck in a cap crunch, a veteran like Bjugstad makes plenty of sense.
Bjugstad is on his way out of the Arizona desert, with the Coyotes sitting him out of the last few games due to trade-related reasons. And it's a given that the 30-year-old forward will be scooped up by some contender looking for some added scoring punch ahead of a grueling playoff push.
Of course, Bjugstad's heavy minutes on a barren 'Yotes team (16:59 average time on ice per game) will be curtailed on whatever roster he lands with. But the Minnesota native has made the most of his time in Arizona, scoring 13 goals and earning plenty of taxing shifts.
He's not a bruiser despite his 6-foot-6 frame, but Bjugstad is a dependable player who can be trusted with daunting minutes spent in the D-zone. Even though less than 40 percent of his starts at 5v5 play have come in the offensive zone, a very mediocre Coyotes team still outscored teams, 33-27, during Bjugstad's 791:55 of 5v5 ice time this year.
Whether it be slotting in on the third or fourth line, Bjugstad could add a finishing touch to a B's bottom-six unit in need of a bit of a jolt.
Add in the fact that Boston doesn't necessarily need to get into severe cap gymnastics to accommodate his $900,000 cap hit, and Bjugstad should be a target that Sweeney checks in on over the next two days.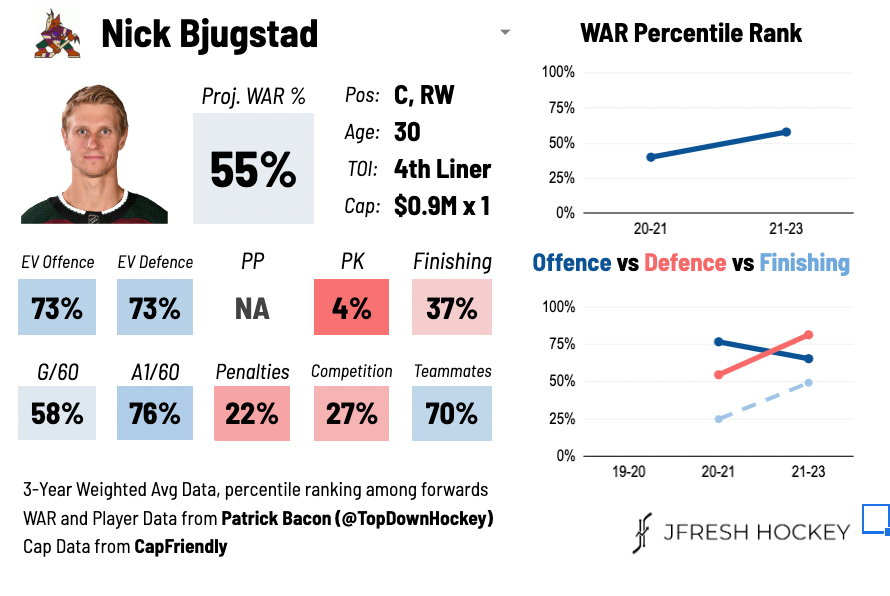 F Max Domi, Chicago Blackhawks
Age: 28
Stats: 60 GP, 18 G, 31 A, 49 Pts
Contract: Pending UFA, $3 million AAV
Domi served the Hurricanes well as a deadline pickup last spring, scoring two goals in Carolina's Game 7 triumph over the Bruins at PNC Arena.
The 28-year-old forward is once again expected to be an intriguing rental this season after a strong couple of months with the Blackhawks.
Unlike a few other forwards still on the trade board who project more as bottom-six foot soldiers, Domi has the offensive acumen to potentially slot up in the top-six if need be for a contending team.
Granted, the Bruins don't necessarily need another top-six forward on this current roster. And even though it shouldn't be a steep price to pry him out of Chicago, Domi's O-zone production is offset by some outright dreadful defensive metrics.
Considering that the DNA of Boston's identity is rooted in a stingy, layered defensive structure, adding a scoring winger in Domi who's prone for some D-zone lapses may not fit into what the B's are looking for in a last-minute acquisition.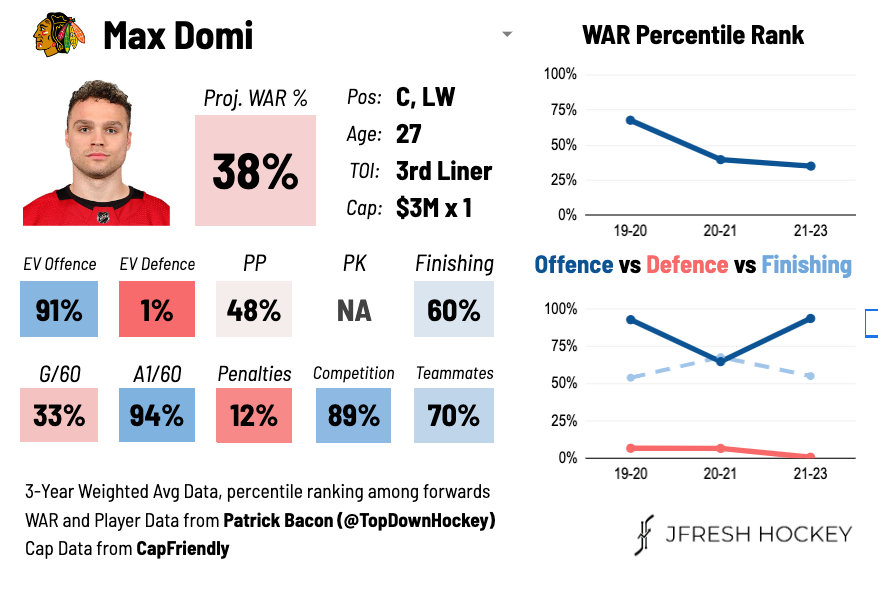 C Nick Bonino, San Jose Sharks
Age: 34
Stats: 58 GP, 10 G, 9 A, 19 Pts
Contract: Pending UFA, $2.05 million AAV
A proven playoff performer who helped the Penguins win two Stanley Cups in 2016 and 2017, Bonino still offers value as a savvy veteran who can perform a variety of roles in the bottom six.
He's felt the effects of Father Time, but the 34-year-old forward is far from just a spare piece in an NHL lineup. The Hartford native and former BU Terrier is a versatile cog capable of playing all three positions up front.
Add in his reliability on the penalty kill (his 2:14 shorthanded TOI per game leads all Sharks forwards) and still solid offensive production, and Bonino could be a very useful asset for many teams looking for good insurance on their roster.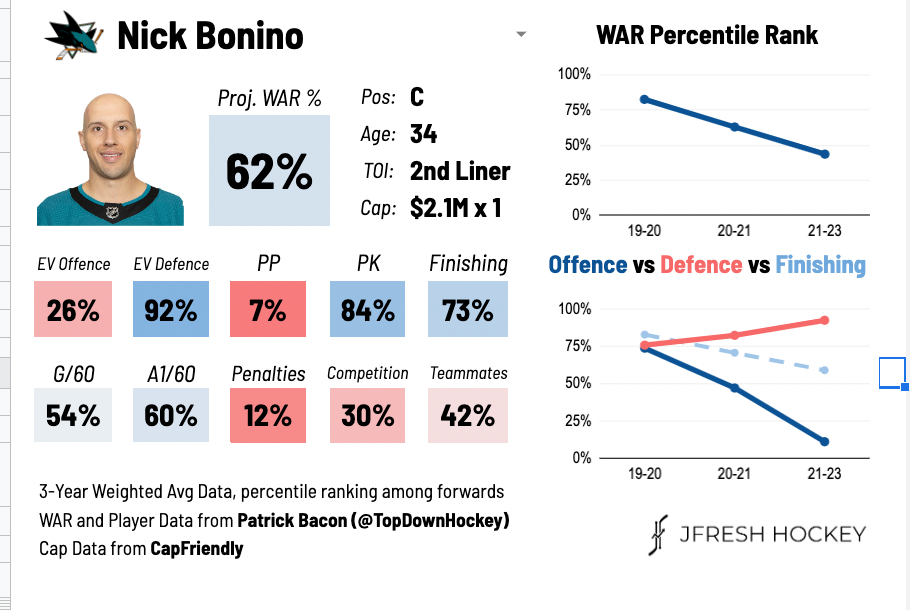 Sign up for Bruins updates🏒
Get breaking news and analysis delivered to your inbox during hockey season.