Bruins
David Pastrnak's $90 million contract wasn't just the best option for the Bruins. It was the only option.
With David Pastrnak signed through 2031, the Bruins have a strong foundation to brace for the post-Bergeron era.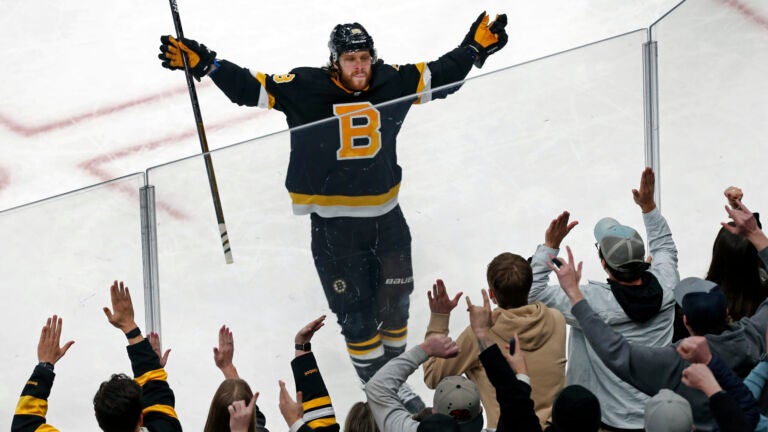 COMMENTARY
Imagining a Bruins future without David Pastrnak isn't just an anxiety-inducing exercise.
It's like picturing a packed Causeway Street in mid-May without a pregame slice at Halftime Pizza or postgame round at Sullivan's Tap.
It's a raucous Garden crowd rising as one without "Zombie Nation" joining in the cacophony via the overhead speakers.
It's a stirring anthem performance without Rene Rancourt or Todd Angilly on the mic.
It just doesn't compute. It feels unfamiliar, foreign.
Without Pastrnak, the fabric of the Bruins would begin to unweave.
The DNA ingrained in this Original Six franchise has traditionally favored snarl over skill. But those sentiments tend to dissipate whenever the Czech winger is serving as a playmaking maestro in the offensive zone.
Off of just his one-time howitzer alone, Pastrnak was already in line for a healthy pay raise from his current six-year, $40 million contract.
His still-evolving arsenal of dekes and dangles further raised his stock. Add in his marketable personality, fun-loving disposition, and flair for the dramatic, and $90 million feels like a more-than-fair price for all that Pastrnak offers this team and city.
"No, I didn't visualize it," Pastrnak said Thursday of potentiality playing elsewhere. "But obviously these negotiations get tricky, so you have to go think through the process and everything and I'm super happy and excited to stay here."
Thursday represented the end of an exhaustive negotiation process between Pastrnak, his representatives, and the Bruins.
The end result is a contract that equates to the sixth-richest deal struck in NHL history, with Pastrnak commanding a $11.25 million cap hit through the 2030-31 campaign.
It's a steep price to pay for a Bruins team that is already facing both a looming cap crunch this summer and an uncertain future if both Patrice Bergeron and David Krejci hang up their skates.
But doling out the largest contract in franchise history wasn't just a best-case measure conducted by Don Sweeney and the Bruins.
Frankly, it was the only option to take.
Because untangling the fiscal web of contracts and available cap space in the years ahead sure beats the alternative — with Pastrnak lighting the lamp elsewhere, and a shifting B's roster left rudderless in the post-Bergeron era.
Even if both Sweeney and Pastrnak's agent, J.P. Barry, were unable to come to terms on a deal during the regular season, the B's had little leverage as far as contingency options.
Regardless of whether your team takes to the ice, diamond, court, or gridiron, GMs know the risk that comes with letting your homegrown superstars go to market.
But with Pastrnak serving as a key conduit on a record-setting Bruins team in 2022-23, Boston was not to going to move the winger if contract talks went south. Not with so much at stake this season.
Boston's focus this year has remained fixated on giving this veteran core one last run at Lord Stanley's Cup.
Keeping Pastrnak in place for this playoff push serves as part of that short-term equation, no doubt.
But for as much as fans remain swept up in the promise and thrill provided by this current roster, Sweeney and Boston's hockey ops cannot afford such a luxury.
The Bruins still need to brace themselves for the murky years ahead when Bergeron and Krejci do retire.
And if Boston wants to orchestrate a roster retool over a full-blown rebuild, entrenching Pastrnak into the top-six unit through his age-35 season was going to be a necessary step.
Let's face it. There's no replacing Patrice Bergeron or David Krejci.
Beyond their dirt-cheap deals this season that gave Sweeney the leeway to litter this lineup with potent depth options, their playmaking poise, leadership and defensive acumen are unparalleled.
As soon as both centers call it quits, Boston will have a void down the middle that needs to be addressed. But tearing down this roster in search of future draft capital doesn't seem like a route this ownership group will want to take.
"There's been a lot of theater around the NHL, this past week in particular at the draft, we saw some teams that I would call sellers, and I think that would be awfully difficult to sell in this market to our fanbase," Bruins CEO Charlie Jacobs said last July.
And even though a post-Bergeron Bruins roster might instill plenty of trepidation for Bruins fans, there is still lot to work with in terms of this next wave of talent.
"That's the plan," Cam Neely said Thursday of contending beyond this season. "I mean, you never know, but that's certainly the plan with our backend and goaltending. We'll have some work to do up front the next couple of years. We recognize that. But I think we should still be very competitive."
With Pastrnak in place, the Bruins have one of the top goal scorers in the league locked up for the following eight seasons. The affable forward is already on pace for 58 goals and 112 points this season.
More 50-goal campaigns should be on the horizon, given that Pastrnak's potent shot shouldn't erode over the coming years.
It wouldn't come as a surprise if both Charlie McAvoy and Hampus Lindholm garner Norris Trophy votes this season. Both blueliners are signed through the 2030 season.
Jim Montgomery will remain at the helm of a team that has thrived under his tutelage. Linus Ullmark and Jeremy Swayman are currently holding court as the best 1-2 netminder tandem in the league.
Pavel Zacha, currently on pace for close to 60 points in his first campaign with Boston, could earn looks at center if a vacancy opened up. Other key cogs like Brad Marchand, Taylor Hall, Brandon Carlo, and Jake DeBrusk remain signed through next year.
And even with some potential cap gymnastics, the Bruins will likely try to retain pending free agents like Dmitry Orlov and Tyler Bertuzzi after a potentially fruitful playoff run.
The future of the Bruins might not be entirely clear. But Boston has done what it can to build a strong foundation for whatever challenges await. Pastrnak's new deal stands at the forefront of that proactive approach.
"I think it's in great health," Bergeron said Thursday of the future of this team. "Don and Cam and the management group have always done a lot of work to keep improving the team and finding ways and solutions to go around the cap or the hurdles they have and facing all the time. We're seeing this again at this time of the year with the trade deadline.
"But having that young core locked up for a long time makes all the difference in the world for me. For me, as a team, that's what you want. You want to have those guys there for a long time. Then you can build around them."
The Boston sports sphere is no stranger to unceremonious exits for sporting legends, especially as of late.
It's part of the nature of the business. And it's a stark reminder that storybook endings rarely present themselves as they do in the movies.
This 2022-23 Bruins team is doing its damndest to dispel that notion.
And for Pastrnak — the kid from Havířov who has found his home away from home 4,057 miles west — joining an exclusive list of lifelong Bruins was an opportunity too good to pass up.
"It's huge," Pastrnak said of sticking with Boston. "These are the guys I grew up with pretty much in my [whole] NHL career. I've been learning from them every day. And it's an amazing accomplishment to play your career [for] one team. And that definitely was stuck in my head going into this negotiation. I'm honored and happy that I'm staying here, and I can't wait to get to work."
Sign up for Bruins updates🏒
Get breaking news and analysis delivered to your inbox during hockey season.