Bruins
How Charlie Coyle's defensive game has turned him into an unsung hero in Bruins' lineup
"He's a big man. He's a load to handle."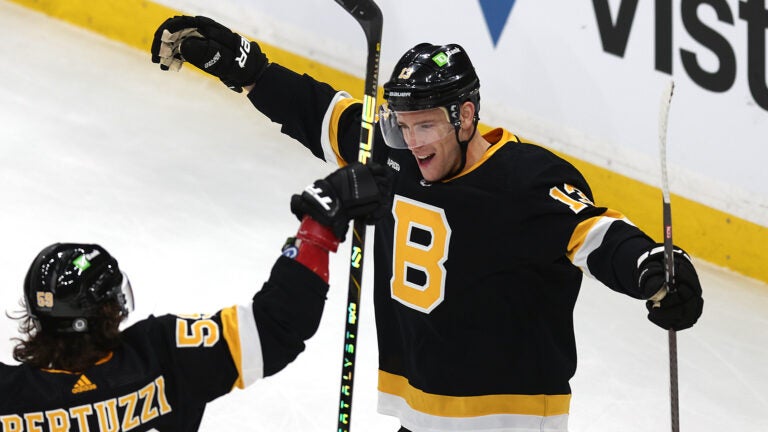 Patrice Bergeron is no stranger to taxing minutes.
Granted, when you can send arguably the best defensive forward in NHL history over the boards, it becomes a no-brainer in most matchup scenarios.
Throughout his Hall-of-Fame career, Bergeron's stick work, positioning, and hockey IQ have made him a defensive equalizer in numerous crunch-time scenarios.
Even at 37 years old, Bergeron remains at the top of his craft in terms of two-way excellence. A sixth Selke Trophy should be in the cards this summer.
But for as much as Bergeron has defied the decay of time when it comes to his polished defensive game, Jim Montgomery and the Bruins' coaching staff aren't taking any risks with their top-line center's role.
Bergeron might still be at the top of his game during PK assignments and shifts starting in Boston's own zone. But those daunting assignments still drain even the most talented skaters, night in and night out.
Beyond the punishment that awaits by blocking pucks, those hurried attempts to clear pucks and battle along the endboards tire the legs and leave you sucking wind.
And with Bergeron serving as a vital cog in Boston's promising Cup run this spring, Boston is pulling out all the stops to limit the time he needs to spend eating pucks and chasing down skaters in the D-zone.
That's where Charlie Coyle comes in.
Coyle's baseline stats (12 goals, 35 points in 62 games) may not jump off the page like a few of his fellow teammates on Boston's forward corps.
But after years of serving as a puck-possession force lower down on the depth chart, Montgomery has carved out a new role for the Weymouth product: Defensive stopper.
And the resulting domino effect has paid dividends in Boston's lineup.
"It's hard, because if they're gonna match up their top-four D-men against Bergeron and [David] Krejci's line — he's a big man," Montgomery said of Coyle following Boston's 4-2 win over the Rangers Saturday. "He's a load to handle. And when he's playing like he did these last two games — where he's possessing pucks a lot and he's finding people in the middle and then he ends up giving and going and gets to the netfront himself like he did on the first goal? He's hard to handle."
In years past, Bruce Cassidy utilized Coyle's heft and puck-protection skills to mold him into more of a play-driver on his line. Montgomery utilizes those same talents, albeit with far more minutes in Boston's own end.
While 51.7 percent of Coyle's faceoffs at 5v5 play were in the offensive zone last season, that number has dropped to 32.01 percent so far in 2022-23. Only three other Bruins (A.J. Greer, Nick Foligno, and Tomas Nosek) have fewer faceoffs starting in favorable ice.
Of the 316 NHL forwards with at least 500 minutes of 5v5 ice time this season, Coyle's O-zone faceoff percentage ranks 299th overall. But even with those limited reps in the opponent's own end of the ice, the Bruins have still outscored teams, 40-26, during Coyle's 5v5 minutes.
The Bruins will welcome the lopsided scoring totals generated when Coyle is on the ice, including his two-point showing on Saturday against New York.
His added contributions on the penalty kill (2:32 shorthanded TOI per game) further lessen the workload for Bergeron and other two-way stars like Brad Marchand. Boston's penalty kill grouping is still tops in the league (86.6 percent kill rate) with both Coyle and Nosek leading Boston's forwards in shorthanded situations.
"It's very comforting for us as a team to know that they're out there and they're gonna get the job done," Montgomery said of Coyle and Nosek's craft on the PK. "And not only that, they read off each other really well with their pressure in zone, but also especially down ice.
"Like Charlie Coyle knew that [Nosek] would go to the middle of the ice and he picks that puck off. He just doesn't throw it back behind the net. He makes a poised, calm play and then he finds Nosek at the netfront."
Sure enough, Montgomery's decision to morph Coyle's game into a D-zone ace has made things much easier for Boston's big guns. So far this season, 58.8 percent of Bergeron's faceoffs have been in the offensive zone. Only David Pastrnak, Matt Grzelcyk, and Marchand have earned more favorable ice time.
And sure enough, the Bruins hold a commanding 37-14 advantage in goals scored during those minutes when Bergeron is out on a shift.
It's a testament to Bergeron's stout, two-way excellence, no doubt.
But it's also been aided by Coyle and Nosek serving as the first men over the boards when the Bruins are staring at an imposing D-zone matchup.
"I think that's why we're a good team, because everyone kind of identifies what they're good at and everyone does their job," Coyle said. "When everyone does their job, the team does their job. And we usually win."
Sign up for Bruins updates🏒
Get breaking news and analysis delivered to your inbox during hockey season.