Bruins
David Pastrnak's new deal is the largest contract in Bruins history. It should pay off multiple times over.
"The pie as it stands is only so big, and you got to kind of divvy it up."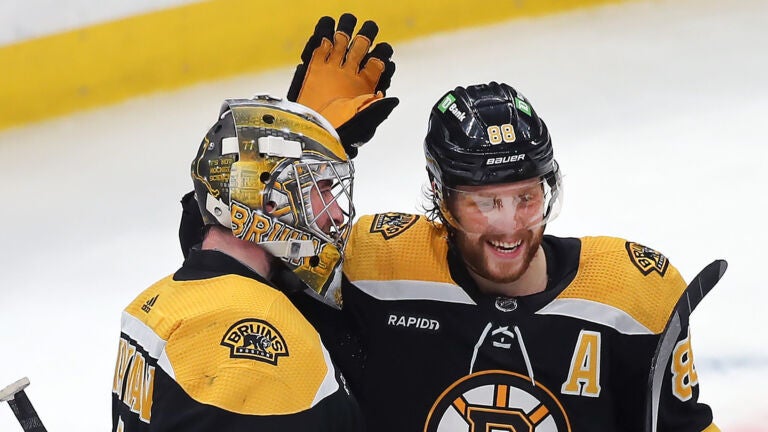 COMMENTARY
The Bruins were not going to let simple dollars and cents be the main impediment in contract talks with David Pastrnak.
Even though Pastrnak's new annual cap hit of $11.25 million is likely steeper than Boston initially projected, letting their homegrown star sniper walk in free agency was not going to be an option.
"It was something that was certainly a priority for us," Bruins president Cam Neely said. "Probably took a little longer than we hoped for, but we finally got across the finish line and we're thrilled to have him for another eight years."
With the ink finally dry, Pastrnak's new contract will entrench him in Boston's top-six unit for the next eight seasons. He'll be 35 years old the next time he hits the open market.
Once signed to a below-market deal of $40 million spread across six years, Pastrnak's new deal represents the sixth-largest contract inked in NHL history, including the heftiest handed out to a Bruins player.
For years, the Bruins benefitted from keeping their stars signed to digestible deals.
Before Charlie McAvoy's $76 million contract was signed last year, the B's kept this latest contention window open by having David Krejci's six-year, $43.5 million deal ($7.25 million AAV) serve as the previous ceiling.
But gone are the days where Boston can keep their core talents in place at annual payouts of $7 million or less.
Pastrnak's new cap hit might be almost double Brad Marchand's $6.125 million allocation, but such is the price of doing business in today's market.
And even though retaining Pastrnak's services stood as a no-brainer for Don Sweeney and Co., that does mean that Boston's GM won't have his work cut out for him when it comes to balancing the books moving forward.
"We found a really good landing spot where David feels comfortable and the organization has to try and balance — the pie as it stands is only so big, and you got to kind of divvy it up," Sweeney said. "And that's what we have to do.
"That's the challenge for myself and hockey ops, and it'll present some challenges. But to David's credit, he's an elite player in the National Hockey League. And we're just fortunate that he's going to play for us. And as I said, we found a deal that works."
David Pastrnak is indeed an elite player in this league. He was compensated as such.
But just because Pastrnak's new deal is currently an eye-opener in terms of the financial commitment, that doesn't mean that it's an overpay. And it's certainly not a future albatross.
If anything, Pastrnak's contract, much like his O-zone talents, should continue to age gracefully over the coming years.
That's a testament to both Pastrnak's own talent, coupled with the many moving parts associated with the NHL's current financial landscape.
Let's dive into Pastrnak's contract a bit more and why this $90 million payout should look better and better over time.
Pastrnak's production shouldn't wane over the length of his contract
Well, let's get the obvious out of the way.
Handing out $90+ million should only be reserved for a few elite players in the NHL.
Pastrnak fits that bill.
For years now, Pastrnak has established himself as one of the premier scoring threats in the NHL.
His lethal release on his one-timer is often an on-ice cheat code, capable of splintering even the stoutest PK structures. His playmaking game has developed over time, making him more than just a one-trick pony on a top forward group.
"He can do everything," Linus Ullmark said of Pastrnak last month. "He's not just a one-T kind of guy. He's got the dangles. He's got the moves. He's very poised and very calm. When he has opportunities … he just picks a corner and rips it."
Add in his transition talents, and Pastrnak is the type of offensive conduit that all teams covet when it comes to setting the foundation for a winning team.
Even with some of the warts present in Pastrnak's defensive game, Jim Montgomery has encouraged more risk-taking on a second line that has a knack for "trading chances".
Pastrnak's game gives way to more turnovers and gambles than most of Boston's forward corps. But given his talents, those chances still usually lead to pucks finding twine in the opponent's net.
Pastrnak has already surpassed the 40-goal threshold three times in his career. Had it not been for the COVID-19 pandemic, he would have been the sixth Bruin to hit 50 goals during the 2019-20 season (48 goals in 70 games).
Barring catastrophe, he'll finally shatter that mark this season. Over an 82-game pace, Pastrnak is projected to cap off this year with 58 goals and 111 points. It'd be the most points accrued by a Bruin since Hall of Famer Adam Oates racked up 112 points in 1993-94.
Of course, the best contracts doled out in sports look more to the future, rather than rest on past merits.
But given both Pastrnak's still-evolving offensive game and his track record of elevating any line he's been on, Boston should feel confident that more 40 to 50-goal campaigns are on the way.
In 2023-24 and beyond, the Bruins have some serious question marks about their forward depth, especially if both Patrice Bergeron and Krejci retire.
Pastrnak thrived for years as the triggerman on Boston's top line next to Bergeron and Brad Marchand. Slotted further down the lineup, it should come as no surprise that he's continued to torment defenses with a playmaking ace like Krejci.
But even when he hasn't logged reps next to those two star centers, Pastrnak has continued to produce throughout his B's career.
Look no further than last year, when a majority of his minutes were situated next to Erik Haula. Haula might be a solid player, but he's no Bergeron or Krejci.
But in the 460:40 of 5v5 ice time that Pastrnak and Haula logged last season, the Bruins still managed to outscore teams, 31-15.
During the five games that Krejci has missed due to injury in 2022-23, Pavel Zacha slotted in as Boston's second-line center. He has six points (one goal, five assists) during that stretch, and has already built a good rapport with his fellow Czech-mate in Pastrnak.
The Bruins will have two major vacancies down the middle once Bergeron and Krejci are out of the equation. But regardless of who's driving his line, it's safe to assume that Pastrnak will continue to do damage in the offensive zone over the life of his new deal.
That $11.25 million cap hit will continue to look better over time
With that $11.25 million cap hit kicking in this summer, Sweeney will have his hands full accommodating Pastrnak's new contract and maintaining a deep roster in 2023-24.
"There's no question, you have to hope that the cap is going to go up at some point in time. It starts to attack your depth, ultimately," Sweeney said. "We have a team that is pretty deep. … That's where it usually shows up."
A significant jump in the NHL's salary-cap ceiling would be a welcome development for the Bruins.
Even though the cap has bumped up in smaller increments over the years, NHL commissioner Gary Bettman acknowledged back in October that the league's cap upper limit could increase by at least $4 million in 2023-24.
However, that leap would only become possible if the escrow debt the NHL players owe to the league is repaid by the end of this season.
But in December, Bettman was a bit more pessimistic about the likelihood of that escrow being paid off this year.
If the escrow debt is not repaid by the end of this season, the salary cap would only rise $1 million next season and then jump significantly for the 2024-25 season, when the debt would be paid off.
The players took on this escrow debt during the 2019-20 season after the COVID-19 pandemic hit.
Even though revenues sank across the NHL following the suspension of regular-season action and the subsequent attendance restrictions, players were still paid their full salaries and received more than 50 percent of their share of hockey-related revenue (HRR).
There still stands a chance for players to pay off that debt before this season ends. The easiest way is for more multiple revenue-driving teams (the Bruins, Maple Leafs, Rangers, Oilers, etc.) to make deep playoff runs this spring.
But even if the cap only rises up to $83.5 million this upcoming season, that eventual spike in fiscal flexibility still sits on the horizon.
Add in the fact that more NHL stars will command contracts paying out $10 million or more per season in the coming years, and Pastrnak's contract should fall more within market range over time.
Pastrnak is a conduit that sparks a retool, instead of a rebuild
We touched on this earlier, but the Bruins have no interest in uprooting this roster in the years ahead, even if Bergeron and Krejci call it quits this summer.
"There's been a lot of theater around the NHL, this past week in particular at the draft, we saw some teams that I would call sellers, and I think that would be awfully difficult to sell in this market to our fanbase," Bruins CEO Charlie Jacobs said last July.
And frankly, the Bruins don't need to tank and sell off assets in search of draft capital moving forward. Without Bergeron/Krejci, they may not be premier Cup contenders in 2023-24 and beyond.
But with a new core locked in place, Boston should still be a very competitive club for quite some time.
Re-signing Pastrnak was a central part of that equation, with the keys to the franchise set to be handed to him and other key cogs like Charlie McAvoy, Hampus Lindholm, Linus Ullmark, Brad Marchand, Pavel Zacha, Jeremy Swayman, and others.
Boston has a good foundation to work with, especially with Sweeney holding onto blue-chip prospects like Fabian Lysell and Mason Lohrei amid this latest trade-deadline frenzy.
But beyond Pastrnak's elite O-zone production, Sweeney acknowledged that having a talent like Pastrnak at the center of your retool stands as a very effective recruiting pitch for other free agents.
"I think every player has to make their own decisions in terms of their own value around the league or where they want to play. … That's really what it comes down to," Sweeney said. "If you put a team together, I think that's attractive. The players talk. That's part of the business. And they're probably your single biggest recruiting tool. They want to come here and play. And we've seen guys come here now that come in this organization, and they feel comfortable because it's driven.
"I think we do a really good job to try and take care of the ancillary things and present the best in class that we're trying to do as an organization. Are we right all the time? No. Trying to learn from when we make mistakes and ownership is committed to that."
With Boston in a bit of a cap crunch for at least the next year, Sweeney might have to rely on more bargain-bin deals in order to keep the B's depth in place.
Getting the opportunity to play with a player of Pastrnak's ability stands as an awfully effective free-agent pitch.
If the Bruins are going to continue to assert themselves at the top of the Eastern Conference in the years ahead, Pastrnak will play a major part in that objective, both on and off the ice.
Newsletter Signup
Stay up to date on all the latest news from Boston.com