Bruins
How Dmitry Orlov can help spark a stagnant Bruins power-play unit
"How can we try to experiment to make the Bruins better?"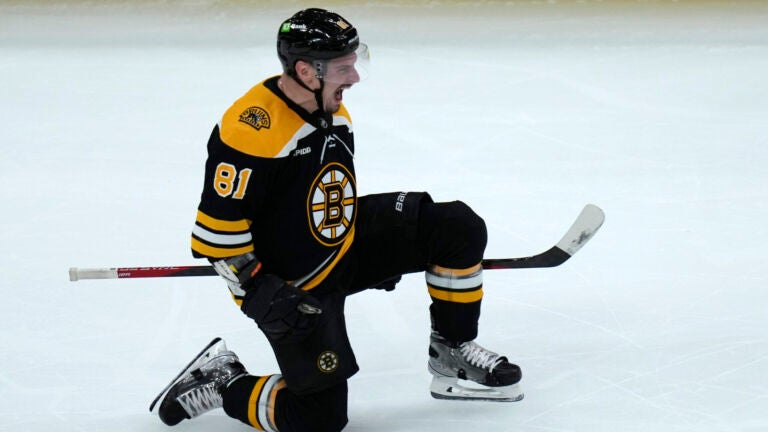 Dmitry Orlov has made an immediate impact since donning a black-and-gold sweater.
Boston valued the 31-year-old defenseman's transition talents, physicality and poise when it pried him and Garnet Hathaway from the Capitals last month.
But through five games with his new team, Orlov has been an offensive conduit from the blue line, scoring three goals and racking up nine points.
With Orlov driving the puck into Grade-A ice or teeing off on offerings from the point, an already dynamic B's offense has added another element during 5v5 action.
Orlov's next assignment? Revitalizing a top power-play unit in need of some added firepower up top.
For years, Boston's man advantage has been a tried-and-true avenue for success. Even on days when the B's secondary scoring dried up, the team was still buoyed by a potent power play lighting the lamp with regularity.
Most of the usual suspects (Patrice Bergeron, Brad Marchand, David Pastrnak) remain entrenched in that personnel grouping.
But the production has dipped from Boston's 5v4 squad as the calendar inches closer to the postseason.
The Bruins still rank seventh in the NHL in power-play percentage (23.2 percent), but over the last 15 games, the B's have only cashed in on 10.4 percent (5-for-48) of their opportunities on the power play.
Given the recent woes, Jim Montgomery shuffled things up during Wednesday's practice at Warrior Ice Arena. Charlie McAvoy has held court as Boston's power-play QB at the blue line for most of the season, but he was replaced by Orlov during special-teams drills.
"Our power play is kind of stalled," Montgomery noted. "It's been flat, right? … So we're experimenting. And we're also looking at how does Charlie McAvoy have a lot of success? He has a lot of success attacking down the right wing in the offensive zone. If you look at all the plays he makes, the last game, he comes down the right wing, gets a pass, toe drag over for a one-timer.
"He's a real dynamic player on the move. And we want to [put him in situations] to succeed and make us better. Ultimately, it's how can we try to experiment to make the Bruins better?"
Giving McAvoy more reps at 5v5 play could be a positive domino effect if Orlov can step into that power-play spot and execute. But Orlov's own skillset might be just what Boston needs to break out of this extended special-teams lull.
Beyond just the occasional lapses in execution through the neutral zone, Boston's top power-play unit has been plagued by bouts of predictability with their O-zone motions.
For years, Pastrnak and Bergeron have hewn opposing PK structures with blasts from the left circle and bumper, respectively.
As expected, teams are starting to catch on.
Whether it be stacking skaters into the slot or collapsing inward to snuff out passing lanes to Bergeron/Pastrnak, opponents are limiting just how many quality looks the B's big guns can generate.
That's where Orlov comes in.
(An example of a familiar PK strategy against Boston's power play — this one from the 2019 first-round matchup against the Maple Leafs. As seen here, Toronto makes an effort to surround Bergeron and clog up the slot with three killers at the ready. Boston is still able to counter thanks to a Pastrnak shot and a subsequent rebound tally from Torey Krug, but that defensive structure does force Boston to usually opt for other routes in order to generate its Grade-A looks.)
Packing things in on the penalty kill might make it tougher for Boston's forwards to bury chances, but it opens plenty of real estate up high for a defenseman like McAvoy or Orlov to work with.
And Orlov's heat-seeking shot adds a much-needed weapon to Boston's already extensive arsenal.
"What we've seen from him is, when it's time to move it, he moves it," Montgomery said of Orlov. And when it's time to shoot it, he shoots it. And that was just, well, let's give this a look."
Orlov already has one power-play tally with Boston, with the blueliner rifling a one-timer past Ukko-Pekka Luukkonen during the B's 7-1 win over the Sabres last Thursday.
Be it the one-timer or a heavy slapshot from the blue line, Orlov's shot has a tendency to find the net. Even if it doesn't sail into twine, any attempts that sail past a body of skaters in the slot open the door for rebounds and other-second chance opportunities.
The Bruins have very few flaws on their current roster. But getting their power-play unit back up to speed will be crucial against elite PK squads like the Hurricanes come the postseason.
Orlov's addition may not be an instant remedy. But his offensive gifts do represent a breath of fresh air for a five-man unit that has gone stale.
Newsletter Signup
Stay up to date on all the latest news from Boston.com