Bruins
Bruins clinch spot in 2023 Stanley Cup Playoffs
The Bruins punched their ticket to the postseason in just 64 games.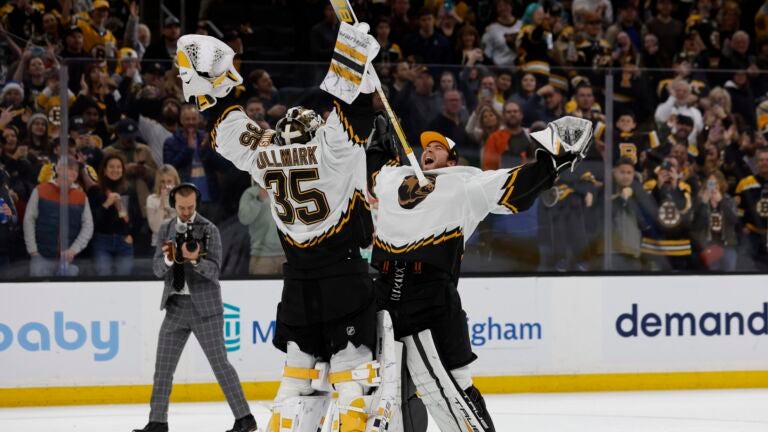 It took a little help from the Capitals, but the Boston Bruins clinched their spot in the 2023 Stanley Cup Playoffs on Saturday night.
The Bruins put themselves on the brink of a postseason berth after rallying to defeat the Red Wings, 3-2, Saturday afternoon at TD Garden.
But Boston needed a few other results to fall in its favor, with the Capitals' 5-1 win over the Islanders sealing the deal for the B's.
Boston has now advanced to the Stanley Cup Playoffs for seven consecutive seasons, and is moving on to the postseason for the 76th time in franchise history. Only the Montreal Canadiens have more postseason appearances in NHL history (85).
Only two teams have punched their tickets to the playoffs in less time than the 2022-23 Bruins (64 games played). The 1995-96 Red Wings lead the pack at 59 games played, while the 1998-99 Stars accomplished the feat in 63 games.
But the Bruins set yet another record off Saturday's comeback victory over Detroit.
With the win, the Bruins reached 50 wins on the year in just 64 games. That's the fastest any team has reached that threshold and marks the 12th 50-win campaign for Boston.
"It's amazing. I love playing for this team. I love wearing the Bruins logo, especially with the results," A.J. Greer said of reaching 50 wins on Saturday. "It's been an amazing journey so far, and we're not really focused on anything right now besides playing the right way for 60 minutes every night and making sure that each and every guy is pushing each other to do our best and stay collective and content with what we have in this locker room to go out there and just play Bruins hockey."
Newsletter Signup
Stay up to date on all the latest news from Boston.com