Bruins
Linus Ullmark has little in common with Tim Thomas, but he could soon be standing in the Bruins' record books beside him
Linus Ullmark has been lights out this season, though there was a rare hiccup against the Blackhawks Tuesday.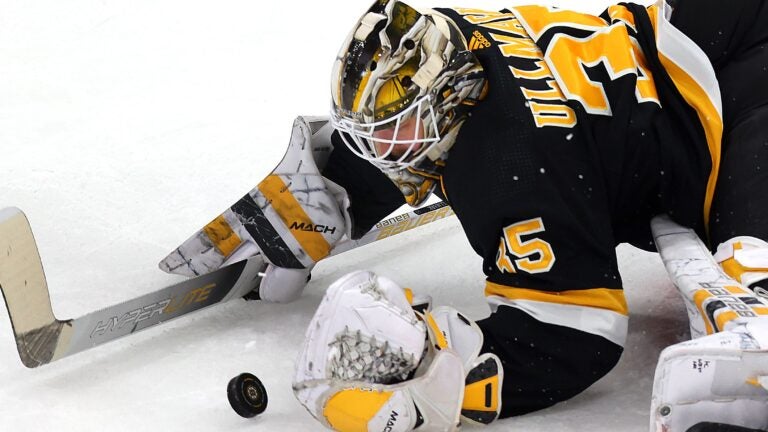 When it comes to goaltending aesthetics, Linus Ullmark and Tim Thomas are roughly as similar as a Lamborghini and a Zamboni.
Ullmark is a half-foot taller at 6-feet-5-inches and the picture of poise in the net. When the Buffalo Sabres drafted him with the 163d pick in the 2012 NHL Draft, eliteprospects.com described him as a "conservative, yet athletic, reactionary-type goalie who plays in a positional style most closely linked to the modern battle-fly" and noted that he "doesn't take risks." He made his NHL debut at 22 years old.
During his nine NHL seasons, the first eight spent with the Bruins, Thomas … well, yeah, he took risks, which is a primary reason why he never played more than four games in an NHL season until sticking with the 2005-06 Bruins when he was 31 years old. His style was unorthodox, abstract, acrobatic, and often akin to Andre the Seal putting on a show for the enthralled onlookers.
I am certain that upon reading the first mention of Thomas here, the memory that immediately activated in your hockey highlight reel vault of a brain was Thomas's lunging, mind-bending stick-save on the Lightning's Steve Downie in the third period of Game 5 of the 2011 Eastern Conference Finals. Perhaps you even heard Doc Emrick's call: "OHHHHH, and it wouldn't go!" Or maybe you looked it up. You should if you didn't. It's a lovely flashback.
When it comes to results — one in particular, for now — that's where Ullmark and Thomas intersect. Ullmark entered Tuesday night's matchup with the Blackhawks in the midst of what is trending toward being the greatest goaltending season in Bruins history. He promptly suffered his biggest hiccup in months, allowing more than three goals for the first time since Nov. 1 in the Bruins' lethargic 6-3 loss, their third in four games. Ullmark gave up five of the goals, confirming beyond a doubt that the Bruins are in a mini-rut.
Given how this special season has gone for the goalie and the team, they deserve more than the benefit of the doubt here. The 29-year-old remains a Vezina Trophy lock as the league's top goalie and the likely runner-up to Edmonton's electrifying Connor McDavid for the Hart Memorial Trophy as Most Valuable Player. It should be noted that McDavid, as far as we know, hasn't made any saves this season. But Ullmark has scored a goal. So who's more versatile, huh?
Ullmark entered Tuesday leading NHL in wins (33), goals-against average (1.89), and save percentage (.938). If that .938 save percentage seemed vaguely familiar, that's because it is not unprecedented in Bruins history – it's exactly the same as Thomas's from his transcendent 2010-11 season, when he won his second Vezina in three seasons, finished fifth in the Hart voting, and backstopped the Bruins to their first Stanley Cup championship since 1971-72, collecting the Conn Smythe Trophy as playoff MVP along the way.
That was the best single-season a Bruins goalie has ever submitted, but Thomas isn't the most accomplished goalie in Bruins' lore. Tuukka Rask, his backup in '11, has played (564) and won (308) the most games, but his inability to backstop the Bruins to the Cup (losing Game 7 I '13 and '19) somewhat tarnishes his local standing even though he's probably headed for the Hall of Fame. (I presume this will be a matter of high-decibel debate among the usual sports-radio suspects when he's eligible.)
Old-timers Tiny Thompson and Frank Brimsek remain all over the Bruins' leaderboards decades upon decades after their respective careers ended. Thompson had a 1.15 goals-against average for the Stanley Cup champions in 1928-29, which is as unbeatable a record as there is in franchise annals that doesn't involve Bobby Orr.
For fans of a certain age – namely, mine and anyone older – Gerry Cheevers retains a special place, though it's surprising to realize that the Hall of Famer never led the NHL in a single category, other than presumably decorative stitch marks on a mask. Andy Moog inspired faith for a couple of Eastern Conference championship teams. If not for those Oilers …
Bruins general manager Don Sweeney has a lot of wins on his transaction ledger over the last couple of years. Signing Ullmark away from the Sabres to a four-year, $20 million deal in July 2021 could turn out to be his savviest move, given that the goalie has a lot of wins himself – entering Tuesday's game, he was seven shy of tying Pete Peeters's franchise record of 40 set during his excellent and often overlooked 1982-83.
Ullmark's current 1.97 GAA (it went up 0.08 after the Blackhawks debacle) is tied for the eighth-best in franchise history. No Bruins goalie has produced a lower GAA since since Brimsek's 1.56 in 1938-39. And entering Wednesday's game, his save percentage was tied with '11 Thomas for the best in franchise history (it's now second-best, at .935), though it should be noted that Thomas faced a barrage of shots that season (1,811, sixth-most in franchise history). Ullmark has faced 1,221 through 41 games while ceding the net to Jeremy Swayman (the best Bruins goalie ever out of the University of Maine, topping Matt DelGuidice) for 25 starts.
Of course, the ultimate test for Ullmark, the one that will determine whether he delivered the Bruins' best single-season goaltending performance or merely one of the best, will come in the season's final scenes, however they play out. As otherworldly as Ullmark has been this season, his playoff résumé is a blank page. He's played in just two playoff games, both losses to the Hurricanes in the first round last season.
A dozen years ago, Thomas delivered a Cup. Ullmark and these Bruins are more than capable of doing the same, though the journey toward hoisting the Stanley Cup is as grueling as any championship chase in North American professional sports.
It's funny, that old eliteprospects.com scouting report on Ullmark illustrated his differences from Thomas. But it also cited one more thing Bruins fans hope they have in common come June.
"Gets the job done," it said, "in pressure situations."
Get the latest Boston sports news
Receive updates on your favorite Boston teams, straight from our newsroom to your inbox.