Bruins
Takeaways: With weekend wins, the Bruins regain their swagger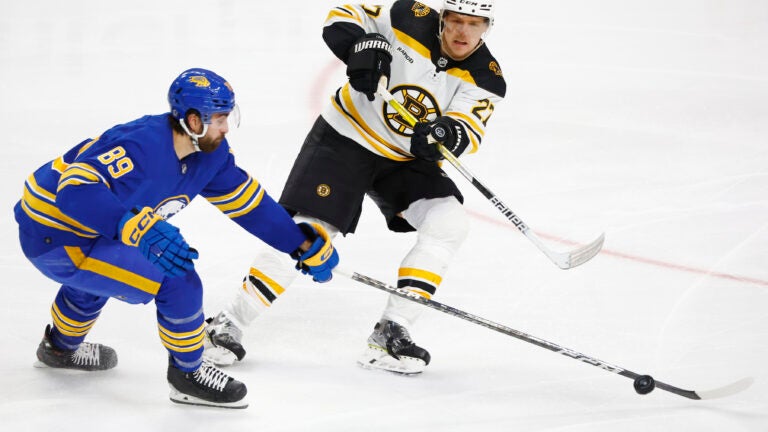 Even the cobwebs associated with back-to-back afternoon tilts couldn't slow down the league-leading Boston Bruins.
Jim Montgomery's squad arrived in Buffalo Saturday night just hours after completing the midwest swing of their five-game road trip with an impressive 5-2 win over the Minnesota Wild. The odd scheduling featuring a transition from the central time zone to eastern daylight time hardly bothered Patrice Bergeron and company.
Bergeron wasted little time striking first against the slumping Sabres. The Boston captain scored 15 seconds in to get his team off and running.
A slick long-distance feed from a returning Jakub Zboril to Garnet Hathaway sprung the Bruins to a 2-0 lead at 9:01 of the opening frame.
Jake DeBrusk notched his second goal in as many games a mere 2:39 later, giving Boston the 3-0 edge off a stellar dish from Charlie Coyle at the goal line.
With the game well in hand, Coyle added his 13th goal of the season to complete an impressive individual weekend.
DeBrusk added a helper on Hampus Lindholm's second-period marker, taking a tour of the offensive end following a timely defensive sequence from Lindholm and Bergeron to set up the rush.
A day after snapping his 22-game drought without a man-advantage tally, David Pastrnak notched his second power-play goal in as many games with his patented one-timer in the third. Pastrnak now sits two goals short of 50 after matching his career high from the 2019-20 campaign.
Charlie McAvoy capped off the 7-0 rout with his sixth tally of the season at 17:59 of the third.
Jeremy Swayman secured his second straight shutout with a 26-save outing.
Indeed, the Bruins have their swagger back. Here's what we learned from Sunday's one-touchdown victory in Western New York.
The Bruins bought into the road trip turnaround.
Throughout their historic run, the Bruins have spoiled their fanbase with impressive showings, come-from-behind wins and individual accomplishments. Because of that, some consider anything less than a victory a failure.
By the middle of the week, the "everybody sucks" afternoon drive-time shows on WEEI and the Sports Hub harped on the Bruins for their shortcomings in Detroit and Chicago.
But Boston hardly lost steam against tougher competition. Instead, the battle-tested Bruins earned a pair of hard-fought wins against the Jets and Wild, both of whom currently sit in the top eight out West. They followed that up with a downright dominant victory in Buffalo, delivering a near-knockout blow to the Sabres' postseason chances.
"I think the biggest thing is just staying in the moment…learning from our mistakes and taking positives out of games we don't like the outcome of," a hungry Swayman told reporters. "The last couple of games have been a really good positive for our team. The ability that this locker room has to forget about the past and not think about the future and just stay in the moment — whistle between whistle — is something special."
"I think we found another wind of energy, and we just started playing a more complete game," Montgomery told NESN's Jack Edwards and Andy Brickley. "We saw five guys connected in all three zones, and I thought we got better and better each game."
The Bruins returned to their 200-foot roots with their productive offense and tight-checking game. Along the way, they received timely saves from their goaltenders.
Swayman extended his shutout streak.
The former University of Maine netminder hardly received support against a speedy Red Wings bunch to begin the road trip. But doubts crept up within the fanbase, especially after a shaky outing against the Edmonton Oilers a few days before their tilt in Detroit.
That two-game rut was a mere blip.
Since mid-December, Swayman's numbers are near the top of the league. Between his return to form, and Linus Ullmark's consistency, the Bruins assembled quite the luxury in net.
Swayman returned to form after posting shutouts in each of his last two games. He received a healthy workload in Sunday's blowout, stopping all 26 Buffalo shots on goal, and extended his shutout streak to 124:52.
"He doesn't let a lot rattle him. If he does, I don't see it," Coyle told reporters regarding Swayman. "But he's a great goaltender. We're lucky to have the goalies that we do. He's been huge."
Swayman's performances resonate throughout New England. From a league-wide standpoint, however, Ullmark's Vezina-caliber season has taken center stage.
Barring injury or other unusual developments, Ullmark will get the nod to kick off Boston's playoff slate. But the Bruins know they'll have another top-tier netminder waiting in the wings.
"We all know what he's been to us, but I think Sway flies under the radar," Coyle added. "He's been so great for us, coming up with the huge saves to keep us in games. To keep the shutout…when we break down, he's always there for us. He's been so good. I can't say enough about him."
Swayman's outing marked another night of Boston contributions throughout the lineup. As seven different lit the lamp, the Bruins received helping hands through their roster, including one of their frequent press box visitors.
Zboril made the most of his rare appearance.
Amid a roller-coaster development down in Providence, Zboril had slowly worked his way up to the big club. Things appeared to have turned a corner following a productive run early in 2021-22 before the Czech suffered a season-ending injury.
Despite the tough end to last year, the Bruins signed Zboril to a two-year deal in the off-season. He's no longer a frequent traveler on I-95, but Zboril hardly finds himself in Boston's lineup. Instead, he serves as an extra defenseman, watching and observing from Level 9 at TD Garden and other press areas throughout the league.
As he waited for his name to appear on the nightly roster sheet, Zboril used his time in practice to prepare for the moment.
"Just keep practicing hard and try to do the right things in practice," Zboril told reporters. "And when the chance comes, just be ready for it."
Making his first appearance in Boston's lineup since Feb. 23, Zboril's patience paid off on Sunday.
With Dmitry Orlov rotating out and Derek Forbort injured, Zboril returned to action in the same KeyBank Center confines where he notched his first career NHL goal on Nov. 12. The 2015 first-round selection had an extra pep in his step, notching an assist and three hits in a season-high 18:34 time on ice.
"I thought he was dynamite," Montgomery said to NESN. "His energy and his fresh legs were very noticeable. I thought he broke up a lot of plays, and obviously, he made a lot of crisp passes."
Montgomery hopes to give Zboril as many reps as possible before the playoffs. Given Sunday's outing, the Czech could see more ice time sooner rather than later as the Bruins continue to rotate their defensemen during the final stretch of the 2022-23 regular season.
Sign up for Bruins updates🏒
Get breaking news and analysis delivered to your inbox during hockey season.
Newsletter Signup
Stay up to date on all the latest news from Boston.com