Bruins
Derek Forbort's injury will keep him out at least until Bruins start the playoffs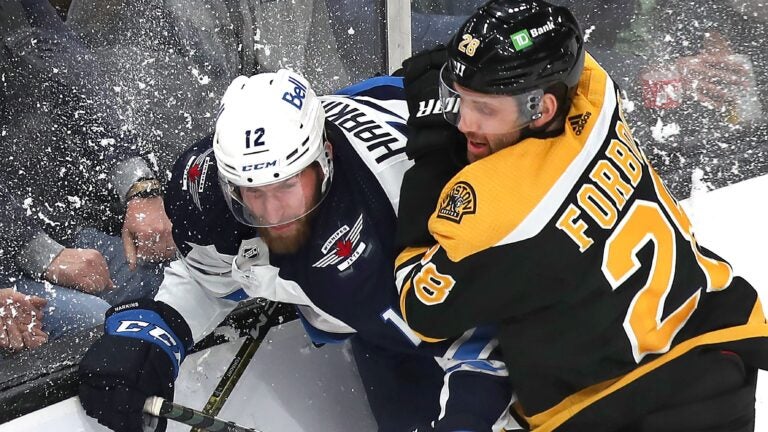 The Bruins' logjam of bodies on the blue line has been a good problem for Jim Montgomery to have over the past month.
You can never have enough depth on the back end. And in a sport as taxing on the body as hockey, questions about a loaded lineup tend to sort themselves out by way of bone-crunching checks and blocked shots.
The Bruins got their latest answer to the depth-chart carousel Tuesday.
Montgomery noted after the morning skate at Warrior Ice Arena that defenseman Derek Forbort is not expected to return to the ice before the playoffs commence in less than a month.
But Forbort, who already has missed two games after blocking a shot off his leg last Thursday in Winnipeg, is not expected to need surgery.
Forbort has appeared in 54 games this season, scoring 5 goals and posting 12 points. He is averaging 17:44 of ice time per game in his second season with Boston.
Forbort's propensity to eat up pucks in shorthanded situations landed him on the shelf for the next few weeks. But those minutes are where the 31-year-old blue liner's value shines.
Averaging 3:08 in shorthanded TOI per game, Forbort has been a pillar in a Bruins PK unit that ranks first in the league with an 85.8 percent success rate.
With Forbort in the lineup, the Bruins negated 152 out of 172 opposing power-play opportunities (88.3 percent). When Forbort sidelined, the kill dipped to 78.3 percent (47 for 60).
Montgomery still has plenty of options on defense, and Jakub Zboril should earn more looks moving forward after a strong showing against the Sabres Sunday (18:34 TOI, 1 assist).
Hall, Foligno are able to skate
Forbort is on the mend, but the Bruins did get some good news on the injury front Tuesday.
Winger Taylor Hall took part in Tuesday's practice while donning a red noncontact sweater, while forward Nick Foligno skated on his own prior to morning skate.
"They're checking boxes, they're progressing well," Montgomery said. "But there's no timeline for us yet."
Hall, who has missed 11 games with a lower-body injury, began skating at Warrior Ice Arena last week. Foligno has not played since Feb. 28 after getting clipped against the boards during a 4-3 win over the Flames.
If both Hall and Foligno are cleared to play by next month, it will create another lineup conundrum for Montgomery.
With deadline pickups Tyler Bertuzzi and Garnet Hathaway shoring up Hall and Foligno's vacancies in the bottom-six grouping, even a lineup stalwart such as Trent Frederic could be the odd man out if the rest of the roster is healthy.
For now, Montgomery isn't fretting over that potential roster crunch.
"I still think they're a ways away," Montgomery said. "It's not at the point where I'm starting to think about lines. I don't think it's a problem.
"It's a great situation. When they get back, [you see] who plays with who and a deep lineup is going to get even deeper. So it's a great problem to have."
Lineup ins and outs
After sitting out Sunday's win over Buffalo, David Krejci and Dmitry Orlov were expected to slot back into the lineup Tuesday against Ottawa. Zboril and A.J. Greer were healthy scratches … Montgomery has been impressed with Charlie Coyle's offensive approach (1-3—4) during this three-game win streak. The third-line pivot had 12 shot attempts over that stretch. "I think he's made a more concerted effort to get inside the dots with the puck," Montgomery said. "He's always been a good puck-protection player for us, but he takes pucks to hard areas inside the dots; it's where you score goals. And he's looking to shoot more often. He's always had the ability to make plays and find his open teammates, but I find he's creating his own shot a lot more now." … The fading Senators (4-5-1 in their last 10 going into Tuesday) were 6 points back of Florida for the second wild-card spot.
Sign up for Bruins updates🏒
Get breaking news and analysis delivered to your inbox during hockey season.