Bruins
What a healthy Bruins lineup could look like in the playoffs
Boston is still waiting on the return of players like Nick Foligno and Taylor Hall.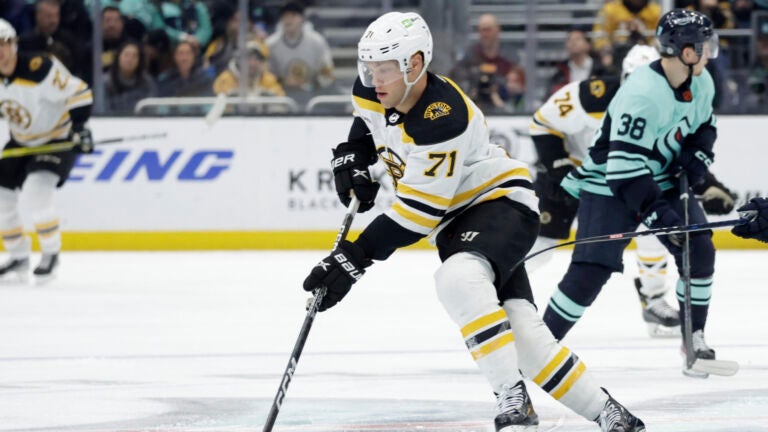 As the march to the NHL playoffs continues, the Boston Bruins continue to sit comfortably atop the league standings. And for a team with already impeccable depth, general manager Don Sweeney made the roster even deeper after acquiring Garnet Hathaway, Dmitry Orlov and Tyler Bertuzzi at the trade deadline.
Jim Montgomery has an embarrassment of riches to work with currently. He'll have even more to work with if or when Nick Foligno, Taylor Hall and Derek Forbort return from their lower-body injuries.
With such a deep roster comes tough decisions. Of course, it's a good problem facing Montgomery and the coaching staff, even if it means sitting an NHL regular. The Bruins can adjust according if things go awry as they eye hockey's ultimate prize.
Here's a look at what a fully healthy Bruins lineup could look like in the playoffs.
Brad Marchand-Patrice Bergeron-Jake DeBrusk
DeBrusk hasn't looked back since latching on to a top-line role with Marchand and Bergeron late last season. Montgomery may break up this trio if the Bruins need an in-game offensive spark, but for the most part, this top trio remains a keeper.
Pavel Zacha-David Krejci-David Pastrnak
Ditto for the all-Czech line and their unmatched chemistry. Any injury to Bergeron or Krejci would likely prompt Zacha to move from wing to center, but that's another story for later.
Taylor Hall-Charlie Coyle-Tyler Bertuzzi
The bottom six present the "toughest" of roster decisions up front.
A healthy Hall will likely find himself back with Coyle. After an initial rough patch at the beginning of 2021-22, Hall and Coyle gained more chemistry with one another once the Bruins had their full complements of forwards.
Trent Frederic served as the winger opposite Hall for most of this run. But his versatility gives Montgomery another option. Because of that, the Bruins can slot in one of their newcomers in Bertuzzi to round out the third line.
Nick Foligno-Trent Frederic-Garnet Hathaway
This blend of skill and physicality would make for one intriguing fourth line. This potential trio features everything asked of a fourth liner: energy, grit, snarl and a scoring touch.
The Bruins hardly had this type of mix on their fourth line dating back to the 2019 Stanley Cup Final. With Foligno's leadership, Frederic's offensive improvement, and Hathaway's well-rounded traits, the B's would indeed have a formidable fourth line.
Extras: Tomas Nosek, A.J. Greer
Scratching Nosek in this exercise wasn't easy, especially as he's in the midst of one of his better offensive stretches in Boston after notching points in five of his last 11 games.
While Nosek's scoring touch isn't anything to write home about, he provides the Bruins with quality shorthanded minutes and stability in the faceoff dot. His 58.6 percent success rate at the faceoff circle sits second on the team, trailing only Patrice Bergeron and his efficient 60.7 percent win percentage.
The upside with Foligno, Frerderic, and Hathaway meant someone had to sit. But Nosek would likely take either Foligno, Frederic or Hathaway's spot if the Bruins encountered any rut on the penalty kill over a seven-game series. Another forward injury would also prompt Nosek back to fourth-line center duty.
With two sparkplugs in Foligno and Hathaway operating the fourth-line wings, Greer finds himself as the odd winger out. While he brings the usual energy and scoring touch in a bottom-six capacity, Foligno and Hathaway's prior postseason experience trumps what Greer brings to the club, at least for now.
Matt Grzelcyk-Charlie McAvoy
The first defensive decision involves the top left shot spot next to McAvoy. Familiarity could win out here with the Grzelcyk-McAvoy pair.
While Grzelcyk's 5-foot-10 frame isn't exactly ideal for the wear and tear of playoff hockey, the Charlestown native remains one of the better 5v5 defensemen in the league. He may not overwhelm opponents physically, but his stick positioning on the defensive end and his aggressive skating sense in the attacking zone more than make up for his build.
The Grzelcyk-McAvoy pair posts some of the better 5v5 numbers in the league. The Bruins have outscored their opponents 34-14 while posting healthy numbers in shots on goal (286-241) and shot attempts (549-477) when deploying Grzelcyk and McAvoy together at full strength.
Certain matchups may prompt Montgomery and the coaching staff to go with a top-heavy approach on the blue line. In that case, either Hampus Lindholm or Dmitry Orlov would skate with McAvoy. But the Bruins shouldn't have to fret about that development until a potential second-round matchup with the Maple Leafs or Lightning.
Hampus Lindholm-Brandon Carlo
The balance continues with Lindholm and Carlo remaining on the second pair.
Carlo found himself in a bit of limbo after forming a reliable partnership with Torey Krug before the latter signed with St. Louis in the 2020 off-season. After a couple of shaky seasons following Krug's departure, Carlo slowly found his stride again upon pairing with Lindholm.
Despite only starting over 28 percent of their shifts in the offensive zone — and a touch over 33 percent of their offensive zone faceoffs — the duo produced the second-highest 5v5 scoring totals on the team, notching 30 goals while relinquishing 16.
Lindholm's two-way skillset and Carlo's physicality around the net both mesh well under Montgomery's up-tempo system. As a result, Lindholm produced career-high offensive numbers, while Carlo regained his confidence, and hasn't shied away from producing timely scoring when needed.
Derek Forbort-Dmitry Orlov
Amid the defensive rotation from the last month, Orlov found himself rotating among several different partners, skating both on his strong and weak sides. Here, we move him to the right, providing the Bruins with another mix for another pairing featuring a stay-at-home and two-way defenseman.
This assumes Forbort will return at some point during the playoffs. Montgomery said he doesn't expect Forbort to play for the rest of the regular season after leaving Thursday's game in Winnipeg.
If Forbort is out for any extended time beyond the final 12 regular season tilts, the Bruins could move Orlov with Carlo and use Lindholm with Connor Clifton as a second pair.
Orlov's two-way versatility and Forbort's defensive skillset would provide a similar mix to the Lindholm-Carlo pairing. But Orlov and Forbort hardly saw time together in 5v5 situations (22:54). Yet, Forbort's impeccable penalty-killing and defensive sense and Orlov's three-zone reliability could mesh well if given an extended opportunity.
Extras: Connor Clifton and Jakub Zboril
Zboril moved into an eighth defenseman role upon Boston's trade for Orlov. He'll likely receive more playing time in the final weeks of the regular season. But the 2015 first-round selection will continue watching from the press box as the second extra blue liner come mid-April.
The tougher decision here is sitting Clifton, a pending UFA in the offseason.
Clifton and Forbort formed a formidable third pair late last season. They were arguably the top duo during last year's first-round series with Carolina.
The Bruins could deploy Clifton situationally. It doesn't have to take an injury to insert him into the lineup necessarily. Whenever he's in, he'll provide the back end with an energetic and hard-nosed skillset in all three zones.
Given the wear and tear of playoff hockey, it wouldn't necessarily be a question of if Clifton would enter the lineup, but when.
Linus Ullmark
Jeremy Swayman
This is as self-explanatory as either goalie wanting to shoot at the open net when the opportunity presents itself.
Amid his Vezina-worthy campaign, Ullmark will likely earn the Game 1 nod against the East's second wild card team barring injury or any other unforeseen development. If Ullmark slips, the Bruins have a steady hand with Swayman as the "backup".
Sign up for Bruins updates🏒
Get breaking news and analysis delivered to your inbox during hockey season.