Bruins
Linus Ullmark, Bruins slam the door on Senators to extend win streak to four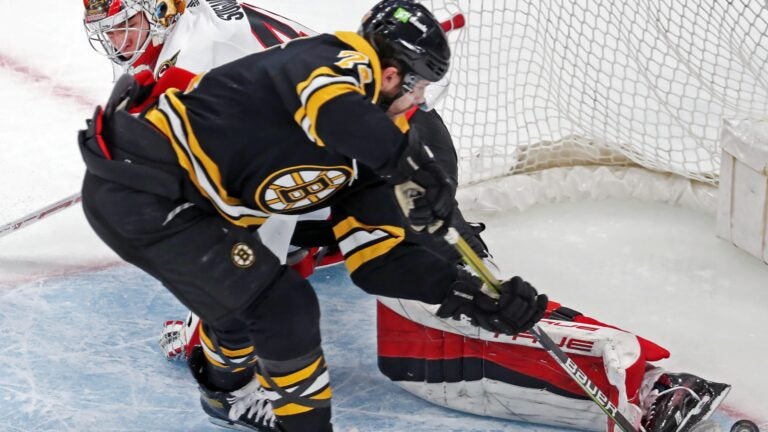 Jeremy Swayman has been on a roll between the pipes.
The 24-year-old netminder is 11-3-1 with a .937 save percentage since the calendar flipped to 2023. He became the first Bruins goalie in more than a decade to post two straight shutouts.
But if Linus Ullmark continues to play at the level he put forth Tuesday night against the Senators, his spot at the top of the depth chart should be safe.
Ullmark did not budge against volley after volley of vulcanized rubber from a desperate Ottawa team, stopping 40 of the 41 shots that came his way en route to a 2-1 victory at TD Garden.
"He was outstanding," Montgomery said of Ullmark, who improved to 19-1-1 at TD Garden this season. "And he needed to be. Unfortunately, we gave up a lot of good looks, a lot of odd-man rushes because of our puck management and he bailed us out like he has all year."
Ullmark's 40 stops marked his second-highest total of the season, trailing just his 54-save masterpiece against the Flames on Feb. 28.
As Ullmark put out multiple fires, a two-goal flurry from David Krejci and Jake DeBrusk in the first period gave the Bruins a lead they did not relinquish.
After a two-game slide against the Red Wings and Blackhawks last week, Jim Montgomery's team has regained its form. Boston has outscored opponents, 17-3, in winning four straight.
An early timeout by Montgomery helped awaken Boston's offensive-zone capabilities after a sluggish start.
With two Senators in the penalty box, Boston's bench boss signaled for a timeout just 11:04 into the game.
Coaches usually reserve their lone timeout for the final minutes of regulation. But with Boston's power play mired in an 8-for-69 slump over its previous 22 games, Montgomery wanted to assemble his best five-man unit for the extended five-on-three advantage.
"I just want us to be on the same page," Montgomery said. "I've felt we've had some five-on-threes, and we didn't take a timeout. And they kill a little bit differently on the five-on-three. We were going to go to an umbrella and we hadn't talked about it in a while. So I wanted to make sure that we got good looks."
Montgomery's early recess paid off — as Boston erased a one-goal deficit with a pair of tallies in the span of 4:19.
The Bruins cashed in less than 30 seconds into the two-man advantage, with Krejci pouncing on a loose puck and jamming it past Mads Sogaard for the equalizer.
Some slick passing from Brad Marchand helped put Boston ahead at 13:52.
Gathering the puck just before crossing the blue line, the Bruins' top left wing searched for faults in Ottawa's defensive structure as DeBrusk charged toward Grade-A ice. With a lane open, Marchand lofted a cross-ice saucer feed that hit DeBrusk on the tape.
Before Sogaard could react, DeBrusk slipped the puck past the goal line for his 23rd tally of the season.
The two-goal salvo put Boston ahead, but it did not make things easier down the other end for Ullmark.
The Vezina Trophy frontrunner was beat early in the contest. Just 8:55 into regulation, Dylan Gambrell tucked the puck inside the right post after Ullmark bit on his move behind the net.
But after that initial fault, Ullmark didn't waver as Ottawa continued to pepper Boston's net.
After landing 16 shots in the opening 20 minutes, the Senators increased the pressure in the following frame. But of the 21 shots that Ottawa fired in the second, none found the net.
Ullmark was aided by a stingy effort from Boston's penalty-kill unit (2 for 2 in the opening 40 minutes), along with determined backchecking from DeBrusk and Jakub Lauko.
Boston tightened things in the third, limiting the Senators to four shots on goal.
Ottawa threatened again with a power-play opportunity and the goalie pulled with 2:05 left on the clock, but Boston's PK shut the door on the six-on-four sequence to secure the win.
"I think our penalty kill has been excellent the last three games," Montgomery said. "We miss [Derek] Forbort. If he's not our best penalty killer, he's one of our best penalty killers outside of [Patrice] Bergeron. It's nice to see [Dmitry] Orlov and [Hampus] Lindholm doing really well and relishing those roles there.
The Bruins continue their three-game homestand Thursday at 7 p.m. against the Canadiens.
Sign up for Bruins updates🏒
Get breaking news and analysis delivered to your inbox during hockey season.