Bruins
Bruins' Brad Marchand once again voted by NHL colleagues as player they 'least enjoy playing against'
From 2018-20, Marchand was voted by NHL players as the game's best AND worst trash talker.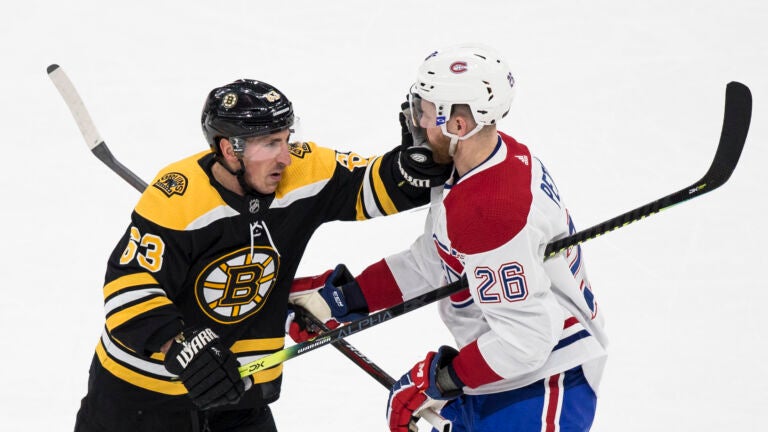 Brad Marchand's reign as the most ornery and impactful pest in the NHL remains unchallenged.
For as much as the Bruins' star winger is adept at getting under the skin of opposing players, his true value is maximized when he's dicing up opposing defenses with slick feeds and accurate wristers.
The 34-year-old B's forward was recognized for his unique skill set in the annual NHL Players Association (NHLPA) poll, with Marchand named as the player that opponents "least enjoy playing against, but would like to have on their team."
Marchand commanded 36.5 percent of the vote, which was comprised of 626 NHL players from across the league.
Oilers star Connor McDavid finished second at 15.6 percent, followed by Capitals bruiser Tom Wilson (8.1 percent), Panthers power forward Matthew Tkachuk (6.0 percent), and Lightning star blueliner Victor Hedman (3.9 percent).
It was the second straight year that Marchand bested his peers in such a unique category. Marchand led the way with 26.4 percent of the vote during the 2021-22 poll.
Marchand is a familiar face on the NHLPA's annual survey. In back-to-back polls from 2018-20, Marchand ranked first in both "Game's Best Trash Talker" and "Game's Worst Trash Talker".
But Marchand was far from the only Bruin to earn some praise from league circles in the latest NHLPA poll.
Patrice Bergeron, who is looking to add another Selke Trophy to his mantle this season, finished second in the query of "Who is the most complete player?" Bergeron (18.8 percent) only finished behind Penguins captain Sidney Crosby (30.1 percent).
The B's captain and top-line center also received the fifth-most votes (1.5) in the category of "In a must-win game, which forward do you think would be most impactful?" In a shocking result, McDavid led the way with 59.3 percent of that tally.
One notable omission? Linus Ullmark as one of the top netminders in the game.
For the category of "If you need to win one game, who is the goalie you would want on your team", Tampa Bay's Andrei Vasilevskiy earned 52.3 percent of the vote, followed by New York's Igor Shesterkin (4.8 percent), Minnesota's Marc-Andre Fleury (4.0 percent), Winnipeg's Connor Hellebuyck (3.5 percent), and the Islanders' Ilya Sorokin (3.2 percent).
Perhaps a Vezina Trophy will change the sentiment around Ullmark's reputation.
Veteran forward Nick Foligno ranked fifth in the "best guy in the locker room" category with 2.5 percent of the vote, with Fleury leading at 3.8 percent.
David Pastrnak ranked second (3.4 percent) in the league for "best shoe game" behind only reigning Hart Trophy winner Auston Matthews (9.1 percent).
Newsletter Signup
Stay up to date on all the latest news from Boston.com