Bruins
3 takeaways from the Bruins' 2-1 win over Ottawa
Jake DeBrusk and David Krejci scored in support of Linus Ullmark to extend the Bruins' win streak to four.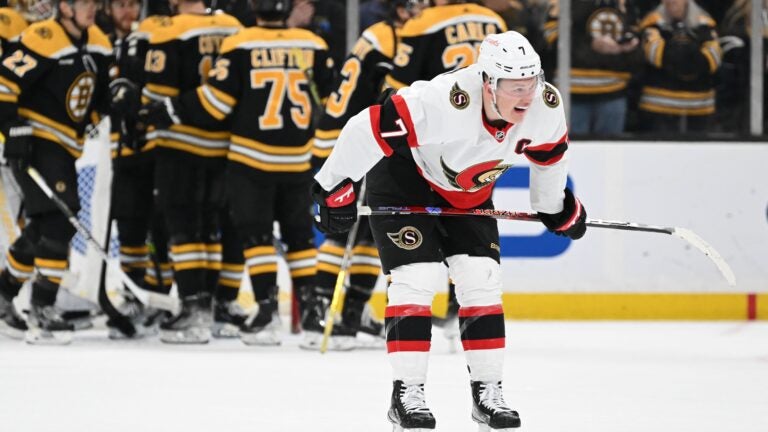 So much for that "slump" for Linus Ullmark and the Boston Bruins.
Ullmark faced a plethora of shots on net from the desperate Ottawa Senators on Tuesday night. He only encountered a lone hiccup during his heavy workload after arriving late on Dylan Gambrell's wraparound marker at 8:55 of the opening frame.
The Vezina Trophy favorite looked like his usual self, remaining square to the puck and providing timely saves throughout Tuesday's tilt. The Bruins may not have provided much support on the defensive end after allowing 41 shots on net, turning over the puck on a handful of occasions before smoothing out their hiccups in the final 20. But they had no shortage of chances in the attacking end.
Jim Montgomery's squad kept the Sens defense busy, firing 35 shots at Mads Sogaard. A rebound tally from David Krejci on a 5-on-3 power play and a stellar pass from Brad Marchand to a streaking Jake DeBrusk provided a timely counterpunch to Gambrell's tally.
The DeBrusk and Krejci markers were all the support that Ullmark needed to close out Boston's 2-1 win over Ottawa.
Here's what we learned as the Bruins inched one step closer to clinching the Atlantic Division.
Marchand threads the needle with DeBrusk.
Once again, DeBrusk proved why he's a top-line keeper after notching his third goal in as many games. On top of that, the 2015 first-round selection showcased his 200-foot development since moving to a top-line role last year, providing timely backchecking in transition and remaining hard on pucks in all three zones.
But even DeBrusk admits he needed assistance along the way to his 23rd goal of the year. And Marchand was more than happy to provide that highlight-reel moment.
"Obviously, it was all-world," DeBrusk said of Marchand's feed. "It's one of those things where I saw him, and I was open, and he threaded the needle there through a couple of guys to send me on a breakaway."
With increased trust, Marchand managed to get the pass through.
Following a timely backcheck from the Selke King Patrice Bergeron, Marchand looked over his options in transition. He heard Brandon Carlo call for the puck, perhaps to set up a shot attempt or a secondary scoring chance. Then he saw DeBrusk gain speed on an Ottawa defender.
Marchand also had Bergeron directing traffic in the slot. The Sens recovered in transition, yet Marchand somehow delivered that impressive dish to Marchand through a sea of humanity. DeBrusk completed the sequence within seconds to put the Bruins ahead for good.
"Sometimes you see it, and sometimes you don't," Marchand said. "I was looking for something else. Brando [Carlo] was calling for it because we were going up [ice], and I kind of saw Jake coming…he did a great job at finding that hole."
In a game filled with transition and scoring chances, the Bruins needed to fill some holes of their own. Once again, the last line of defense had Boston's back before patching things up in the final 20.
The Bruins entered shutdown mode in the third to relieve Ullmark.
With their playoff hopes fading, the Senators threw everything at the Bruins on a second night of a back-to-back. By the third, however, they ran out of gas.
The Bruins, however, encountered their lulls as they returned from their five-game road trip. But they had a relatively rested Ullmark in net. And once again, he provided the usual stability between the pipes.
Ottawa landed 37 of its 41 shots during the first 40. Ullmark bailed out the Bruins on several occasions during their turnover-ridden stretch.
"He was outstanding, and he needed to be," Montgomery said of Ullmark. "Unfortunately, we gave up a lot of good looks and a lot of good rushes because of our puck management, and he bailed us out like he has all year."
By the third, the Bruins came to Ullmark's aid. Their tight checking and crisper puck movement in transition kept the Sens in check, allowing a mere four shots on net during the final 20.
The final sequence, in particular, caught Montgomery's attention. With the Sens on the power play in the final 2:05 of play, the Bruins received the timely kill, primarily in a 6-on-4 situation.
"Our PK forecheck was really good," Montgomery noted after the B's allowed zero shots on that late kill. "I thought our defensemen and forwards did a really good job at pressuring that next pass. We pushed them outside of the middle of the ice above the tops and outside the dots, which makes it very easy for the player to make sure where the next pressure point is."
The league-leading penalty kill delivered. So, too, did the other half of Boston's specialty teams.
The power play is starting to come around.
In a time of fine-tuning, the Bruins' struggling power play highlighted the list of needed improvements.
Slowly but surely, Boston's man-advantage unit is reverting to its usual self.
But Montgomery wanted to manifest the Bruins' renewed aggression in a pivotal moment. In a 1-0 deficit, the first-year Boston coach used his timeout to set up his personnel.
Krejci, a staple on Boston's secondary PP unit, moved up to the top role with the two-man advantage. With the umbrella setup, the Bruins pounced on any secondary opportunity. The crafty Krejci delivered a gritty equalizer with his first power-play goal in 38 games.
"I wanted to make sure that we got good looks, and we did get good looks," Montgomery said of the timeout before the 5-on-3. "And it was a really good, important goal by Krejci."
Krejci's rebound tally on Bergeron's tip on a Hampus Lindholm initial shot provided another encouraging development on the power play.
With their crisp puck movement and assertive shot selection, the Bruins generated more quality primary and secondary chances on Tuesday. That trend allowed Boston to tally its first three-game streak of power play tallies since their California trip in January.
Their zone entries may need a little more work. But their improved shot selection, puck retrievals, and secondary looks marked a positive trend during this three-game run.
"When your confidence is there, then you move the puck a little bit quicker and you move into areas better," Marchand said. "Even the power plays we didn't score on, we had good looks. We had 1:45 of zone time one time, and the goalie made a great save, and we're doing a really good job recovering pucks. I think we're doing a better job working together and creating secondary opportunities."
Sign up for Bruins updates🏒
Get breaking news and analysis delivered to your inbox during hockey season.