Bruins
Bruins-Canadiens takeaways: What we learned from Boston's win
David Pastrnak notched his career-high 49th goal as the Bruins beat the Montreal Canadiens 4-2.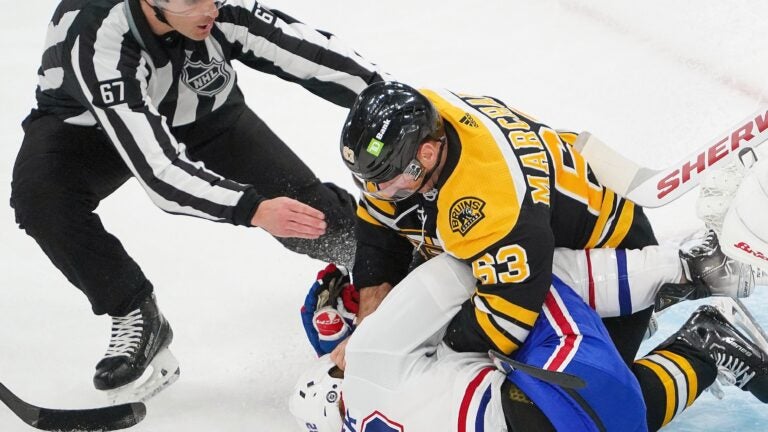 If only the Boston Bruins and Montreal Canadiens met more than three times in a season.
As the NHL underwent expansion and division realignment over the last decade, the historic rivalry between the two teams began to lose some steam. Instead of five or six meetings per season, the two teams will only face off four times at most in a given year, barring any future changes to the league's scheduling philosophy.
Given the disparity in the standings, some might have thought another civil meeting in the rivalry would be in store Thursday night. For the first 20 minutes, it was anything but.
The Bruins held a 2-1 first-period lead behind a fortunate bounce for Tyler Bertuzzi's first tally and a breakaway marker from Jake DeBrusk. But the feisty nature of the rivalry took center stage during the first period.
The crispiness began when Brad Marchand made a b-line toward Rem Pitlick after the Habs forward delivered a high hit to Patrice Bergeron.
The tensions continued with A.J. Greer and Mike Hoffman, resulting in Greer's five-minute major for cross-checking and a game misconduct.
The Bruins weren't as sharp offensively. Down the other end of the ice, they didn't make Jeremy Swayman's life easy during certain junctures.
The second-year netminder lost his shutout streak following Nick Suzuki's power play tally late in the opening frame.
Despite the two blemishes, Swayman stood tall en route to a 29-save outing. And despite their lulls on both ends of the ice, the Bruins once again persevered to victory.
David Pastrnak notched his career-high 49th goal to extend Boston's lead to 3-1 in the second period.
Kirby Dach again put Montreal within striking distance with his power-play marker late in the second. The Bruins eventually found their stride in the third and stopped the Habs comeback bid once and for all with David Krejci's insurance marker.
Here's what we learned from the Bruins' 4-2 win over the Canadiens.
Marchand is the consummate teammate.
Marchand began his night coming to the aid of his longtime linemate in Bergeron. He immediately engaged in a scrap with Pitlick following his late hit to Boston's captain.
Marchand earned four minutes of penalties, putting his team in a shorthanded situation. The Bruins didn't mind the trade-off.
"You don't hit our captain like that," Bruins coach Jim Montgomery said of the sequence. "That was a three-second late hit, and I loved the fact that Marchand made the guy pay a price for doing that."
"It's nice to see a guy like Marshy stick up for our captain," Pastrnak added, "and it gets everyone going on our bench."
Boston's outspoken winger didn't tally a point on Thursday. But he didn't mind playing a supporting role.
With Jake Allen pulled for the extra attacker, Marchand tried to give Pastrnak a chance to reach his 50-goal milestone. They couldn't connect, but Marchand's knowledge of Pastrnak's potential milestone stood out with the dynamic Czech playmaker.
"That's Marshy," Pastrnak said. "He's aware of these types of situations."
Pastrnak's ceiling remains high amid career season.
At just 26 years old, Pastrnak sits eighth on the team's all-time goal list. His best days are still ahead of him.
Pastrnak set a new career high with his 49th goal on Thursday. He also matched his career-best in points after notching a secondary assist on Krejci's 16th tally of the season.
Barring a slump or injury, Pastrnak will reach the 50-goal and 100-point milestones. Montgomery also senses similar runs ahead for the newly signed $90 million man.
"His ceiling is higher than his point total now. I wouldn't be surprised to see him eclipse it year after year," Montgomery said. "Obviously, this year, he's probably going to end up around 110 [points] is what I think, but we'll see how that develops."
On Thursday, Pastrnak brought a toolset he usually uses on the power play for an even-strength tally. With Joel Edmundson attempting to block Pastrnak's shooting lane, the 2014 first-round selection used a unique stutter step to create more space before firing his top-shelf marker.
With his ability to create opportunities at any given moment, Pastrnak will only add to his already impressive numbers.
"What matters most is that he's a brilliant player who is incredibly creative, and he's an incredible teammate," Montgomery added. "We're very lucky to have him, and our fans are lucky to watch him for another eight years."
Greer's emotions get the better of him.
The defensive rotation over the last few weeks garnered much of the lineup discussion around Boston. But the Bruins have also provided breathers for some of their fourth-liners over this stretch.
After sitting for two straight games, the Montreal-born Greer returned to the bottom six, skating alongside Tomas Nosek and Garnet Hathaway. The emotions of the rivalry got the better of Greer, however, resulting in a quick night for the former Boston University Terrier.
Amid the tensions, Greer found himself in a testy exchange with Hoffman on a neutral zone faceoff late in the first. After taking a slash from Hoffman, Greer delivered a cross-check to the face of the Habs forward, prompting his game misconduct.
"We talk about playing with emotion, which is great, but not getting emotional," Montgomery said. "Unfortunately for Greersy, that stick rode up. I don't know if it rode up his stick or shoulder pad, but it caught him. It's something we can learn from in the playoffs because you can't take those type of penalties in the playoffs."
Greer will likely be one of the extra forwards whenever Nick Foligno and Taylor Hall return from injury. The Bruins may need his gritty and energetic traits at some point during the postseason.
Yet, Thursday proved that even some of the more disciplined players can occasionally lose their cool.
Sign up for Bruins updates🏒
Get breaking news and analysis delivered to your inbox during hockey season.