Bruins
Watch: Bruins, Lightning drop the gloves just seconds into Saturday's tilt
Garnet Hathaway and Pat Maroon fought, while Jakub Lauko and Ross Colton, tussled to open Saturday's game.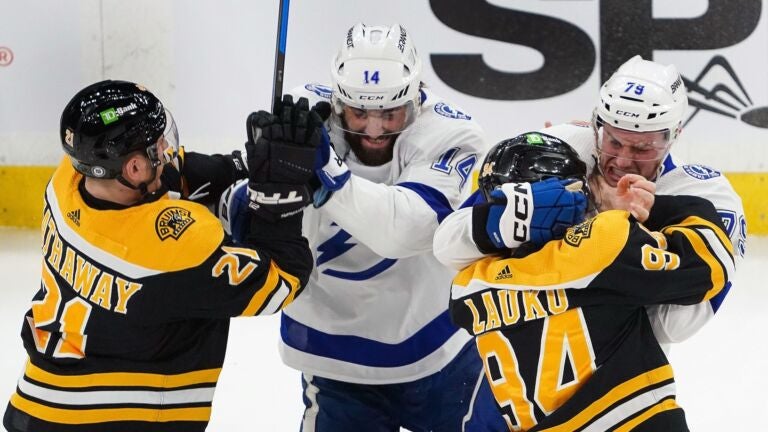 Saturday's Bruins-Lightning game was physical from the jump.
Players on both teams dropped the gloves just seconds into Saturday's tilt. Bruins winger Garnet Hathaway got into it with Lightning winger Pat Maroon, with the two players chirping prior to the game's opening puck drop before exchanging fists.
Maroon appeared to get the best of Hathaway in their physical exchange, with the Lightning forward landing several punches in a row before both players were sent off for fighting.
Bruins center Jacob Lauko also got into it with Lightning center Ross Colton as the two tussled to the ice. Both players were penalized, but Colton received a double roughing minor to give the Bruins a power play just nine seconds into the game.
Boston didn't capitalize on the power-play opportunity. However, Lightning forward Tanner Jeannot committed an interference penalty just seconds after the first power play ended. The Bruins didn't score on that power play, either, but got another man advantage seconds later when Maroon committed an unsportsmanlike conduct.
Patrice Bergeron capitalized for the Bruins on Maroon's second penalty, giving them a 1-0 lead less than seven minutes into the game. Boston got a four-minute power play less than two minutes later when Jeannot's high-sticking penalty caused David Krejci to bleed.
The Bruins gave up a goal though on their four-minute power play, with Victor Hedman's slapshot going past Linus Ullmark.
Boston also committed a pair of penalties in the first period, with Charlie McAvoy going to the box for tripping and Hathaway going to the box for roughing during a brief scrum.
In total, there were 10 penalties assessed in the first period (six for the Lightning, four for the Bruins) and 28 combined penalty minutes (17 for the Lightning, 11 for the Bruins). Tampa also recorded 15 hits while Boston had 12 in the opening 20 minutes.
Sign up for Bruins updates🏒
Get breaking news and analysis delivered to your inbox during hockey season.