Bruins
3 takeaways from the Bruins' physical win over the Lightning to clinch the Atlantic Division title
The game was physical from the jump, but the Bruins prevailed yet again to win their 56th game of the season.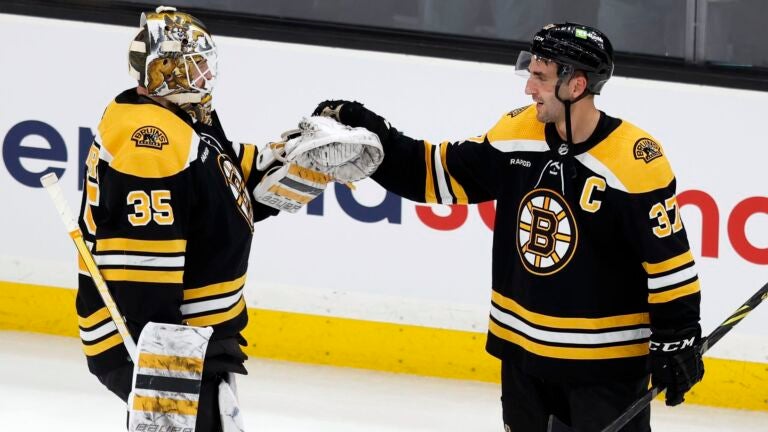 Saturday's billing between the Boston Bruins and Tampa Bay Lightning lived up to the hype.
Both teams have their first-round fate all but secured. The Bruins, barring an epic late-season letdown, will face the league's second wild-card team in mid-April. The Lightning, carrying a three-game skid into Saturday's matchup, have their Round 1 showdown with the Maple Leafs all but secure.
The Bruins and Lightning could meet during Round 2 of the NHL's flawed playoff format. So even without anyone threatening their current spots in the standings, their final regular season matchup marked a show-me game of sorts.
The Lightning tried to get under Boston's skin from the get-go. With both teams starting their fourth lines, the Bolts and Bruins engaged in the first round of scrums nine seconds in as Jakub Lauko and Garnet Hathaway dropped the gloves in their respective bouts against Ross Colton and Pat Maroon.
Neither team took advantage of Saturday's penalty fest. The Bruins only scored once on their six chances on a Patrice Bergeron tally in the opening period.
The Lightning received a shorthanded marker from Victor Hedman's top-shelf blast during Boston's ensuing four-minute attempt with the man advantage. But Tampa couldn't convert on its five power play opportunities, including a 5-on-3.
Boston's clutch second-period PK opened the door for the fourth line later in the frame. Hathaway put his team ahead for good late in the second period, burying a Matt Grzelcyk rebound past Andrei Vasilevisky.
The Bruins went into shutdown mode again in the final 20, securing their 2-1 victory behind another round of timely saves by Linus Ullmark.
Here's what we learned from the Bruins' Atlantic Division clinching afternoon on Causeway St.
Hathaway and the fourth line set the tone.
Starting the fourth line isn't anything new. But the circumstance surrounding the opening assignment for Hathaway, Lauko and Tomas Nosek felt slightly different on Saturday.
Jon Cooper trotted out his fourth line of Maroon, Colton and Nicholas Paul in an attempt for an immediate spark. Within nine seconds of the final regular season matchup between the division rivals, the two sides engaged in their first round of fisticuffs.
"We chatted quick, and then it just happened," Hathaway said.
"It's a team that's going to be in the playoffs that we potentially could see, and you're going to play that same way. Encouraging for us as a line, and encouraging for us as a team to play that way and play to our identity. That's how we're going to have to play in a couple of weeks."
Hathaway and the fourth line got the spirited TD Garden faithful on their feet during the opening draw. As tensions simmered, the Bruins felt they needed another jolt.
The fourth line delivered another timely moment late in the second period, beginning with an aggressive forecheck from Nosek and Lauko. Their sequence set Matt Grzelcyk up for his initial shot attempt and paved the way for Hathaway to notch his third goal as a Bruin after batting a rebound past Vasilevisky with 2:28 left in the middle frame.
"We had an inkling that Tampa Bay was going to play a very energetic and emotional game. Didn't know it was going to happen that quick," Boston coach Jim Montgomery said. "We start the Nosek [line] a lot at home because they always get us off to a good start, and they did again tonight. Obviously, that game-winning goal by them was instrumental by them tonight."
Boston's tale of two special teams continued.
It was the best of times for the Bruins' league-leading penalty kill.
It was also the worst of times for their sputtering power play.
The latter's struggles continued Saturday despite Bergeron notching his ninth power-play marker of the season, and that came on a fortunate bounce during a net-front battle with Hedman.
The luck didn't carry over on their ensuing chance, with Tanner Jeannot serving a double-minor for high-sticking. Boston's slow-developing entries into the attacking end and even slower puck movement within its setup continued.
The lethargic sequences ultimately caught up to them with Hedman's equalizer at 9:30 of the opening stanza.
"It's our breakouts, and it's our entries and our speed once we have the possession in [the attacking zone]," Montgomery said of the power play's concerns. "We're very slow in attacking the net, so it's something we have to continue working on and get better at."
The fine-tuning will continue on the power play. But the penalty kill once again proved they're playoff ready.
The Bruins' shorthanded unit dug deep without the injured Derek Forbort. They especially thrived in a 5-on-3 sequence, with another pair of PK regulars in Carlo and McAvoy serving time in the box during the second period of a 1-1 game. The stout backchecking from Bergeron and timely blocks and clears from Dmitry Orlov prevented the Lightning from firing a single shot on net during the 1:10 of 5-on-3 time.
Orlov stayed on for the final 50 seconds of Tampa's ensuing 5-on-4 chance. The sequence highlighted his productive afternoon. The former Washington Capital landed six hits, two blocked shots and logged 23:42 time on ice in his 700th career NHL game.
"It's just another dominant player back there," Montgomery said of Orlov. "You talk about someone who imposes his will; he took a couple of big runs at players. That's noticeable on both benches, and it's nice when you see your team respond. The other team starts out hard, and we come out harder. It was great."
The Bruins' shutdown prowess in the third continued.
Holding a lead at any point in a hockey game provides a distinct advantage. While come-from-behind wins aren't unusual, pulling one off against the Bruins in the third period has become nearly impossible.
Once again, the Bruins entered shutdown mode in the third. They generated multiple scoring chances to add insurance, with David Pastrnak coming close to notching his 50th of the season on a couple of occasions. It turned out that they didn't need that cushion.
The Lightning fired 11 shots on net in the final frame. A majority of their chances came within the first 10-15 minutes. Yet, Boston's defensive clinic in the last five minutes prevented Vasilievisky from leaving his crease for the extra attacker until the final 60 seconds of regulation.
"We keep playing to our standards, and we keep putting the pressure on," Bergeron said of the B's third-period success. "I think the few times that we got back on our heels throughout the years is when we put ourselves in trouble. So, anytime we trust each other, we're going to reload, but we can be aggressive and add some layers. You know, I feel that's a hard style of hockey to play against."
Behind their latest close-out moment, the Bruins improved to an eye-opening 41-1-2 when leading after two periods. That development will only prove more beneficial when tighter-checking matchups arise in the playoffs.
Sign up for Bruins updates🏒
Get breaking news and analysis delivered to your inbox during hockey season.