Bruins
Why David Pastrnak isn't taking his first 50-goal campaign for granted
"Even better to share it with the guys I have here."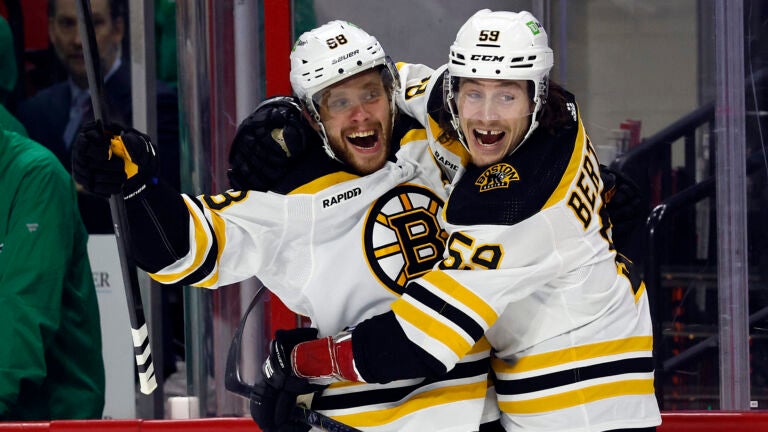 It seemed like a matter of when — not if — as far as the chances of David Pastrnak joining the 50-goal club with the Bruins.
After all, the 26-year-old winger has already come close to joining the select company of black-and-gold skaters with 50+ tallies on their resume.
Entering the 2022-23 season, Pastrnak had already recorded two 40-goal campaigns and surpassed the 30-goal threshold another three times.
And with his potent one-timer not showing any signs of slowing down, Boston's top sniper was expected to stuff the stat sheet once again in his ninth NHL season.
But after becoming just the sixth Bruin to reach that milestone scoring threshold on Sunday evening, Pastrnak expressed some relief over finally getting over the hump.
After all, Pastrnak would have already hit the 50-goal marker close to three years ago if it wasn't for circumstances far beyond his control.
With 48 tallies over the first 70 games of the 2019-20 campaign, Pastrnak was well on pace to become the first Bruin since Cam Neely (1993-94) to light the lamp 50 times in one season.
But the COVID-19 pandemic halted play in March 2020 and scratched the final 12 games of regular-season action. Pastrnak shared the Rocket Richard Trophy with Alex Ovechkin for the most goals scored in that abbreviated season, but he was left wanting far more.
Given the various twists and turns that he has navigated over the last few years, Pastrnak wasn't going to discount the significance of finally getting over that scoring hump on Sunday.
"It's pretty special — even better with a win," Pastrnak said following Boston's 4-3 shootout victory over Carolina. "I mean, I came close a couple years ago. You never know what can happen. Had plenty of games to get there and all of a sudden, COVID happened. So it's definitely special.
"It's been a long way and obviously a big thanks to all my teammates and my family. So it's pretty cool. Even better to share it with the guys I have here."
In particular, Pastrnak wasn't going to fret over the manner in which he finally secured his 50th goal.
The Czech forward has done most of his damage this season uncorking blasts from the left circle or depositing pucks into twine off an array of dekes and dangles.
But his first of two tallies against Frederik Andersen on Sunday was nothing more than a bit of puck luck.
Skating in on a partial breakaway, Pastrnak failed to even get a shot off against the Hurricanes netminder — not with Brent Burns closing in behind him.
But despite losing control of the puck, Pastrnak's attempt still managed to slide through Andersen's five-hole and into the net. It was an anticlimactic result, but one that handed Boston a 1-0 lead just 4:43 into regulation.
"I'm not [Nikita Kuchverov]. I don't know how to do that on purpose," Pastrnak said with a laugh when asked if his five-hole tally was planned.
"I mean, this is how the game works, right? You have plenty of opportunities, like last night, to get there," Pastrnak added. "A couple of breakaways and good chances that I wouldn't change much. But it didn't go in last night. And today you kind of lose the puck and it goes in. That's the game and I'll obviously take it."
Pastrnak, who later scored his 51st goal in the second period off a one-time blast on the power play, also surpassed 600 career points in Sunday's win.
Pastrnak (583 games played) became the third-fastest player to record 600 NHL points with the Bruins, trailing only Bobby Orr (461 games played) and Ray Bourque (569 games played).
Newsletter Signup
Stay up to date on all the latest news from Boston.com