Bruins
Garnet Hathaway's track record of truculence is giving Bruins a needed edge ahead of the Stanley Cup Playoffs
"He's heavy, he's mean. He's a Bruin."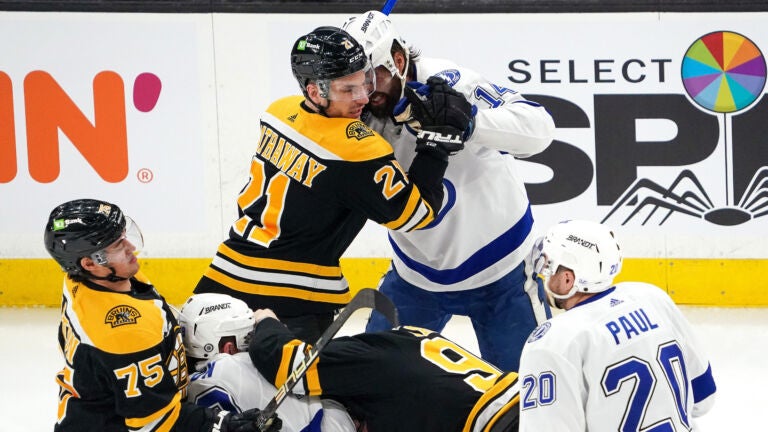 The Bruins added Garnet Hathaway for tilts like this.
Ten more games might separate the Bruins from the start of their Stanley Cup campaign. But Saturday's matinee matchup against the Lightning offered an early preview of the war of attrition that awaits once the calendar flips to April.
It took all of nine seconds for a scrap to erupt between two teams with plenty of playoff history in Boston and Tampa Bay.
And it came as no surprise that Hathaway — a winger with an extended track record of truculence — was in the midst of the fray.
"I've always liked his game," Patrice Bergeron said of Hathaway. "You don't like playing against him, but he's very efficient. Very good for his team."
Premiums are often placed on forwards like Hathaway who operate with a sandpaper style of play. And against a hefty Lightning roster, the Maine native managed to land punches both on the ice and on the scoresheet in Boston's 2-1 victory.
At this point on the schedule, the Bruins — winners of six-straight contests and newly crowned Atlantic Division champions — have little more to check off on their to-do list before the end of the regular-season action.
But a bout against a fellow playoff-hardened team like the Bolts offered a chance for Hathaway and the Bruins to show their mettle before the stakes are raised.
"Even as a team, we've been looking forward to this," Hathaway said postgame after scoring Boston's go-ahead goal in the second period. "[Against] a team that's going to be in the playoffs and we potentially could see. A team that's battling right now.
"And you're going to play that same way. Encouraging as a line, but encouraging for us as a team to play that way and play to our identity. That's how we're going to have to play in a couple of weeks."
It only took some initial jawing between Hathaway and Patrick Maroon during Saturday's opening puck drop to set the hostilities in motion.
Hathaway, who already dropped the gloves with Maroon earlier this season as a member of the Capitals, has made the most of his reps against a cantankerous and stout Tampa Bay squad.
A fourth-line grinder like Hathaway may not pile on points with regularity (five points in 12 career games against the Lightning), but the 31-year-old winger has racked up 39 penalty minutes over that same stretch against Tampa.
"We had an inkling that Tampa Bay was going to want to play a very energetic, emotional game. Didn't know it was going to happen that quick," Jim Montgomery acknowledged. "But we start [Tomas] Nosek [and his line] a lot at home because they always get us off to a good start. They did it again tonight."
It'd be one thing if Hathaway continued to carry out his usual duties as a fly in the ointment against Tampa's top skaters. But Boston's fourth line also put Boston ahead for good with 2:28 left on the clock in the second period.
Hathaway's blend of skill and snarl was showcased on his 12th goal of the 2022-23 campaign. As Matt Grzelcyk's point blast ricocheted off of Andrei Vasilevskiy's glove, Hathaway — battling down low in the slot — was ready to pot home the rebound to put Boston the lead for good.
It's a tally that will not make many highlight reels. But those are the goals that can often be the difference maker in a seven-game series, especially when the amount of Grade-A ice dries up in postseason play.
The Bruins' three deadline pickups have all impacted the roster in a variety of ways.
Dmitry Orlov has been a minutes-eating menace on the blue line, bolstering Boston's offensive attack from the back end while stepping into taxing PK reps (a team-high 4:56 shorthanded TOI on Saturday) with Derek Forbort on the mend.
Tyler Bertuzzi's stat line (six points in 11 games) doesn't exactly tell the whole story of a winger whose crisp feeds are generating numerous high-danger scoring looks.
Hathaway's minutes might fall well below both Orlov and Bertuzzi's, especially during playoff action.
But pugnacious pests like Hathaway often tend to shine over grueling postseason series.
Each bone-crunching check against the glass wears down skaters over an arduous playoff run. That continuous forechecking pressure causes even the most poised puck carriers to look over their shoulders and make miscues under duress.
It's rarely a glamorous job, as evidenced by the scrapes tagged across Hathaway's face following Saturday's win.
But for Montgomery, players like Hathaway are worth their weight in gold when things inevitably go sideways amid the fracas that is playoff hockey.
"He is a very valuable player, because everybody on the other team is aware of him," Montgomery said of Hathaway earlier this week. "They know he's on your bench. They know he's on the ice. And he understands momentum — like if you watch him on the bench, there's not often times where he's sitting down and being quiet. He's talking to the other team, he's talking to his teammates. He's just completely involved in the game."
"He understands how we want to play real quick. He understands our routes we want to run with the puck. He understands our routes on the forecheck. He's heavy. He's mean. He's a Bruin."
Sign up for Bruins updates🏒
Get breaking news and analysis delivered to your inbox during hockey season.