Bruins
Takeaways: Shorthanded Bruins earn a gutsy record-tying win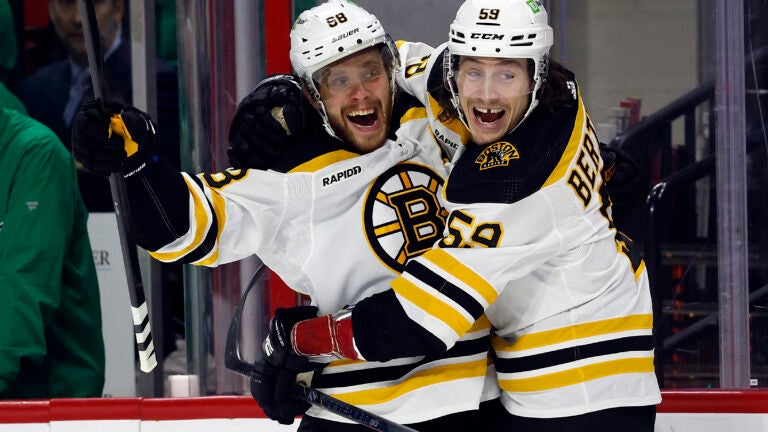 With the Atlantic Division title secured, the Boston Bruins embarked on another afternoon of load management in the second half of their weekend back-to-back.
Patrice Bergeron (illness), Hampus Lindholm and Brad Marchand (nagging injuries) did not accompany their teammates for Sunday's road matchup in Carolina. In turn, the Bruins inserted A.J. Greer — back from his one-game suspension — Jakub Zboril and the recently recalled Oskar Steen for their showdown with the Hurricanes.
The shorthanded Bruins played without six regulars, with Bergeron, Marchand and Lindholm joining the injured Taylor Hall, Derek Forbort, and Nick Foligno. They could've used the veterans early in the third after watching their 3-1 lead evaporate behind Brady Skeji's blast off a bounce and Sebastian Aho's equalizer off lax coverage just 2:07 apart.
But Jim Montgomery's squad stayed opportunistic. They earned their two-goal lead behind David Pastrnak's 50th and 51st goals of the season and a second-period top-shelf marker from Jakub Lauko.
The Bruins encountered another blip in the final stanza after Lauko fell awkwardly along the boards. With one less cog at their disposal, they dug deep and traded chances with the Hurricanes throughout the final stretch of regulation and overtime.
A pair of gigantic stops from Jeremy Swayman in the final second of the 3-on-3 extra session prompted the shootout. The Bruins wasted little time securing their 57th win — tying a franchise record — with Charlie Coyle and Jake DeBrusk notching the lone shootout tallies.
"It's a special win," Swayman told NESN's Adam Pellerin following his 34-save performance. "Obviously, we know how important those guys our to our lineup. But it just shows our depth, the confidence the coaching staff has in us, and we help each other. So it's a fun win, especially in this building."
Here's what we learned after the shorthanded Bruins earned a gutsy 4-3 win.
Pastrnak nets his long-awaited 50-goal season
From the naked eye, Pastrnak appeared to have pulled off a similar breakaway move out of Nikita Kucherov's playbook for his 50th tally.
Even if he didn't admit it, he came darn close to mimicking the Tampa Bay winger early in the first. Either way, he had fooled Frederik Andersen enough to pull off the feat for quite the highlight on the game's first goal.
"I'm not Kuch," Pastrnak joked to reporters. "I don't know how to do that on purpose."
Either way, Pastrnak's quest for 50 goals had a purpose.
The COVID pandemic wiped away his first chance at the milestone. His 2019-20 campaign concluded with 48 goals in 70 games played.
After three years and 192 games, Pastrnak finally has his first 50-goal season. He also wasted little time notching No. 51, blasting home his trademark power-play one-timer from the left faceoff dot in the second period to give the Bruins a 2-1 lead in the second stanza.
"I came close a couple of years ago," Pastrnak told reporters after notching his 601st career NHL point on Sunday. "You never know what could happen. I had plenty of games to get there, and then all of a sudden, COVID happened. It's definitely special. Obviously, it's been a long way, and a big thanks to all my teammates and my family. It's pretty cool to be able to share with the guys like I have here."
Earlier this week, Montgomery said he envisioned more 50-goal seasons ahead for Pastrnak. The first-year Boston bench boss indeed helped Pastrnak reach another stratosphere and also got his team back on track following Sunday's third-period hiccup.
Montgomery regrouped his troops during Boston's timeout
Bergeron and Marchand usually provide reassurance on the bench whenever they encounter a lull. Without them, Boston's coaching staff needed to act swiftly early in the third.
The Bruins displayed a healthy 200-foot presence for most of Sunday's tilt. They established solid layers in front of Swayman and generated a good handful of quality primary and secondary scoring chances in the attacking end. For the first 3:44 of the second, however, they got away from their system.
They needed the timeout. Montgomery provided that reassurance.
"We were playing a good game, and we knew they were going to have a push. They executed some plays, and we didn't execute some breakouts. We didn't run routes well as a five-man unit, and we got hemmed in our end," Montgomery said to NESN's Jack Edwards and Andy Brickley. "We just wanted to get back to executing our breakouts and making sure we held on to pucks in the offensive zone."
Message received.
After weathering another slew of Carolina chances, the Bruins developed crisper breakouts and re-established their offensive zone presence bending their heavy pursuit of pucks.
"Obviously, the start of the third wasn't our best," Swayman said. "But coach called a good timeout, and we had a meeting about it and took it seriously. So, it was special to see that."
Boston's depth shined without six of its regulars. But the Bruins encountered a scare in the closing moments.
Nothing 'serious' with Lauko following a scary sequence
Lauko encountered a unique transition as he spent his first few days on his latest recall in "paper transaction" territory. Whenever he's in the lineup, however, the Czech continues to make his case for a potential bottom-six spot on the postseason roster.
He continued that push on Sunday alongside Tomas Nosek and Garnet Hathaway.
For the second game in a row, the fourth line delivered a timely marker after Lauko fired a slick top corner shot past Andersen to give the Bruins a 3-1 lead at 11:46 of the middle frame.
Lauko's speed and checking skillsets stood out again in Sunday's win. But the 22-year-old left in the third period after favoring his knee in a collision with Jalen Chatfield along the corner boards of Boston's attacking end.
Lauko needed assistance getting off the ice. But Montgomery provided a rather encouraging update, noting there wasn't anything "serious" during his postgame interview with the media.
Sign up for Bruins updates🏒
Get breaking news and analysis delivered to your inbox during hockey season.
Newsletter Signup
Stay up to date on all the latest news from Boston.com