Bruins
Why Sunday's win in Carolina was the final test Bruins need to pass during their 82-game gauntlet
"It's a fun win, especially in this building."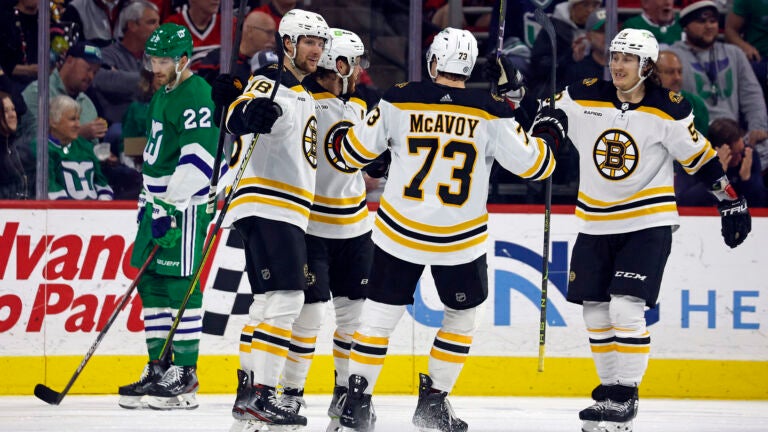 COMMENTARY
The 2022-23 Bruins have little left to prove … during regular-season play, at least.
Boston's record-setting pace in the standings has yet to skip a beat, even as the season carries into the dog days of March. They've already tied their franchise record of 57 wins with two-plus weeks still to play.
For the first time since 1969, this B's roster has a winning record against every opponent.
They've toppled contenders like the Avalanche, Lightning, Devils, Rangers and more — winning high-scoring shootouts, orchestrating late-game rallies, and landing the knockout blow in back-and-forth slugfests.
At this juncture of the season, the lone thing that Jim Montgomery needs to fret over are power-play tweaks and prescribing rest over these final nine games.
Because after Sunday's shootout victory over the Hurricanes, this B's roster has little left to clear as far as hurdles before a fruitful playoff push.
The Hurricanes are a logical choice when it comes to the potential culprit capable of snatching away Boston's storybook ending this spring.
Even with Andrei Svechnikov ruled out for the season, Carolina's relentless forechecking pressure, shot-heavy D corps and structured defense will make them a hard out against any opponent in the postseason.
But beyond the challenge of withstanding Carolina's storm surge on the ice, the Bruins were in desperate need of exorcising the demons lingering over them at PNC Arena.
The Hurricanes' home barn has been a house of horrors for Boston as of late. Prior to Sunday's triumph, the last time Boston skated off the ice in Raleigh with a win was on May 16, 2019.
Since that 4-0 triumph capped off a dominant four-game sweep by Boston in the Eastern Conference Final, Carolina has routinely tilted the ice in its favor during meetings with the Bruins.
Since that fateful Cup run, the Bruins posted six straight losses at PNC Arena, losing those road games by a combined score of 25-7.
The closest result over that extended stretch of futility was last season's Game 7 defeat, a 3-2 result that nearly closed the chapter on this fruitful era in Bruins history.
Patrice Bergeron and David Krejci's decisions to return to their respective posts for one last run in 2022-23 absolved the Bruins from having to slam shut this contention window.
Clearly, Boston has made the most of this last kick at the can.
But in a season where the Bruins have checked off just about every box, showing their mettle in a rink that has thwarted plenty other promising postseason runs serves as another boost for a team already surging with confidence.
And to outlast a tenacious Carolina club with Bergeron, Brad Marchand, and Hampus Lindholm out of the lineup stood as icing on the cake.
"It's a special win," Jeremy Swayman said postgame. "Obviously, we know how important those guys are to our lineup. But it just shows our depth, the confidence our coaching staff has in us and we have each other. So it's a fun win, especially in this building."
Beyond Boston's heinous track record in Raleigh, the fortunes weren't exactly falling in Boston's favor on Sunday evening.
Not only was two-thirds of Boston's 5v5 buzzsaw of a top line not making the trip, but Lindholm — a potential Norris Trophy frontrunner — has arguably been the most important play driver on the back end. Additional injuries to Taylor Hall, Nick Foligno, and Derek Forbort further sapped Boston's depth across the lineup.
But in a recurring trend all season, multiple Bruins pulled on the same rope to help Boston gut its way to another two points.
Sunday's victory followed a script that most contenders need to follow to endure during the postseason slog.
The Bruins were buoyed by their star talent, with David Pastrnak finally entering rarified air by lighting the lamp for the 50th and 51st time this season.
They clamped down on special teams, thwarting a pressure-heavy Carolina PK by way of a Pastrnak one-time clapper and negating three Hurricanes power plays.
At critical stages, the Bruins were kept off the ropes by way of a timely stop between the pipes, including two clutch saves by Swayman in the final seconds of overtime.
And Boston's secondary scoring continued to flex its muscles, with Jakub Lauko snapping home his fourth goal in 18 games with the big club this season.
It's a winning formula — one that Boston will need to follow once its pursuit of a Stanley Cup officially commences in a few weeks.
"We defended well," Montgomery said postgame. "We knew that was coming, we tried to have three on the inside near the net at all times. And sometimes the way they move the puck, they get you moving outside of those areas and that's a credit to them. But I liked some of the adjustments we made moving forward — if we play Carolina again."
If Boston plans on carrying its season into late May, another trek down to Raleigh might be in the cards.
For the last few years, such a visit often spelt turmoil.
But on Sunday, PNC Arena was just the latest in a long list of rival rinks that the 2022-23 Bruins silenced.
It's been a prevailing theme all season long for this record-setting roster.
And they're still waiting for someone to show them otherwise.
Sign up for Bruins updates🏒
Get breaking news and analysis delivered to your inbox during hockey season.