Bruins
Bruins-Predators takeaways: What we learned from Boston's 2-1 loss
"For whatever reason, we laid an egg tonight," head coach Jim Montgomery said following the Bruins' 2-1 loss.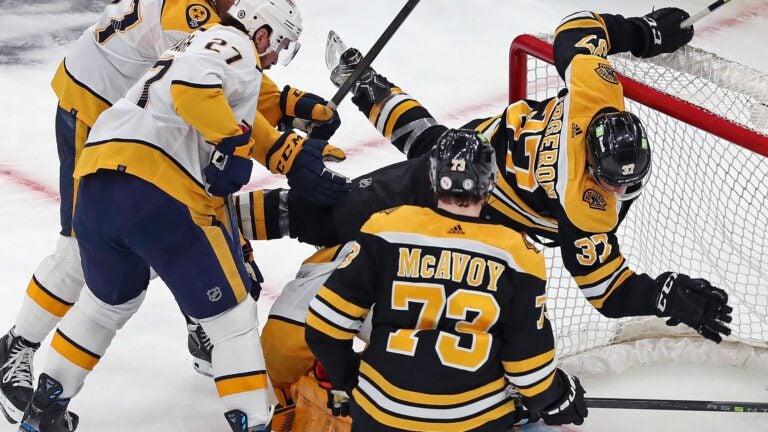 With the playoffs approaching, complacency might have crept in for the Boston Bruins on Tuesday night.
For the first two periods, the league's best team sleptwalked to a 1-0 deficit against the Nashville Predators. While their defensive layers looked okay in front of goaltender Linus Ullmark, the Bruins weren't showcasing an assertive attack in 5-on-5, with their passing game, in particular, looking less crisp with each entry into the attacking zone. Their checking game wasn't as stout, either, compared to their thrilling weekend victories over the Lightning and Hurricanes.
Above all, the power play's ongoing struggles continued after the Bruins fired a mere five shots on net in five opportunities.
Their miscues came back to haunt them late in the middle frame when Tanner Glass notched his 12th goal of the season.
David Pastrnak reunited with Patrice Bergeron and Brad Marchand, hoping to give the Bruins a needed spark in the third. They outshot the Preds 16-4 in the final 20, but aside from a few sequences, struggled to challenge Juuse Saros with quality scoring chances.
Former Bruin Jeremy Lauzon sealed Nashville's victory with an empty-net tally. Pastrnak blasted his 52nd of the season to avoid the shutout with 0.03 ticks left.
"For whatever reason, we laid an egg tonight," head coach Jim Montgomery said following the Bruins' 2-1 loss.
Here's what we learned from Boston's sluggish outing against Nashville at TD Garden.
The power play issues continued.
Montgomery and his coaching staff mixed up personnel on a handful of occasions in an attempt to jolt a stagnant power play. The top unit, in particular, encountered a frequent rotation of defensemen serving as the point men. Dmitry Orlov, Charlie McAvoy, and Hampus Lindholm each took turns attempting to set up scoring chances for Marchand, Bergeron, Pastrnak and Jake DeBrusk.
Between the personnel shifts, the sloppy entries into the attacking zone, and overthinking their setups, Boston's descent among the NHL's power play ranks continued.
"We've changed it up quite a bit in the last month," Montgomery said. "Change isn't always the answer, although it seems like the easier answer. It's players committing to do the right thing."
The Bruins hardly look like a cohesive five-man unit when they embark on a power play opportunity. And in the rare instances of a clean setup, they're barely generating any secondary looks.
Of course, the Bruins overcame their dreadful power play in 2011. But they hardly want to enter the 2023 playoffs in a similar rut.
"We're forcing plays. We're disjointed and disconnected," Bergeron said. "I think we have to go back to hard and simple. You have to work for loose pucks and retrieve pucks. When you're one and done, it's hard to capitalize on chances."
The Bruins encountered a hangover following a thrilling weekend sweep.
Entering Sunday's tilt in Carolina, the Bruins entered "scheduled loss" territory in the second half of their latest weekend back-to-back. They came off an emotional 2-1 division-clinching win over the Lightning and arrived in Raleigh without Bergeron, Marchand, and Lindholm.
The Bruins pulled out a gutsy 4-3 shootout win against the Hurricanes without six of their regular contributors, including Derek Forbort, Nick Foligno and Taylor Hall. Both Hall and Foligno (lower-body injuries) skated before Tuesday's tilt with Nashville, while Bergeron, Marchand and Lindholm returned to their usual spots in Boston's lineup.
Yet, Tuesday's matchup with Nashville provided an internal challenge. And the Bruins couldn't manifest the same intensity as they did against a pair of teams they could potentially see in May.
"We didn't play our game. We didn't play to our standards," Bergeron said. "It doesn't matter how good you are; I think you have to respect how you want to play the game. Tonight was one of those nights where we kind of did it to ourselves."
Surely the Bruins committed their share of self-inflicted wounds. But perhaps the letdown was inevitable.
"I think that factors into it," Montgomery said. "But also what I think goes into it is we're going into our fifth week of four in five. We're just starting that again, and you're going to have peaks and valleys with our energy levels. We try to manage it the best we can. The schedule is unforgiving right now, so you're going to lay eggs every once in a while."
"We obviously took them lightly," Marchand added. "We just can't get up for the teams that we may see down the road. I think we were a little disrespectful of the game tonight."
The Bruins could've secured home-ice advantage and the Presidents' Trophy on Tuesday. They received some assistance from the Lightning's 4-0 win over the Hurricanes, but couldn't get the job done on this night.
Tuesday's setback delayed the inevitable. Boston's busy schedule continues with Thursday's contest against the lowly Blue Jackets.
The balancing act during a busy slate continues.
With their significant cushion in the standings, the Bruins entered the final weeks of their campaign with quite the luxury.
Montgomery took advantage of the hectic year-end slate, resting some of his battle-tested core over the last few weeks. In turn, the coaching staff assembled a healthy rotation within Boston's blue line and bottom six.
Jakub Lauko and Jakub Zboril received extended looks since the beginning of March. Oskar Steen also saw action in Carolina on Sunday. And perhaps 2020 second-round pick Mason Loheri will see some NHL time if he opts to turn pro following his stellar sophomore campaign at Ohio State.
Yet, the Bruins want to keep their guys sharp and as fresh as possible during this busy slate, one which Marchand admitted to as one of the toughest of his career.
"This is probably the toughest schedule I've ever seen and been a part of," Marchand said.
Marchand and company will get a reprieve at the end of their upcoming back-to-back road slate against Pittsburgh and St. Louis this weekend. After three days off, the Bruins will conclude their regular season with a stretch of five games in eight days.
Even with the league's all-time wins and points records within reach, the coaching staff will continue to monitor the team's health while simultaneously addressing their areas of need before the playoffs.
"We'll run into situations where we're tired moving forward, and we still have to be able to show up," Marchand noted. "It is what it is. Learn from it and move on."
Sign up for Bruins updates🏒
Get breaking news and analysis delivered to your inbox during hockey season.