Bruins
Why the Bruins are making a tweak to their goaltender rotation on Thursday night
The Bruins have gone 18-5-0 since Linus Ullmark and Jeremy Swayman have switched off starts in net.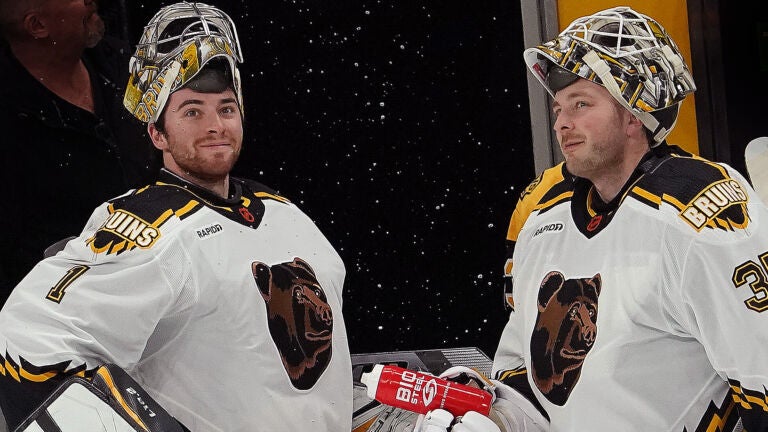 With just eight games separating the Bruins from the postseason, Jim Montgomery overhauled a reliable segment of his lineup Thursday morning.
No, the Bruins bench boss didn't yank David Pastrnak or another O-zone stalwart off of an ailing power-play unit.
Nor was a veteran with plenty of mileage tacked onto the treads like Patrice Bergeron being given the night off against a Blue Jackets team with a minus-93 goal differential.
Rather, Montgomery opted to finally slow Boston's effective goaltending carousel to a halt. For the first time in close to two months, Linus Ullmark will get the call for consecutive starts between the pipes for Boston on Thursday.
For Montgomery, the slight alteration to a fruitful rotation in net lies in the need to get Ullmark re-acclimated to the workload that awaits when the calendar flips to the postseason.
"We figured this little run here we can get him three games in six days, that's gonna replicate a little bit of the playoffs," Montgomery said following an optional skate at TD Garden. "It's also gonna allow [Jeremy] Swayman to get some games on the back end of that."
Montgomery has had little reason to steer away from alternating between Ullmark and Swayman over the past two months.
The last time Ullmark earned consecutive starts was from Jan. 29 – Feb. 1 in bouts with potential postseason hurdles in the Hurricanes and Maple Leafs.
Since then, Ullmark has appeared in 12 games for Boston — posting a 10-2-0 record and a sterling .939 save percentage.
Swayman has earned the nod from Montgomery 11 times, winning eight of those contests while submitting three shutouts and a .931 save percentage.
That near-even distribution of reps has been mutually beneficial for all parties — especially for a Bruins team that has gone 18-5-0 over that stretch.
But there can be only one option when Montgomery has to construct a lineup for Game 1 in mid-April.
And even though he has toyed with the idea of deploying another goalie rotation in the postseason, Montgomery hasn't steered away from his initial plan of Ullmark — the Vezina Trophy frontrunner — getting the net for Boston's postseason opener.
Ramping up Ullmark's reps over these final weeks of regular-season play falls under the watchful eye of Bruins goalie coach Bob Essensa.
Montgomery might have the authority to tinker, tweak and reshuffle his lineup how he sees fit. But when it comes to the state of Boston's tandem in net, Montgomery is more than happy to defer to whatever system Essensa charts.
"He makes my life a lot easier. From day one, I told him … just tell me who you think should start," Montgomery said of Essensa. "I've never over-trumped him all year. I just asked him why, so that I can learn from him. And he's been spot on.
"Like there have been times where our plan was to go Ullmark or Swayman. He goes 'No, I think we should go this way.' And it was his plan in the first place and he deviates from his plan because he just has such a great relationship with them and he understands from a goalie's perspective, like what allows them to have success."
Newsletter Signup
Stay up to date on all the latest news from Boston.com