Bruins
Watch: Bruins' Trent Frederic drops Lane Pederson to ice with one punch in quick scrap
Teams might want to stop hurting Patrice Bergeron.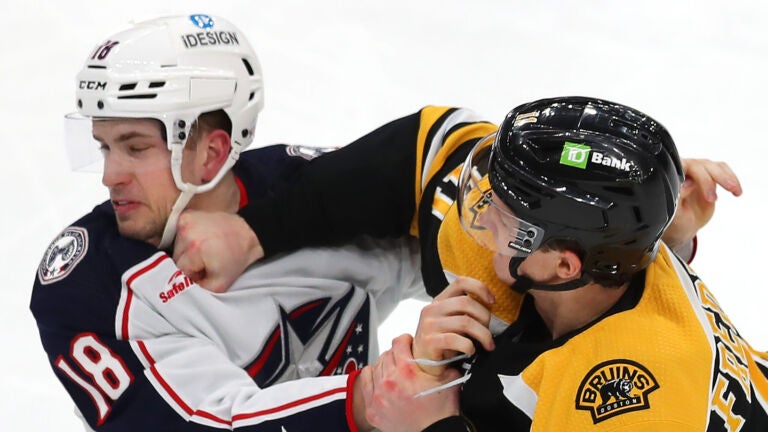 Teams might want to stop hurting Patrice Bergeron.
Blue Jackets forward Lane Pederson was the latest player to learn that lesson the hard way on Thursday night.
Less than three minutes after getting sent to the sin bin for cross-checking Bergeron in the face, Pederson had to answer for his on-ice infraction by dropping the gloves with Trent Frederic.
And before Pederson even managed to grab the Bruins' bruiser, Frederic dropped him to the ice with a single pop to the jaw.
Frederic made quick work of Pederson, who arguably should have been off the ice for much longer after initially getting whistled for a five-minute major.
Upon review, Pederson's penalty was lessened to just a two-minute minor. Less time in the penalty box may not have been the best result for the 25-year-old center, given the painful retribution that awaited upon returning to the TD Garden ice.
Frederic's succinct scrap with Pederson was the second fight of the evening between the Bruins and Blue Jackets. Jakub Lauko and Hanson native Billy Sweezey traded punches early in the second period, drawing the approval of Sweezey's father in the Garden seats.
Frederic coming to the defense of his captain marks the second time in a week that the Bruins have had to answer following a high hit on Bergeron.
During Boston's 4-2 win over the Canadiens on March 23, Brad Marchand threw Habs forward Rem Pitlik to the ice and delivered a few painful hooks after Pitlik trucked Bergeron with a late hit.
Despite Pederson's hit drawing blood, Bergeron returned to the ice for the Bruins during the third period.
Newsletter Signup
Stay up to date on all the latest news from Boston.com