Bruins
Bruins-Blue Jackets: Takeaways from Boston's record-setting win
The Bruins stood up for captain Patrice Bergeron and broke a franchise record in the process in their 2-1 win over Columbus.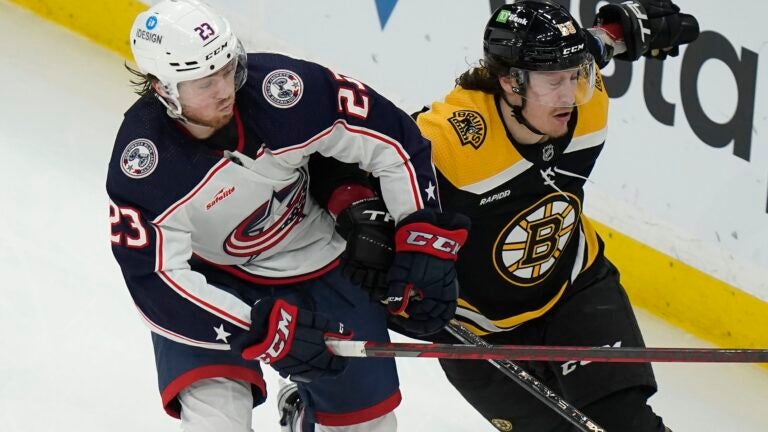 It's time to change the record books again.
Despite another slow start Thursday night, the Boston Bruins continued to rewrite their own history with their overtime win over the Columbus Blue Jackets.
At the tail end of another empty power play for the Bruins, the Blue Jackets took it the other way for the opening tally. Liam Foudy found Jack Roslovic crashing the net to put Columbus up 1-0 early in the opening period.
Boston's sleepy performance against Nashville had carried over to Thursday night. That is until Jakub Lauko fired up the crowd in a spirited bout with Billy Sweezy just over five minutes into the second period.
The fireworks didn't stop there.
Lane Pederson only received two minutes for a cross-check up high to Patrice Bergeron. But even as their captain was a little worse for wear, the Bruins finally struck on the power play.
Tyler Bertuzzi collected his second goal in a Bruins sweater on Boston's altered man advantage. The trade deadline acquisition tapped home a nifty setup from Pavel Zacha for the equalizer.
Just a few minutes later, the Bruins made sure Pederson answered for his cross-check to Bergeron. Trent Frederic met Pederson almost immediately after the Columbus forward exited the penalty box and delivered a one-punch knockout.
"It's a little weird," Frederic said of the bout. "You have to sit for five minutes [after just one punch]…anytime you don't get hurt or get punched in a fight it's a good thing."
The Bruins didn't have their sharpest outing, yet they found another way to win.
David Pastrnak worked his magic and put a backhand past Michael Hutchinson to secure Boston's 2-1 triumph a mere 41 seconds into the three-on-three overtime.
Here's what we learned as the Bruins clinched home-ice advantage throughout the playoffs and set the franchise wins record with their 58th of the year.
The milestones continue.
It's been a magical season for the Bruins by almost every metric.
They solidified two more accomplishments in a record-setting season, including their fourth Presidents' Trophy in team history.
It's been nine seasons since a team won both the Presidents' Trophy and the Stanley Cup, a streak Bruins head coach Montgomery isn't fretting over.
"Presidents' Cup teams have also won the most percentage of Stanley Cups. So I'm going to look at it that way," Montgomery said. "I'd rather be Presidents' Cup than second, third, fourth or fifth. They haven't won the Cup as much."
The Bruins also set the franchise record in wins at 58, surpassing the 57 held by the 1970-71 squad.
With seven games remaining in the regular season, the Bruins will now look to break the all-time NHL wins record of 62 (set by the 1995-96 Red Wings and 2018-19 Lightning) and points record of 132 (established by the 1976-77 Canadiens).
Lauko and Frederic provide sparks with timely fights.
Whenever he's in the lineup, Jakub Lauko usually makes an immediate impact.
His impact usually comes in the form of an energetic shift or a big hit. On Thursday, Lauko left another solid impression with his first career fight.
After taking down Sweezey, Lauko raised his arms and fired up the Garden faithful as he headed to the penalty box. That energy bled down from the lower bowl and onto the Bruins bench, where the Black and Gold finally found a spark.
"I think there's a lot of guys who would do that for Bergy," Frederic said. "Pretty much anyone on the team…just had to be my turn."
It's not too often you'll see three separate fights in an NHL game these days.
After Pederson caught Bergeron up high, it was a pretty safe assumption we'd see at least two. Much like last Thursday against Montreal, the Bruins answered the bell and emphatically defended their captain.
Later on in the third, it was Brandon Carlo's time to stick up for himself. The Colorado Springs native took matters into his own hands after taking a hit from behind from Columbus captain Boone Jenner.
Execution wasn't at a premium Thursday night, but the Bruins found themselves emotionally engaged in pivotal moments.
"By no means were we at the standard that we've seen most of the year, but what I like is how Lauko did that," Montgomery said. "Frederic didn't let our captain get abused. There's something to pay for that when you come to Boston and you do something like that."
The power play showcased different looks.
Amid Boston's ongoing power play struggles, Montgomery implemented more personnel adjustments earlier this week at practice.
The power play scored once on five opportunities. The new-look second unit cashed in with Bertuzzi on the doorstep.
Although still a work in progress, Boston's man advantage has developed a new wrinkle since Bertuzzi's arrival.
"[Bertuzzi's] really good there," Montgomery said. "He knows when to screen and when to slide off like he did on the goal…he's in those areas constantly and I think that's why he's gonna be really important for us when the games get really hard to score."
A new look second unit debuted the majority of the man-advantages. Pastrnak slid down to join David Krejci, Zacha, Charlie McAvoy, and Bertuzzi. A combination of Brad Marchand, Jake DeBrusk, Hampus Lindholm, Dmitry Orlov, and Bergeron followed.
On only one occasion, the Bruins tried out their usual personnel of Marchand, Bergeron, DeBrusk, Lindholm, and Pastrnak.
"I thought the power play was better tonight…lots of positives to build off there," Montgomery said. "I still think we weren't as sharp as we normally are. As far as crisp passing, our breakouts were slow; our o-zone was slow. We're not at our game, and it's, you know, there's fatigue that comes in with the numerous games we've played."
Sign up for Bruins updates🏒
Get breaking news and analysis delivered to your inbox during hockey season.